I've long wanted to visit the Pacific Northwest and finally had the opportunity to take a week long whirlwind trip to Portland, Seattle, and Vancouver Canada last week.
As you might imagine, no trip is complete with out cats. I mean who doesn't miss their cats when traveling (I've long thought hotels should have a "rent a cat" type service with adoptable cats you can order up for snuggle time).
While I was unable to visit all the felines I would have liked to who reside in the Northwest, I was able to visit a few you may recognize (or in some cases, the cats behind a brand!).
What follows is a brief and hopefully entertaining recap of both the feline and non-feline escapades!
PORTLAND: FELINES AND FALLS
As anyone who's been to been to Portland knows, one of the things they're known for are their waterfalls, particularly the Multnomah Falls.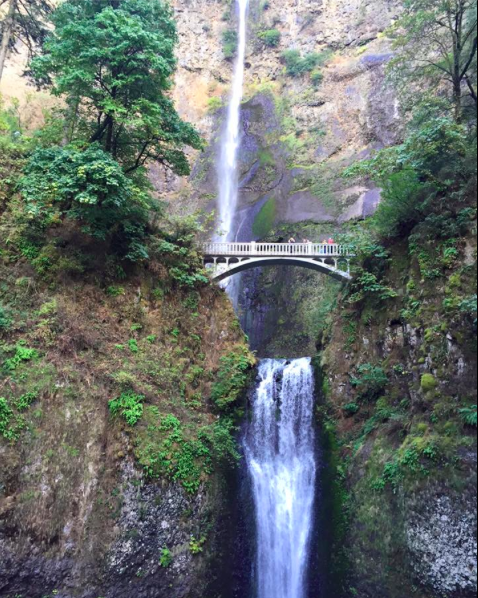 But I took it a bit too literally and on our descent I fell at the falls. Thankfully while two physicians passed me by (announcing they were doctors), a nearby trauma nurse stopped to help patch me up with the help of a doggie who was wearing a first aid kit (for humans).
The trauma nurse may have gone just a little bit over board when she decided to demolish my brand new J.Crew jeans, but I know I shouldn't complain…
So, less than 24 hours in Portland I found myself at urgent care in the hands of a rather cute doctor who must be doing stand-up on the side. And I quote:
"You've been concerned about plastic surgery and the cosmetic aspects of your injury yet you haven't shaved your leg in about a week" – Doctor Andrew who put five sutures into my leg.
Har har Doc. For the record I was wearing clean underwear just like my Mom taught me. She never mentioned shaving my legs, which frankly I didn't think would come into the picture – it's cold in NYC!
Thankfully I was able to walk on the knee and kitty and wine time was just around the corner with Shana and Pickles of Sweet Pickle's Designs (Shana was actually the one who drove me to urgent care).
Pickles was rather unamused by me and more interested in finding a flattering camera angle. I think she nailed and we can all learn from her. Listen up everyone! If you want to look slim, just find something four times your size and get into it! It's like magic!
Stay tuned to hear about my travels to and feline encounters in Vancouver BC and Seattle! Can you guess who I may have had the pleasure of seeing?!