In this week's Cat Woman Wednesday Shana Freimark, founder of fashionable cat collar company Sweet Pickles Designs, shares the story of how one little cat launched her career in cat accessories.  Last week IHC readers had the chance to name one of the cat collars in the latest collection. I'm excited to announce that Shana and Pickles have selected "Don't Box Me In" as the winning name! Full disclosure, "Escape Artist" and "The Houdini" were two of my favorites but Shana rightly pointed out that they might not instill confidence in potential customers!

If you knew me three years ago, you would know one thing for certain. I was a dog person. Yes, that's right.  Don't get me wrong, I was – and am – a total animal person. I even had a pet hamster in my 20s, but I was crazy about dogs. I'm the friend who rents out a doggie daycare for my dog's birthday and invites everyone I know.
But I never had a cat and never thought I would. That's because my boyfriend, Morgan, and I have three large (65lb+) dogs, and I never thought a cat would want to live with all of us. But on warm September day in 2009, everything changed.
Morgan and I were heading down to Eugene, Oregon to help my little brother move into his college apartment. We were about half ways from Portland to Eugene when we drove by a litter of kittens and their mom stranded on the grass between the freeway and the off ramp. I couldn't believe my eyes.
I didn't know what to do but knew we had to turn around and try to rescue them. After an hour of chasing four kittens on the side of Interstate 5 with cars flying by at 70 mph, we could only catch the mom and one black and white kitten (the other 3 were all back). We didn't know what to do.  The little black kittens were super fierce and wanted nothing to do with us.
I don't now how long we went back and forth about what to do, but it seemed like hours.  We knew we couldn't catch the black kittens ourselves. They were just too fast and a little too feral. We didn't think we should take the mom because they were still nursing and we didn't know what to do with the black and white kitten who seemed like she really wanted to get the heck out of there.
It was one of the hardest decisions I'd ever had to make. Do we split up this family and rescue one kitten, or do we leave them all? In the end, it was the little kitten herself who made the decision by jumping back into our car after we'd put her outside with her family. She was coming home with us.
Maybe it was the determined look in her eyes or the total trust she had in us, but I could tell this little black and white kitten was special. We brought her home thinking we'd take her to the vet, get her healthy and find her a home. Seriously, what tiny kitten would want to live with three huge dogs?
We had a finished basement and made her a fortress of her own equipped with a baby gate to keep the dogs out. Imagine my surprise when I came home from work the next day to find she'd jumped the baby gate and was on the couch cuddling with the dogs. Within seconds, I knew she was staying. To this day, all four of them have the most amazing bond. I've never seen anything like it. They all love each other so much.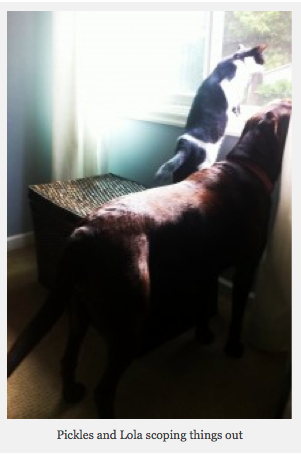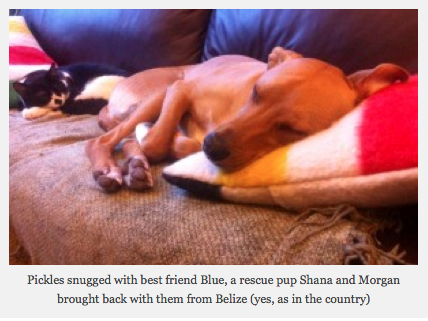 It took a few days to pick a name for her, but we eventually decided Pickles was the perfect name; seeing how many pickles she'd gotten into in her short life. She had a name and now she needed a tag and collar.
I've always been obsessed with collars. Our dogs had an endless supply of collars. It was my thing, dressing the dogs in fancy collars. I loved picking out new ones and constantly changing the ones they sported. I was super excited to go pick out my first cat collar.  I had no idea what to expect but figured it was the same as the dog collar selections. Boy was I wrong.
I couldn't believe the awful collars the pet stores and boutiques had for cats. They were so bad I didn't even want to buy any of them after going to every pet shop in town. I did end up buying one with dragonflies printed on it so she could have identification, but I was not happy with it at all. I decided I was going to make a collar for Pickles that I liked.
The first major problem was that I had no idea how to sew. I went to school for advertising and I'm a commercial real estate broker.  Sewing was one of those things I never had any interest in it before, so I really had little to fall back on. Thank goodness for YouTube and one of our dogs, who was obsessed with eating pillows.  My parents had given me a sewing machine for my birthday to repair the pillows, but it was still in the box. So I unpacked it, logged on to YouTube and taught myself how to sew.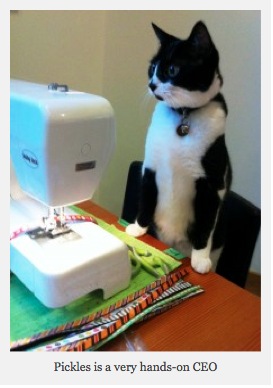 It was a little sketchy at first and I will never show anyone the first collars I made. But I figured it out and Pickles finally had a beautiful collar on that I loved.
After several months of playing with designs and filling Pickles' closet, I decided it was time to see if other people liked them too. On April 20, 2010, Pickles and I opened our very own Etsy Shop, Sweet Pickles Designs.
At first we sold one or two collars a week, but things started picking up. There are now three of us who handcraft hundreds of collars a week here in Portland. You can find our collars in over 20 pet boutiques worldwide, some as far as Sweden, Australia and Singapore. We've also been featured by Fancy Feast and many of our favorite blogs (I Have Cat, Catster, Your Daily Cute and Catsparella).
Back when I was watching YouTube videos trying to learn what a bobbin was, I never imaged all this could happen. I can't believe how many amazing and supportive people and cats we have met through our short journey. They inspire me everyday and keep me going.
If you ask my friends now, they'd say I'm the definition of a crazy cat lady.   I never thought it possible, but I'm proud to be a flag-toting, cat-shirt-wearing, crazy cat lady in love with a little black and white cat found along Interstate 5.
Pickles is my everyday wing man, Sweet Pickles' CEO and spokes-kitty. I wouldn't have it any other way. I'm happier than I've ever been. I absolutely love my job and hope Pickles and I are designing fashion for all our cat friends around the world for many, many more years to come. Meows.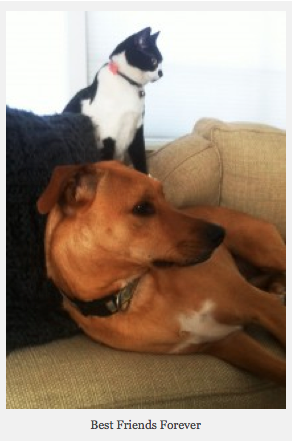 BONUS VIDEO:  Six month old Pickles and brother Blue at play!