***UPDATE*** While originally slated to open on September 15th, the Grand Opening has been delayed but the hope is it will still be in September or early October. 
Very soon NYC will have a kitten all it's own. And by kitten I mean Koneko, the word for kitten in Japanese, and the name of the second cat café to open in New York City (we wrote about Meow Parlour before they opened last December). But Koneko bills itself as "the first Japanese Cat Café in America".
Being opened by admitted cat man Benjamin Kalb (he has three cats, and admits he's "at the threshold") who's also a chef (having worked at well known NYC haunts like Bouley and Momofuko), Koneko promises to be a very different style café than Meow Parlor.
Ben was influenced by his own visit to the cat cafes in Japan, particularly in Tokyo where many come to play with cats as a way to unwind after work and stay open late into the evening. He referenced one cat café he visited that was two floors and over 6,000 square feet in size where, "everyone had a huge smile on their face." "Why doesn't this exist in New York?" he asked himself. And thus Koneko was conceived!
The café will incorporate Ben's favorite elements of the Japanese cafés he visited – the aesthetic and the menu – with "New York City flavor." There will be Asian bar snacks that can be taken into the cat area with heavier foods being served in the non-cat portion of the café.
While Koneko will serve beer and alcohol and be open until 9pm Ben wants to make it clear that, "First and foremost it's important to me to establish that this is not a bar." That's why he intentionally only got a beer and wine license versus a full liquor license. It will most definitely not be a play with "sloppy drunk people," says Ben who assures me there will be heavy monitoring. Rather, he intends Koneko to have a relaxed, zen environment.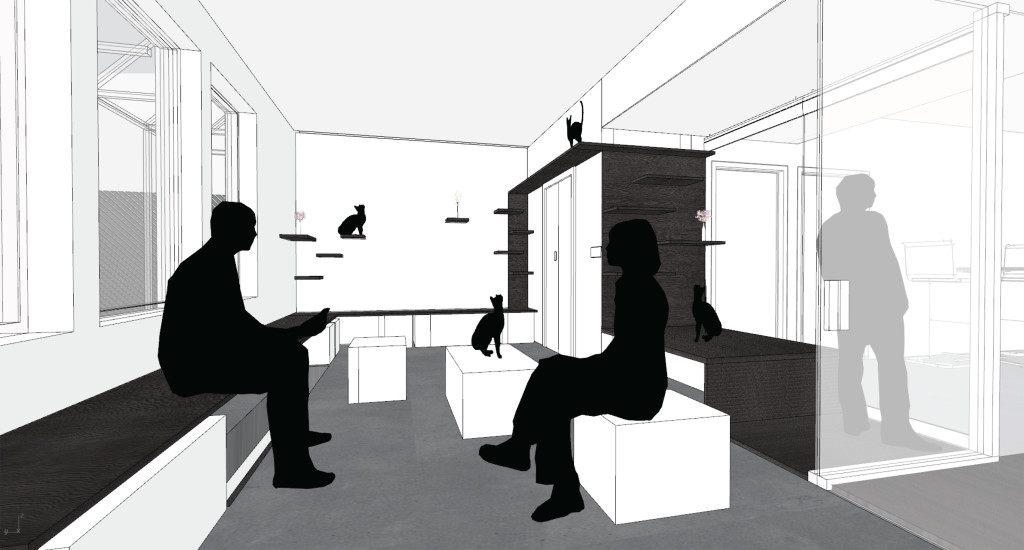 As is stated on their website, the café's mission is, "to find loving homes for cats pulled from the city's 'at-risk' list by our partner, Anjellicle Cats Rescue. The "at risk" list is the last stand for New York City's cats — they are scheduled to be euthanized the following day for behavior or health issues."
In addition, the cafe will support the work of City Critters (from which I adopted my three felines and for whom I fostered 20+ cats and kittens) as well as K9 Kastle, a group I'd never heard of that focuses on saving cats with physical and neurological challenges.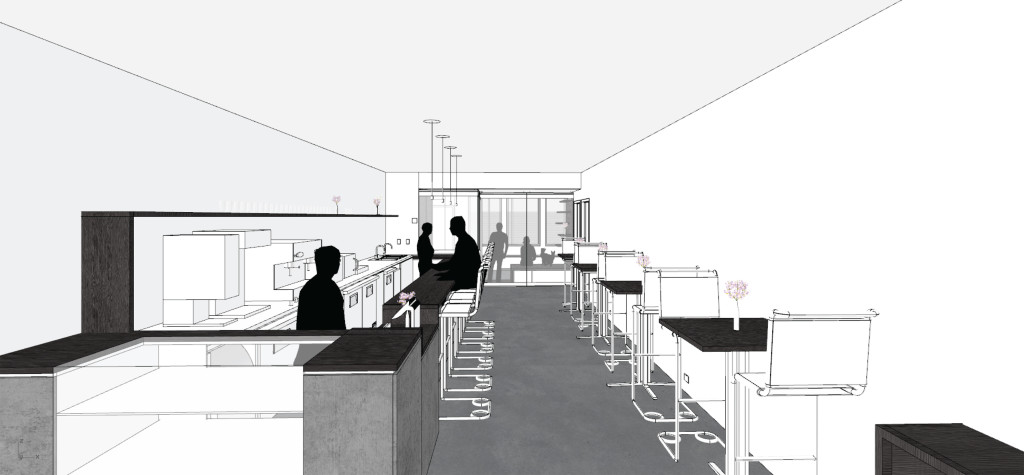 While specific plans for how these organizations will be supported are not yet well defined, but Ben can envision a street fair or something of the sort with proceeds going to the organizations and with mobile pet adoptions and other types of fundraisers.
According to Ben, the space is geared first and foremost to, "What will work for cats. What's fun and engaging for them, safe and enrichment." He's been very involved and engaged a company, Co-Office to help design the space, with every one the team being a cat person.
First and foremost, "I created Koneko to honor cats," explains Ben. He's well aware of the sad realities of the vast numbers of stray and abandoned cats in New York City and the hundreds killed in shelters very month. "To me it was a no-brainer. If I can help chip in and not only help adopt cats (out) but put a new spin on the adoption model."
Ben acknowledges the difficulties of going to the city shelter and seeing rooms lined with small cages. "With Koneko, people can interact with cats in a calm environment that better shows their personality. My desire is to have as many cats find loving homes as possible."
We're excited to visit Koneko when it opens and will be sure to report back and let you know how it's doing! So next time you visit NYC you'll have not one, but two cat cafes to visit both on the Lower East Side! So be sure to make your online Koneko reservations ($15 per person for a one-hour increment). There are still some time slots available, and at the moment the latest opening is at 8pm!