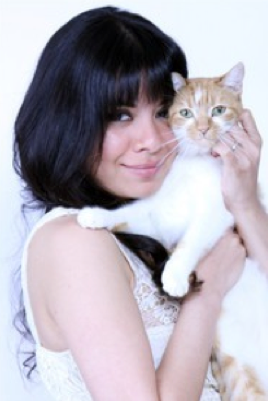 I HAVE CAT first interviewed Yasmine Surovec when she published her first book "Cat Versus Human" based off her very popular blog. Since that time Yasmine has been very busy cranking out hilarious books about living with cats.
Today I'd like to feature two of her delightfully entertaining and funny children's books, that are also completely suitable for adults in my humble opinions: "Bed For Kitty," and "My Pet Human."
"Bed for Kitty," was released last fall and is about a little girl with a kitty who will sleep every save the bed she was so excited to get for her. Sound familiar? "They" say it's suitable for ages 3-6 ,which I will amend to 3-60!
Here latest book, "My Pet Human," is about a cat who likes his freedom but begins to consider the benefits of a "pet human," and if they outweigh those of living la vida loca outside.  Again, "they" say the book is suitable for children 6-10, I'll make that 6-100 thank you very much!
The little details and illustrations like the hamster in the hamster wheel and the snake who pretends to be dead in order for kitty to "ingratiate" himself with his potential human's mother are just too cute and funny!
This book, her most recent, goes on sale August 4th but can be pre-purchaed on Amazon right now so it ships the second it's available! Do it! You know you want it!
I am a wee bit concerned though that I spotted Kip reading my advance copy…should I be concerned?!
 A FRIENDLY REMINDER: You only have 3 days left to enter our latest INTERNATIONAL cat toy giveaway! So chop chop!