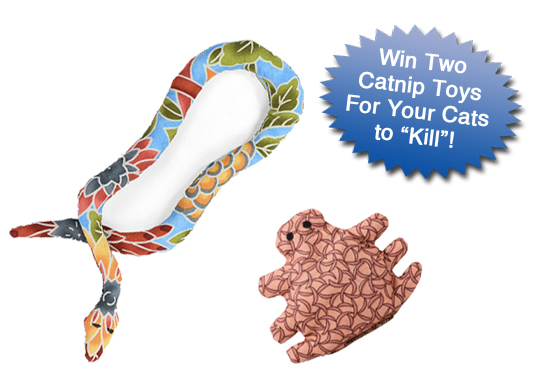 Patti Haskins, founder and creator of all at Critter Central based in Dallas, TX has more than enough muses and test subjects with her five cats (and one pup!).
She's been creative all her life and her snake and bug cat toys are only the latest in a string of her artistic accomplishments. I love the quote on her site that reads:
"I crochet, sew, draw, paint, paper-mache, embroider, shoot photos, play piano, sing and have a graphic artist job. But not all at the same time"
Phew! LOL!
Okay, her cat toys aren't THAT creepy but given it's a snake and a bug I figured the headline worked! One lucky reader from ANYWHERE in the WORLD will have the opportunity to win both a handmade catnip pellet bug of uncertain lineage PLUS a catnip stuffed snake! And, everyone will get a discount code for 20% off  the Critter Central store!
Not so long ago Patti was doodling snakes that soon came to life as catnip toys for her cats. The snakes are stuffed with catnip-saturated fiberfill and, "lots of very strong scented organic catnip from the higher altitudes and latitudes of Canada. All five Haskins cats approve of this catnip."       
The bug came later at the request of a pleased customer who wanted, "something else for their cats to 'kill'." LOL!
Unlike the snake, the bug is full of catnip pellets that give it a beanbag feel and also prevents catnip from coming out of kitty fang holes! If the photo wasn't enough, here's Haddie in action hogging  the snake and the bug!
Sorry in advance to Petie but I had to include the gratuitous Petie shot below, we'll say it's to provide a sense of scale! (I need that Instagram emoji of the laughing/crying cat to insert here!).  I promise it's just a bad angle, he HAS lost weight – honest!
Before I forget, use promo code CATNIP for 20% off purchases from Critter Central for a month! Woot woot!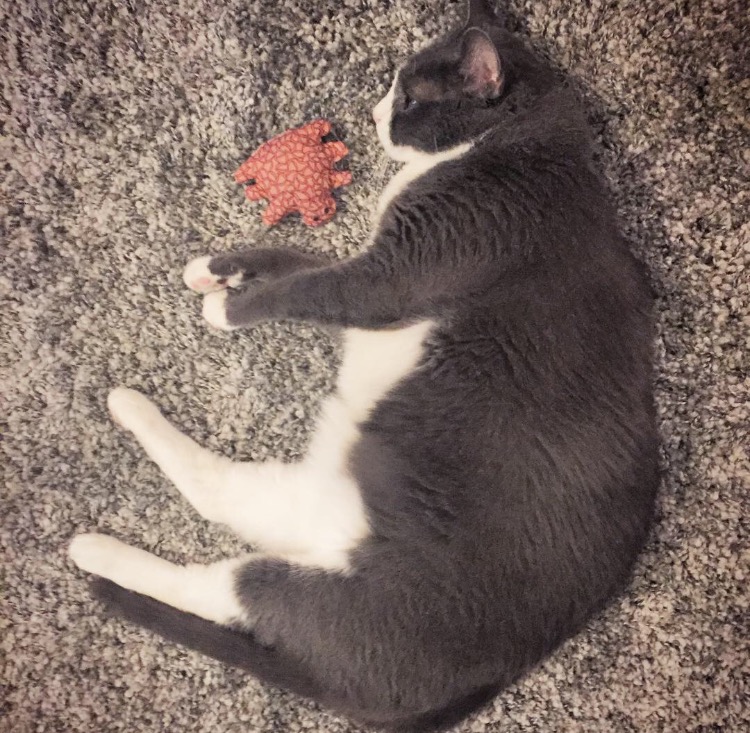 The giveaway will be running for 1 week and winners will be chosen by the Rafflecopter widget. Remember, EVERYONE CAN ENTER! This is NOT just for US residents (yay to Patti!).
Leaving a comment is a mandatory, just let us us know what you think of these toys and/or why your cat(s) might enjoy them! Then you can get extra chances to win by liking our pages and/or Tweeting this giveaway!
I just had to include a little taste of some of the other fabulous kitty items Patti has at her Etsy shop! How adorable are those pillows! And she even crochet's custom cat dolls based on photos of your own cat! Apparently her Grandmother crocheted kitty dolls, I suspect she'd approve!
GOOD LUCK ALL! And regardless, check out the Critter Central shop and support a small female-run business! Woot!
FTC Disclaimer: The kitties received a bug and snake from Critter Central for this post.