If you live in the Northeast like I do, it doesn't exactly feel like Spring when you're still wearing a down jacket –  despite what the calendar says. 
So, to get everyone into the spirit of the season, I HAVE CAT has team-up with Sweet Pickles' Designs for a Spring themed collar giveaway that's OPEN TO EVERYONE (yay!)! At least it will feel more like spring when you see your cat stroll by in one of two beautiful seasonally-appropriate "outfits."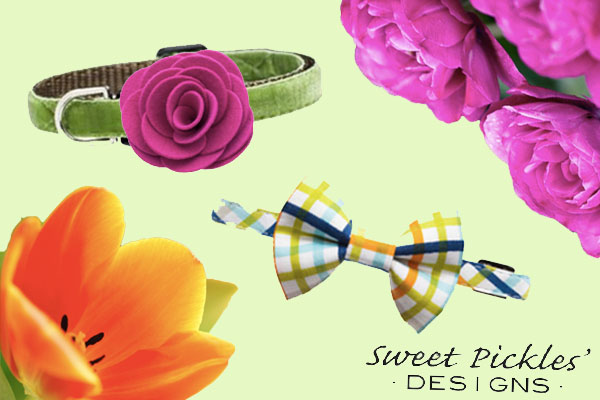 All collars breakaway and everything is handmade in Portland Oregon. As an added bonus, the winner gets to pick between one of two very Spring-y collar options that best suits his or her lucky winning kitty!
Both collars are kitty-safe as they have breakaway buckles. And as an added bonus, both the bow tie and corsage are removable so they can be used to jazz up other stand size collars kitty may already have!
PRIZE OPTIONS:
A)  Kitty Corsage + Lucky Charm collar: The fuchsia corsage is made of double-sided
vegan Ultrasuede® and paired with a beautiful ultra-velvet green color (it looks like a flower on a stem – did you catch that?!). A $22 value.
B) Matching Head of the Class bow tie and collar: A brand new addition to the Sweet Pickles' collection is the matching bow tie and collar set giving kitty a very smart "back to prep school" look, a $20 value.
TO ENTER (read carefully!):
It's MANDATORY to leave a comment to this post letting us know if you'd prefer to have your kitty – should you win – sport the: A) Kitty Corsage + Lucky Charm collar OR B) Head of the Class tie and collar set
Increase your chances of winning by using the Rafflecopter widget you'll see all the options and the # of extra points you'll get for each. Some, like Tweeting, can be done daily to really rack up points for extra chances to win!
Winner will be selected by the Rafflecopter widget (the more points, the greater your chance of being selected the winner!).
DEADLINE to enter is Thursday4/2/15 at 12:00 AM EST.
Now that you've entered, I encourage you to read about Shana and how she came to be a cat woman, and how that kitty inspired her to start her business. PLUS, you'll never believe how she found Pickles! (bonus extra: cute pictures of Pickles as a kitten!).