It's nice to have friends and family over to celebrate the holidays. But when you have a cat  (or three) you don't want "Welcome to Casa Cat!" to be the first things your guests think as they cross the threshold into your home.  Alternatively, holiday decor and entertaining can mean new unexpected dangers and stresses for kitty.

So today I'm sharing ten ways to make sure your home is Martha Stewart – or Candice Olson –  festive, while resident felines are safe and happy. Win win!
1. Replace candles with flameless candles
or tree lights. They provides a  festive feel without the hazards of an open flame. Plus you don't have to run around during the party to make sure they're still lit!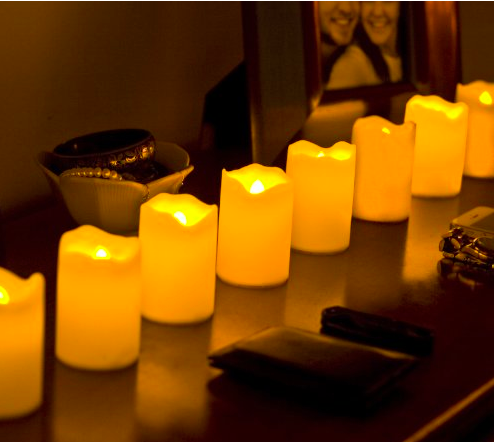 2. Ban tinsel from the tree.  Each cat is different but if you're like me and share your home with the quintessential curious cat (for me that's Kip), tinsel can literally be a killer. If ingested it can become entangled in the intestines causing them to twist and close off requiring expensive and dangerous surgery.  In fairness how can we expect a feline to refrain from the temptations of strings swaying gently from branches? Instead use beaded garland
to get the same sparkling effect on your tree without the hazard to your cats!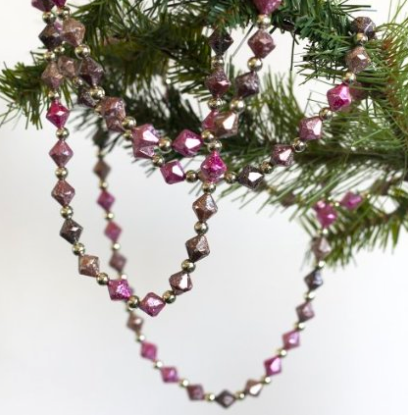 3. Litter potpourri.  Forget artificially scented baby powder smelling litter that mingles with the smell of poop and urine. Why not go with a naturally scented litters like World's Best Cat Litter in naturally scented lavender
, or Feline Pine
 (make of actual pine tree!). What could be more festive than that? Your guests might ask where you got the potpourri!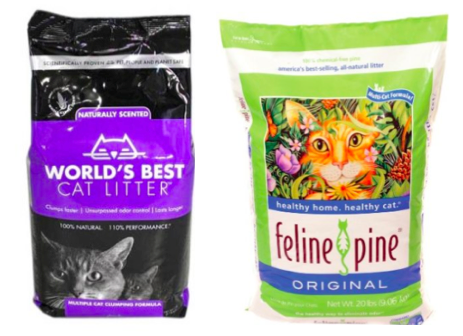 4. Hide the litter box. If you're like me, you don't have the luxury of a separate room to stash the litter box(s). You can still hide your litter box in plain sight with one of the many sleek litter boxes currently out on the market place or with a cat door.
5. Bows in lieu of ribbon. See #2 above (ban tinsel), cats should never play with string or ribbon unsupervised. Packages with all textures of string and ribbon under the tree can be very tempting to some cats. Instead use thick ribbon like a grosgrain or velvet to tie up packages, or use stick-on ready made bows!
6. Oh, and about that tree…While poinsettias get the rap for pet toxicity you might be surprised to learn other more commonly found holiday shrubbery is more dangerous to felines.  Mistletoe and holly as starters, but did you know your Christmas Tree is toxic to your cat? Even drinking the water the tree sits in can be dangerous, so it's always a good idea to cover the tree holder so the water is not accessible – try tin foil as cats don't enjoy the sound or feel of it and you can cover with a blanket or sheet.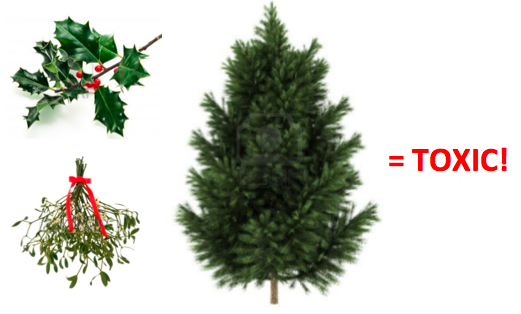 7. Cat toy conversation starters. There's nothing quite as unattractive than a busted up, cat toy in the middle of a cocktail party. No one wants to see that. Buy your gang a new toy or two with attitude to kick around in the shape of a martini olive, glass of wine or sushi roll. Your guests are sure to get a kick out of it!
8. Nuts and grapes are big no nos!  Cheese is a staple around the holidays, and it's usually accompanied by nuts and grapes.  But did you know that just one grape (or raison) can be dangerous to your cat?  Not only from a choking perspective but because it's toxic to them. Macadamia nuts are also highly toxic to felines (who knew!?)  And what could be more tempting to a cat than a spherical object that rolls and rolls? Not all cats are attracted to the same foods, so just be sure to keep an eye on your cat to make sure their curiosity doesn't get the better of them.  As a general rule, it's always good to remind your guests not to offer any human food to your feline family members.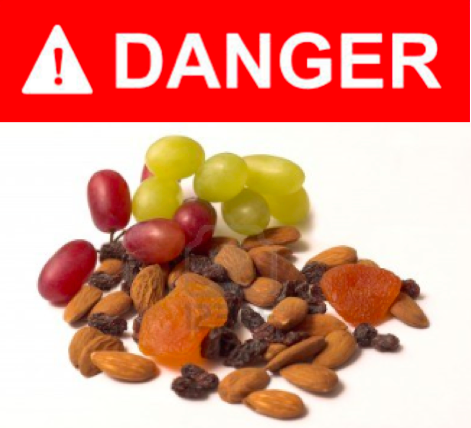 9. Hold the salt. Did you know that the chemicals like chloride and salts used in most de-icing products for the roads are toxic to animals? If you have an indoor/outdoor cat, be aware of what your neighbors and you are using to remove snow from the roadways and look for pet safe alternatives. Be sure to wipe down your cat's feet when he/she comes inside before they have a chance to go through their meticulous grooming process and ingest anything toxic.
10.  Safe room for kitty. Even the most social cat needs an exit strategy from Uncle Sal.  A safe room should be off limits to guests and have all the kitty necessities – food, water and a place to use the facilities."Checking" in on the kitty(s) can also be a good way to take a well earned breather!
Wishing you and your two and four legged friends and family a healthy (and stylish!) holiday!