When I read that Crumbs & Whiskers, the folks responsible for Washington DC's first cat cafe, had opened the first cat cafe in Los Angeles,we asked followers of I HAVE CAT on Facebook if anyone had checked it out yet.  As it turned out, Danielle Christine had not only been, she'd had her bachelorette party there! So we thought it would be fun to hear about how one comes to have a bachelorette party at a cat cafe, while also learning a bit about the cafe itself! Hope you enjoy today's guest post by Danielle (and if you've been to either of their locations leave a comment and let us know how the experience was for you!).  
When you are a bride to be, but you aren't a party person, planning your bachelorette party can be kind of a headache. I am not a drinker; I don't like crowds or clubs; I don't like sunbathing for hours by a pool; I basically don't like anything that could be considered a typical bachelorette party. It was a tough decision, until I boiled it down to what I actually do like: hanging out with my cats!
My wedding was this past December, not long after the opening of LA's first cat café, Crumbs & Whiskers. Being an avid social media user, I discovered  the café would be opening at just the right window for me to have my bachelorette party there, and – BOOM – I had my plan!
I've always been a cat lady, even when I was a kid, and am currently momma to three kitties: Maynard (16), Kiele Dru (2), and Bertie (7 months). I've been to CatCon the last two years, and I'm the person everyone buys random cat-themed items for – whether they're cute or not!


The idea of having a bachelorette party where I could hang out with kitties and relax with my friends  sounded was ideal. My friends thought it was a little unusual, but a fun idea, and very "me."
The café does offer "Kitten Parties," where they bring in kitties from local shelters just to socialize with you, but I didn't think I could handle that – the idea of playing with kittens who then had to go back to the shelter would have killed me. I would have ended up with 5 new kittens…and no fiancé!
We arrived at the café a were given an intro to how things work there: kitties who are awake are available for pets, play, and treat feeding, but kitties who are sleeping need to be left to snooze. And, no picking-up kitties – I must admit I was a bit sad about that, but knew the rule was in place to protect the cats. It was a little overwhelming at first. Who would we meet? Would I fall in love with another kitty and be unable to leave without him/her? This was a serious concern. And, of course, since it was a bachelorette party: would everyone have fun?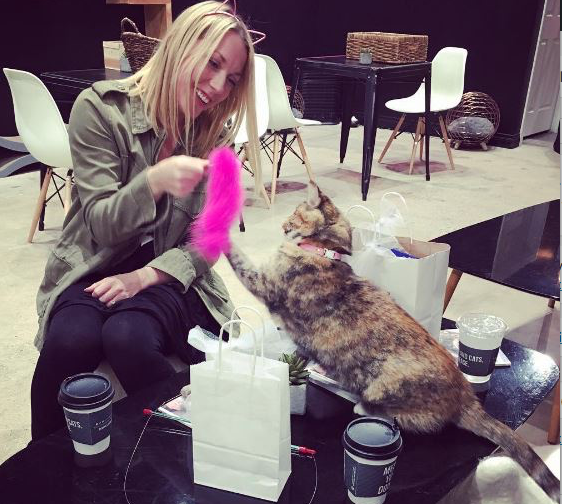 It turned out to be such a great time. We got to meet and play with a bunch of fun kitties and pet some lovely new furry friends. My Maid of Honor arranged for everyone to have Kitty Ear headbands, and she brought a bag of brand new cat toys for us to use and then donate to the kitties when we left.
My friends all enjoyed the low-key nature of the party – even the ones who are allergic to cats had fun (with the help of Benadryl). The employees at the café were great too and loved that I'd chosen to have my celebration with them.
The cafe itself is really nice: the décor is modern and clean, with a few tables in the central area, plus bench seating along one wall, and some snuggly chair/rug areas near the window. The kitties have tons of room to play and a lot of options for resting – there are high shelves along the walls, lots of beds and nooks to hide in, plus a few cat trees.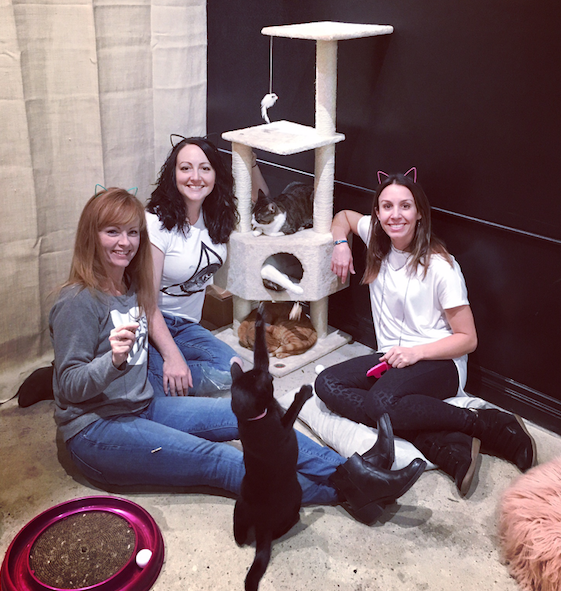 All of the litterboxes and food stations are kept behind a curtain in the back, so they aren't up in your face, and the kitties can go back there for some quiet time and privacy as needed. Kitty treats are available for purchase as are some basic coffee drinks (provided by a café down the street).
Having my bachelorette party at a cat café may seem like a weird choice, but for this cat lady, it was purr-fect! I'm looking forward to going back to Crumbs & Whiskers soon, but with a smaller group, so I can do some serious kitty cuddling.  Just don't tell my cats – they already think I don't cuddle them enough!
Based in Los Angeles, CA, Danielle Christine can be described as: Mother of Cats, Eater of Things, Part-Time Blogger & Creative Entity, and Always Liberal Feminist. In her spare time, she can be found binge-watching excellent (and not so excellent) TV with her husband and hanging upside down off of aerial apparatuses with moderate skill. You can stalk her cats on Instagram at @kieledru_and_bertie_too and @neilcatrickharris.