It's been over two years in the making but I'm thrilled to announce that SHOP CATS OF NEW YORK " dropped" (I feel so Kanye!) on November 1, 2016!
I'm so impressed by the job the HarperCollins Design group did in creating it – it's truly a lovely hardcover book (and it's been written that it both feels, and smells nice, so it's not just my bias talking!).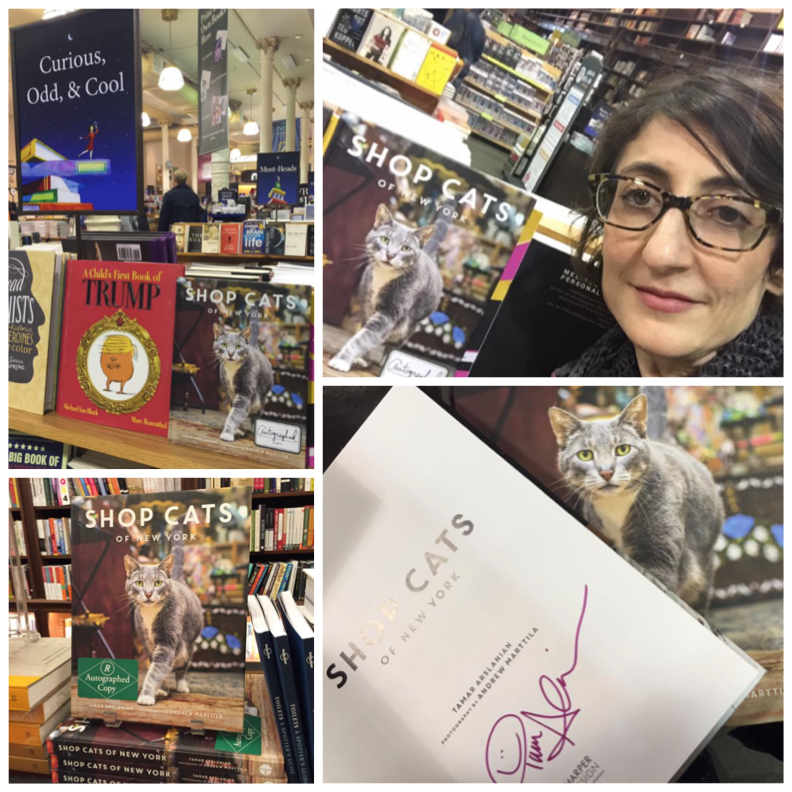 I had a little fun on launch day visiting a few local book shops doing unsolicited book signings (they didn't seem too mad and did put those little "autographed" stickers on them!).
Just to remind you, this IS the book about which Lil BUB said:
 "A beautiful book of beautiful photos of beautiful cats by beautiful people. 'Shop Cats' has a special place in my tiny heart."
I mean, with an endorsement like that!
We had an amazing book launch at the Corner Bookstore, and old-school book shop that's featured in the book. It was crazy to see their window full of copies of the book!
Oh, and I don't mean "we" in the royal sense. I'm referring to the amazing photographer I worked with on the book, Andrew Marttila of Instagram fame (@iamthegreatwent) and a former Cat Man Monday!
Here's a short clip from our night at the Corner Bookshop (if you don't see the video hit refresh).
For a longer version of the "talk" portion  click here. We were picked up in the NY Post…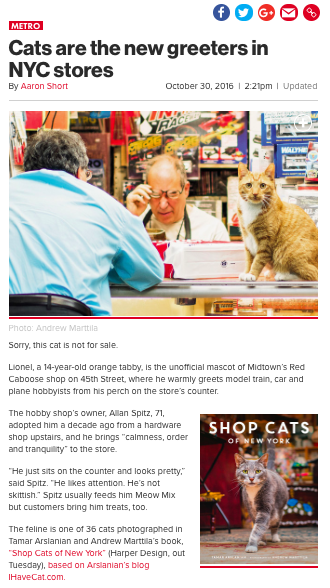 And PeoplePets.com….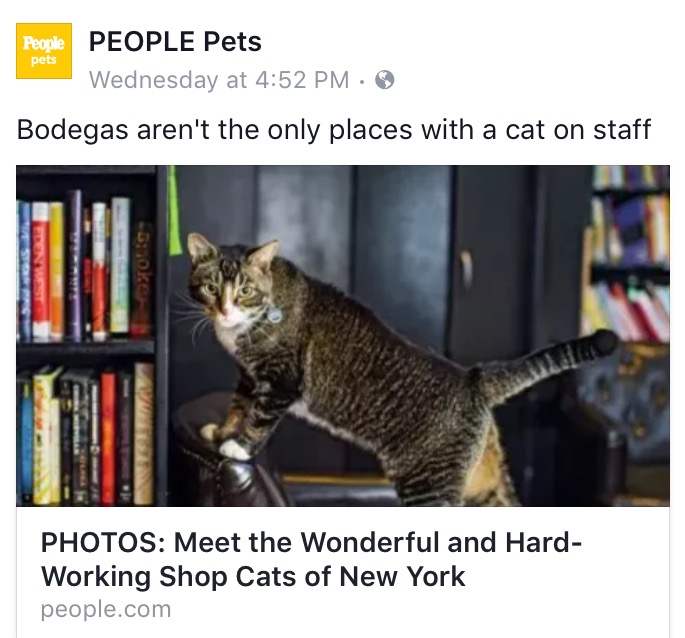 ..and look for the book in the November 28th issue of USA TODAY and the Jan/Feb issue of Catster Magazine (on stands in December!).
So many amazing blogs have written about us! I'm afraid to start list them here for fear of forgetting some but will update the "MY BOOK!" page with all the links and post that for everyone to see and read!
We even had a blog publish a review of our book in both German and English!
Not to mention the AMAZING videos and pics friends, celeb Instagram cats and others have been posting to Instagram, just check out #shopcatsofnewyork
I couldn't resist sharing this adorable video someone made of the book with their foster kittens looking for their DAD IN OUR BOOK!!! Super Squee! TURN UP THE VOLUME on this one!
It's also been a trip to see folks from all over the world getting copies of the book online and posting photos to the Shop Cats of New York Facebook Page.
There's so much more I'd love to post, but I think this is good for now! A HUGE THANK YOU to everyone for their support, and don't forget, while sales have been good, we need to keep up the pace!
So, if you're thinking about getting a copy or gifting one (also!), see if your local bookstore has them in stock – if not, I bet they'll get one for you! Or you can get them online ANYWHERE In the world (at least I think so!)! So you don't have to pay international shipping!
I leave you with this pic, potentially my favorite one from our launch night!
Oh, and don't forget to follow Shop Cats of New York on Facebook and Instagram (@shopcatsofnewyork) for outtakes and to share your pics! Just use the #shopcatsofnewyork on Instagram!
And if you didn't see it, I did recently wrote a post about how Shop Cats of New York came to be – it involves a fateful shower and Grumpy Cat's 2nd Birthday (for real!). So check it out!