I could never relate to statements like, "I love running, it clears my head and helps me work through problems" or "I had a great idea in the shower."
Running is something I avoid at all costs unless I'm trying to catch a bus, and truthfully that's more of an adrenaline-fueled sprint than a run.
On those rare occasions I have "run" (more like awkwardly jogged) a sense of clarity and calm is the furthest thing from my mind. My thoughts are more along the lines of: "OMG this sucks! Why would anyone do this voluntarily if not being chased? I'm having an asthma attack, Make it stop!"
And the shower thing. What exactly is going on in these "think tank" showers? Are people in there with those soapy crayons kids play with making pro/con lists or working out algorithms on the bathroom tiles?  When I take a shower my only focus is getting in and out as quickly as possible without forgetting anything important like rinsing out conditioner or shaving both legs.
I only use the running reference to reinforce the degree to which coming up with any idea in the shower is completely foreign to me. I guess I could lose the running storyline altogether, but since my editor (the sweet, cat loving and very patient Rebecca Hunt from HarperCollins) isn't here as I write this, you're stuck with it.
But allow me to back up for a moment –  three years actually. When, to my utter shock and delight I was approached by Lindsay Edgecombe, a literary agent (and fabulous cat mom) from Levine Greenberg Literary Agency, the same agency that represents Gillian Flynn of Gone Girl fame (I assure you this is not a gratuitous mention, just bear with me). She'd somehow come across my blog and reached out to me saying she liked my "voice," and wanted to meet to discuss a book.
As someone who's never considered herself a writer I was extremely flattered. Technically I'm ESL (English as a second language) as Armenian was the only language spoken in our home until I went to school. In addition, we'd moved when I was 14, and somehow managed to skip English grammar studies in the process, to this day I couldn't tell you what an present participle is if my life depended on it.
We met and it was my job to pitch her book ideas. I didn't have any completed, or partially completed novels to send her, so I starting coming up with concepts leveraging various aspects of my blog: defying the crazy cat lady stereo type, rebranding the crazy cat stereotype, dating with cats, dating (with cats) when you're over 40, what I've learned from my three cats and 20+ fosters, the other side of 40 (with cats) etc.
Lindsay very kindly declined my pitches and after a year I figured I'd blown my once-in-a-lifetime chance. I mean, how often does an agent come knocking on your door when you aren't even looking? NEVER.
But then one morning, long after I'd given up any illusions of writing a book, I found myself in the shower shampooing my hair when out of nowhere I started wondering, "why there aren't any books about the cats who live in New York City businesses?"
Yup, the friggin shower.
Given my impatience, this shower-based-thought was immediately followed by a mad dash to my laptop, leaving a soapy trail in my wake as I Googled "New York City shop cats."
While a few articles popped up, I was unable to find anything substantive. Had I ACTUALLY come up with an original idea? And in the SHOWER no less? After getting dressed and conducting a bit more research I found that cats in France were having a renaissance with books like "Parisian Cats," and "The French Cat."  Dogs in New York were featured in "Couture Dogs of New York" and "The New York Dog."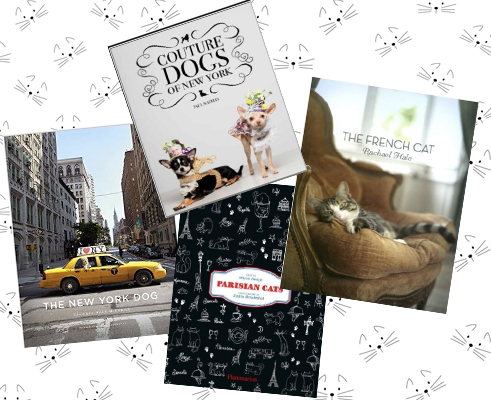 But to find a book paying homage to the cats of this city, I had to go all the way back to the late 70s and early 90s. And these books consisted at most of a photograph, location, name, age and one descriptive quote. And both books referred to these cats as working cats.
My book would celebrate these cats as an integral part of local businesses. Cats who'd become local celebrities. Cats people went out of their way to visit. Cats who became conduits for conversations between customers or customers and business owners. Cats that put businesses on the map. Cats, that by their mere presence, imbued positive traits upon their caretakers. These were people who'd taken in unwanted animals and given them a loving home. These were gentle, caring, big hearted people. People you wanted to give your hard earned NYC cash to. If you had to spend it, why not to a person who loved cats?
I'm not sure how or why the fact that two beloved shop cats residing in my neighborhood (Jack a wine store cat and Kitty a pilates studio cat) sparked something in the synapsis of my brain to make a connection to a book about shop cats. But there you have it. It must have been the magic of the shower.
I have to admit I was concerned my dream of writing a book would be thwarted by one woman. That woman was Rachael Hale McKenna, the author and photographer of the both the "French Cat" and the "New York Dog." I feared she was working on a follow-up…the "New York Cat."
So I did what any type A paranoid normal person would do and called the publisher, mentioned I was a huge fan of her work (I am), and as a cat blogger living in New York was wondering if she was planning on a NY cat book. I was told that Rachael had moved back to New Zealand and there would be no cat book. I made sure to sound disappointed, thanked the person, hung up and literally jumped for joy.
It was October of 2014, and I had just seen Gone Girl. And while Lindsay wasn't Gillian's agent, I used it as a rather loose pretext on which to email her, ask her if she knew how I might get in touch with the movie's cat trainer (perhaps I figured someone in her office would know?), and casually mention my book idea. Why I couldn't have just said I'd seen the movie and thought it was quite good  I'll never know.
Two minutes later I received the words I'd waited over a year to hear:
"Awesome! Tamar, that is a GREAT book idea."
The rest, as they say, is history. Well not exactly, but you get the idea.
You're probably wondering how Grumpy Cat fits into all of this and if I used her to bait you into reading this post or for increasing SEO (search engine optimization) for this post. Fear not, I would never do that to you. Well, not this time anyway.
If one is going to have a book about cats living in New York City shops, one needs a photographer. Thanks to having attended Grumpy Cat's Birthday party in April of 2014, I met cat photographer Andrew Marttila (@iamthegreatwent). 
I knew I wanted him on this project because of the unique quality of his work. Not only the type of shots he's able to capture – a range of expressions and cats just being cats, not posed in any way – but the intimacy and vivid quality of his work. I called him up and he was in!
And that's how the SHOP CATS OF NEW YORK, featuring 40 New York City cats living in a variety of business from bike shops to real estate offices, was birthed!
Or will be birthed on November 1st when it's in-stores? Or is it birthed the first day it's printed? Perhaps it was merely conceived. Can books be conceived and birthed? (ESL and skipped grammar class  people, weren't you paying attention?). I'm sure my editor would be able to weigh in on this but in absence of her great knowledge, you'll have to put up with my potentially ill-advised analogies (are they analogies or just descriptions? #esl).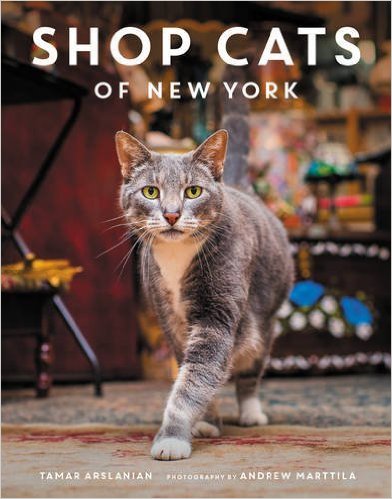 In case you've been living under a rock and haven't already noticed from all my stalking harassing emails and social media posts, Shop Cats of New York is currently on pre-sale. If you order now, you'll be one of the first to receive it! It will be on-shelves in bookstores November 1st (call your local book stores and make sure they're carrying it!). If you'd rather support your local book shop you can still pre-order, just check out Indiebound.org!
Stay tuned (aka be sure you're signed up to get alerts for new blog posts – see upper right hand side of this blog), so you don't miss out on my upcoming post where you'll get a sneak peek at the book, outtakes, updates on book signings and other such fascinating things!