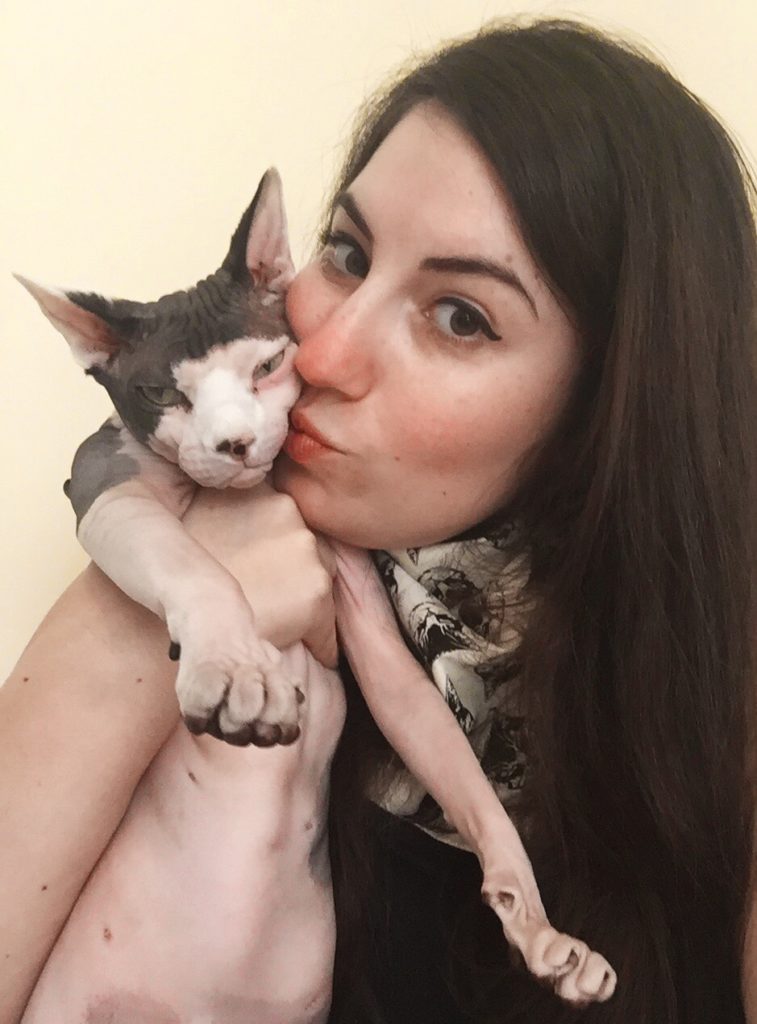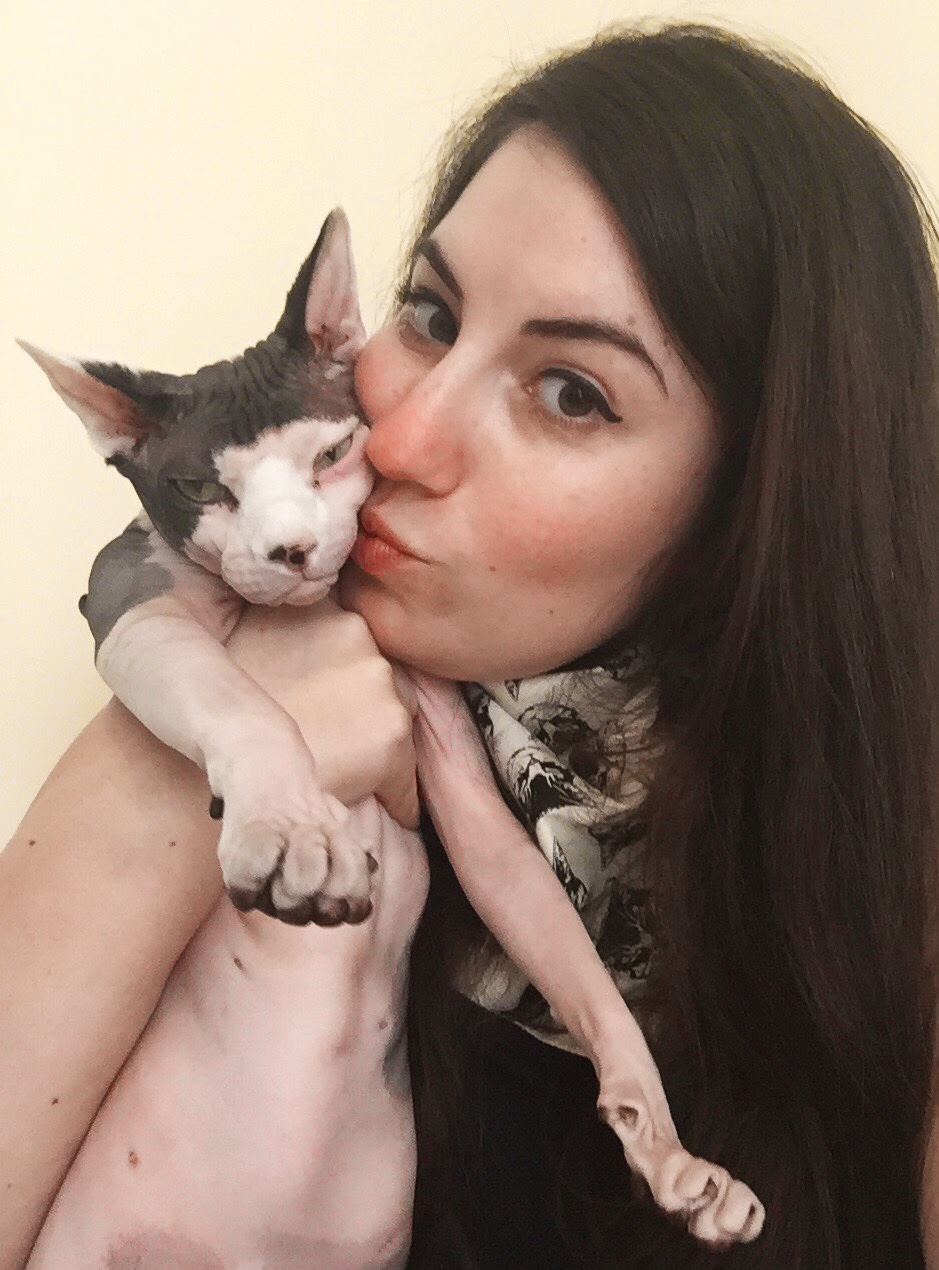 Today's guest post from Ashlynn Brink recounts how her lifelong love of felines (read on to learn the depths of that love!) combined with a college course, inspired a career change culminating in Housecat Club, a whimsical vegan cat toy business. She also talks us about meeting her fiancé, and the role her cats played in her dating life!
BONUS EXTRA!  I Have Cat readers get free shipping on Housecat Club purchases through 10/19/16, by using IHAVECAT at check out!
***********
I currently have three cats, a tabby named Dexter and two Sphynx cats named Baloney and Uncle Nino. From a very young age, my love for cats was apparent. Almost all of the photos I have from my childhood are of me holding a cat, chasing a cat, or wearing a cat shirt.
I grew up on a farm where people were constantly dropping off strays; at most we had 40 cats at a time which felt like heaven to me. I knew all of their names and birthdays (some I had to guess) and would throw parties for them complete with homemade cat birthday hats.
Throughout my life cats have been my unequivocal constant. I really can't imagine my life without them – a resolution that was put to the test when a roommate once told me that he would triple my rent unless I got rid of my cats; I moved out the next day.
I've been making cat toys on and off since 2011 when my final project for a college course on finance was to start my own business. I didn't even know how to sew at the time but I thought it would be fun to make and sell my own cat toys, so I picked up a needle and thread and opened an Etsy shop.
Putting my Chemistry degree to work, many of my original designs were food-based and featured scents I'd formulated: a poultry-scented drumstick, butter-scented pierogies and popcorn, and a beef-scented steak. I eventually discontinued them because they were a little too convincing, and as a longtime vegan it was starting to really gross me out. I did keep the butter scent as an option for the pierogies though and it's still available to this day in my shop.
Much to my surprise, my toys become quite popular so I continued to run my Etsy shop on nights and weekends or whenever I could find time between working and school. Eventually it became too much to balance so I shut down the shop, but I could never stop thinking about cat toys or bring myself to unload the small studio's worth of crafting supplies I'd accumulated over the years.
I decided there was something to that, so in the summer of 2014, I made a bold decision: I quit my longtime job as the manager of a dog daycare, founded Housecat Club and devoted myself to making cat toys full-time.
The name for my business was inspired from my childhood and people asked what I wanted to be when I grew up. I told them, "a house cat."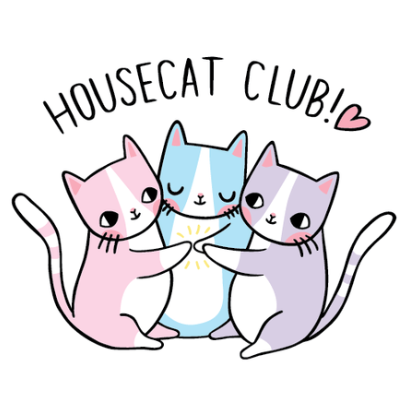 For a good portion of my childhood, I pretended I was a cat named Buttercup and wouldn't respond to people unless they called me that. I even walked, ate, and slept like a cat. (My poor parents!). With this business I realized I'd achieved my lifelong dream and could hang around the house all day doing cat stuff with my cat buds and so, Housecat Club!
A lot of my inspiration for toys comes from the people I love, whether it be their favorite foods or things that remind me of them. The first toy I ever made, a pierogi, is for my friend Andrew who is a proud Ukrainian and dances the polka with me every year at his church's annual pierogi festival.
I mentioned being a vegan, and because of that all of my toys are handcrafted using vegan and recycled materials with certified USA organic catnip. May people as, "What makes your cat toys vegan?" Whereas most cat toys are made from wool felt, ours are made from either Eco Felt, which is produced from recycled bottles, or viscose which comes from tree fibers.
But let me back up a moment to the fiancé part. I had my current cats when I met my now fiancé Patrick. We met online, long-distance, and before I agreed to meet him I made sure he was not only accepting of but embraced my three cats, a number that will undoubtedly multiply.
He said that he figured they were a deal-breaker since my online dating profile said "I'm looking for a decent father figure for my cat sons," and told me that although he had never lived with cats, he loved all animals and thought he'd be a good fit for the part.
In the past people have been really freaked out by my hairless cats, so I was a bit worried that he wouldn't know how to react to them. He soon quelled all of my doubts and the first time he met them he picked them up and kissed them! In that moment, I knew he was my soul mate.
***********
Hmmm, I wonder if Patrick has a single older brother…..!
Don't forget to check out Ashlynn's toys and use IHAVECAT at checkout for free shipping for the next month!