When I first saw the posters for the movie "Keanu" I thought it was a joke. Upon finding out it wasn't a hoax, I vowed never to see it – kittens be damned. But after reading the mostly positive reviews, I had to check it out. I figured it was my duty as a cat blogger.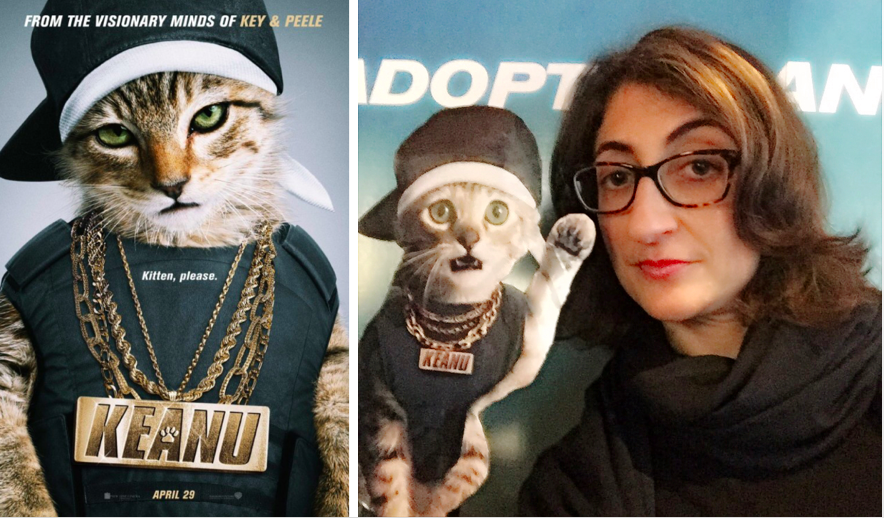 Like most people cat lovers who saw the film, I found it entertaining, but longed for more kitten scenes. I read one article claiming the role of a cat was a late addition to the screen play for the purpose of giving the action a reason for being (something to revolve around), but was unable to confirm the veracity of the assertion.
At the end of the movie I stuck around to find out who the animal trainer was – as I always do when cats are involved. Lo and behold, it was Larry Payne, the very same trainer who'd worked on "Gone Girl," about which I'd interviewed him (he's also known for his work on "Marley and Me," "Dr. Doo Little," and "Charlotte's Web" among many others). Thankfully Larry remembered me from our prior conversation and was kind enough to chat with me about the making of "Keanu."
It turns out there were nine tabby kittens used for the making of the movie (though most articles incorrectly state seven). I'm happy to say that all were rescues from shelters and some were literally saved from death row. Three came from a rescue in California, then as they grew too old, four more were adopted while filming in New Orleans, then two more when continuing shooting back in LA.
Larry is a big believer in rescue animals and urges folks who want a cat to "go the pound to find cats of all breeds and types," mentioning that this time of years even kittens are plentiful.
In addition to the tabbies, there were also three tuxedo kittens rescued from LA as the director was unsure if he wanted to use tuxedos or tabbies  in the movie (tabbies were ultimately chosen as they"re more commonly found in shelters and have less obvious variations in markings).
In case you're wondering what happened to all those kittens – who are now about a year old – Larry kept all but one, who was adopted by actress Tiffany Haddish who played the role of Hi-C in the film. And while Larry says he hasn't been following up on how his former actress is doing (the cat, not Tiffany), he admitted his wife sometimes takes a peek on social media to check in on her. He says all the cats he has get along, "They're really special cats, very bonded." I got the feeling he was pretty bonded with them as well.
When I asked Larry how he could predict which kittens would make good "actors," he said, "It's hard to tell what they will be afraid of, but good thing is they can be acclimatized to noisier living conditions. You can kind of mold them [given their young age]."
The movie has a lot of explosions and gun fights in it, but it's important to note that most, if not all, of the sound effects were added in post production. A few of the more tolerant kittens did have to get used to the sound of what are called "squibs" going off (squibs are small fireworks of sorts needed to make it look like things are actually exploding/being shot-at).
Larry wasn't confident at first that the kittens could pull it off, but director Peter Atencio (whose Instagram description reads "Director/Producer/Cat Person") was adamant about using real cats throughout the movie and not resorting to CGI (3D animation). Larry said they begin training the kittens by setting the squibs off about a block away and slowly moving them closer as they  became accustomed to the sound.
When I posed the question of what they'd like to know about the "Keanu" kittens on Facebook, many I HAVE CAT fans wanted to know how they were made to do things on command – be it meow or scratch in just the right place.
The answer is clicker training and/or food. On set Larry uses wet food (Friskies is a favorite because of it's strong smell) since dry food makes a crunching noise, and can spill. Baby food is also a good back-up and was even put on Peele's cheek at one point to get one kitten to "kiss" him (Larry sais he was a good sport about it).
One IHC fan asked about a particular chase scene where the kitten is balancing on the hood of the car. It turns out they removed the hood off the car, placed the kitten on it and used a fan to simulate wind. Then, using movie magic, they put the hood and kitten footage, onto the scenes with the moving car.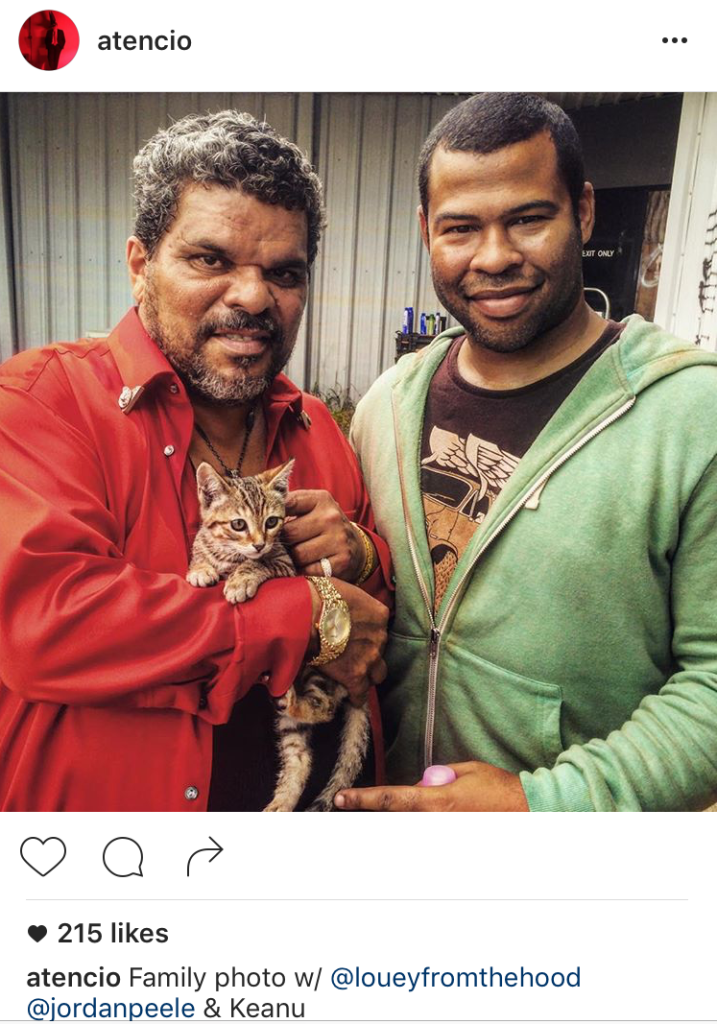 I asked Larry if any scenes had to be reshoot because of kitten misstep, but he claims that was never the case.  Not only were the kittens very adept at their "stunts," they were also therapy cats of sort. If someone was having a bad day on-set, they were sent to Larry for kitten time!
The kittens even did their part in changing the perception of felines among some cast members. When I asked if they'd turned any non-cat people into cat lovers Larry responded, "I was say definitely yes."  These kitties certainly went above and beyond!
Did you see "Keanu"? Could you tell that more than one cat played the role of the kitten? What kitten "stunt" were you most impressed by?