Today's post was written by Lynn G., a 30-something self proclaimed animal lover and tree hugger who's happy to call the Emerald City (Seattle) home. She's a proud mommy to 3-year old daughter Melody and auntie to feline nieces Arwyn and Jing Ling.
From the kick-off of their crowd funding campaign in November of 2014, University of Washington students Matt Lai and Andrew Hsieh, along with another friend, knew they were in for an adventure. Cat Cafes were all the hit in Asia, where both are originally from, and they knew, along with being coffee lovers, Seattlites are also cat lovers. Why not open a Cat Café right here? So on December 26, 2015, Seattle Meowtropolitan was officially open!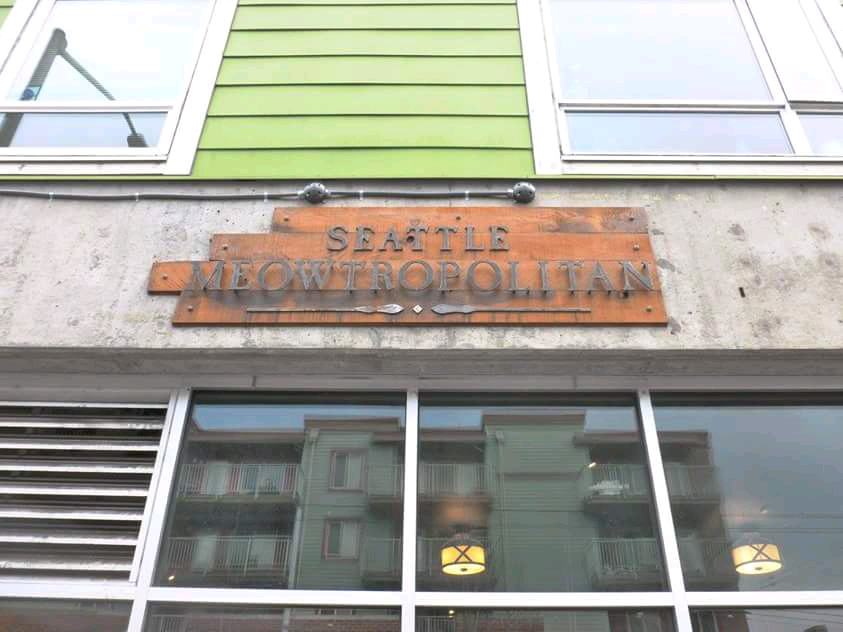 Patrons must make a reservation since only 15 humans are allowed to socialize with the cats at any given time, as to not overstimulate them. And better book early, weekend times especially fill up fast!  Reservations can be made up to two weeks in advance, at $10 which includes a drink of your choice, and 50 minutes of kitty play time. Children 8 and older are also welcome.
Patrons with a reservation check in with the cashier upon arrival where they also order their drink. The human lounge is staffed with friendly baristas who just might be wearing kitty-ear headbands, and is stocked not only with beverages but sweets from Fuji Bakery. All your popular hot beverages are available thanks to Herkimer Coffee Company.
I had a "Fondant" brownie with a cat design on top created with powdered sugar, and it was like a molten lava cake; so decadent paired with a "Catpuccino" – it hit the spot!  Compared to Starbucks and Mercury's Coffee, which I frequent often, the prices were actually good. There were shelves on one wall holding merchandise, among which were mugs, tote bags, and various styles of t-shirts.  Patrons also have access to free secured WiFi.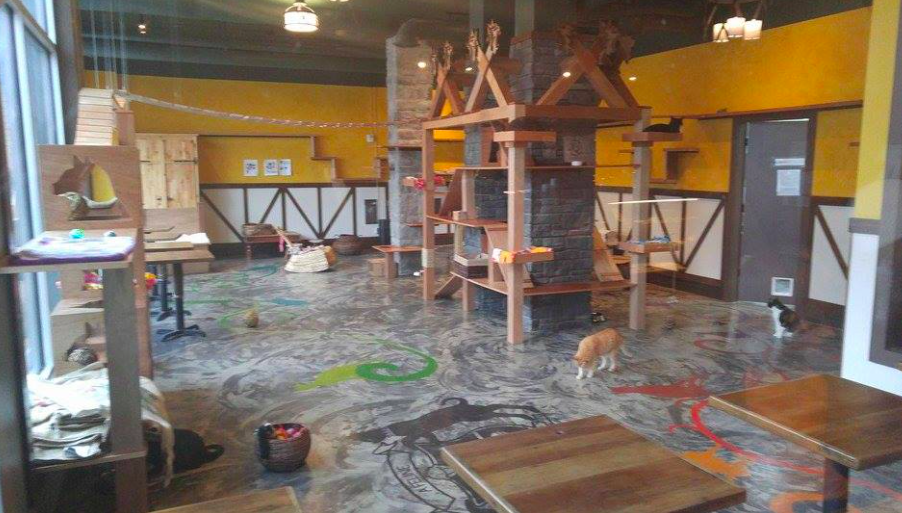 When it's time, an announcement is made and everyone files into the cat lounge, which is decorated in Medieval fortress style. Various cardboard boxes, baskets, and other hiding places were scattered about. There were also many fleece blankets and faux lambskin rugs for feline comfort. I loved the assortment of towers, walkways, and bridges for the kitties to climb and walk along. Drinks and pastries are allowed inside, though in paper containers only.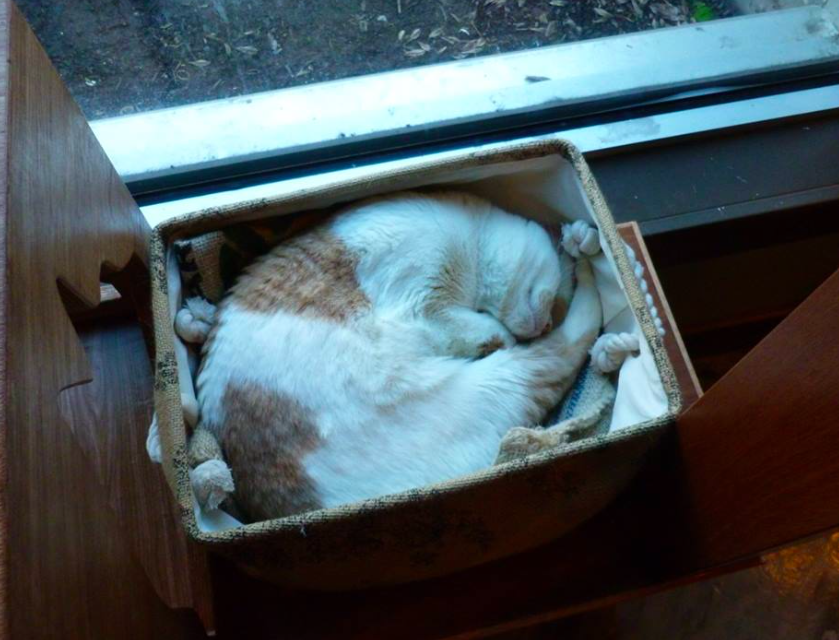 Hand sanitizers must be used before entry, and again before exiting the lounge to prevent any cross contamination. Any food or drink entering the lounge must be gone or thrown out before exiting, as well. Patrons without a reservation can still enjoy a hot beverage or pastry while watching the kitties through a large window.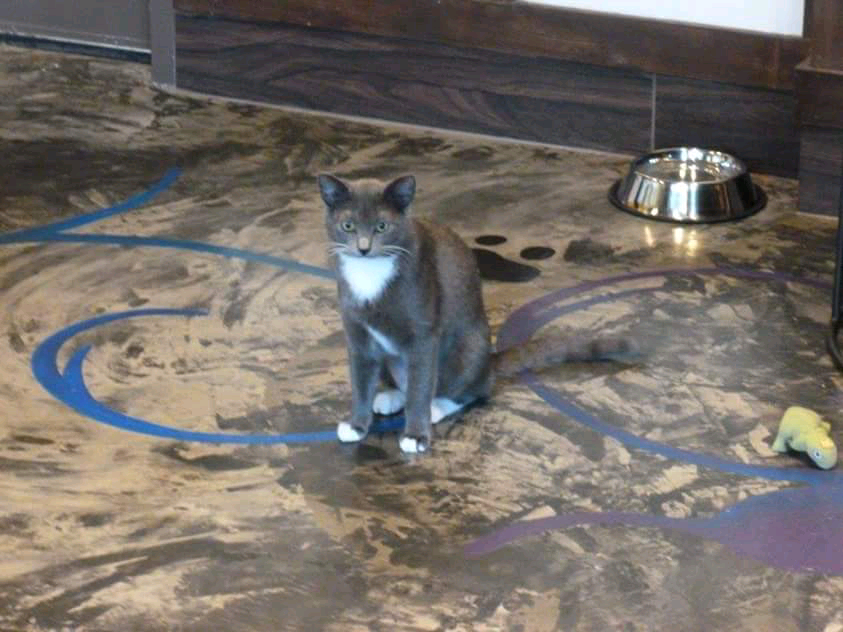 There were 17 cats in the lounge while I was there, though 8 of those preferred to stay in the private back room where it was quieter so they could nap uninterrupted. Seven were permanent residents (called "Knights"), and nine were adoptable cats (called "Travelers") from Regional Animal Services of King County. To date, they've adopted out 5 kitties since their adoption program started in January, and they hope to continue the "one-a-week" average moving forward.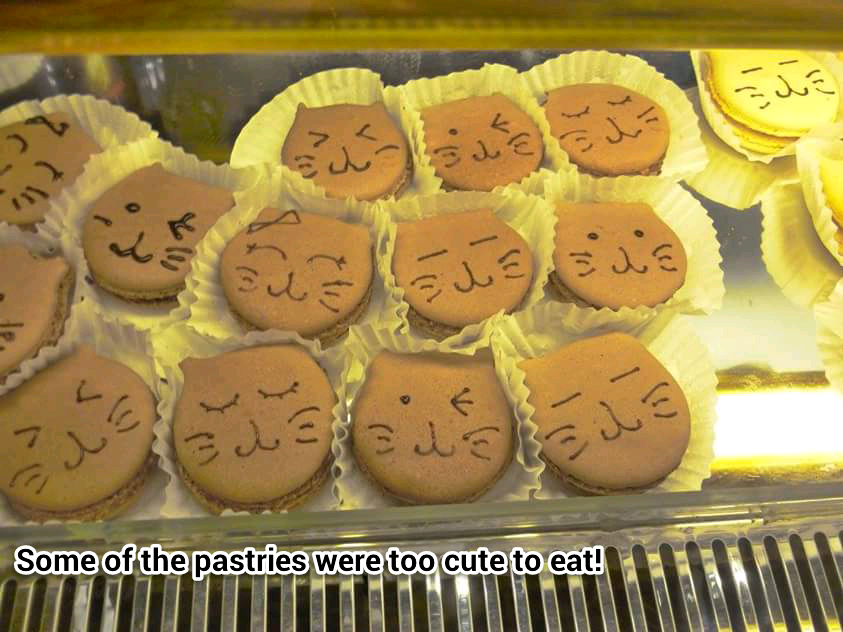 The cats have Monday of every week off, and breaks one hour a day and 10 minutes every hour (during business hours) to recoup from all the humans. Besides a few who would rather nap than interact with the humans, all kitties were well socalized and didn't mind being pet or scritched. Some were even in the mood to play with the multiple toys provided.
My visit left me mesmerized by the artistic floor designs, and curious about the cool Victorian wooden trunk theme, but especially happy to have something yummy in my tummy, and feeling warm in my heart. The only downside for me was there were no parking lots, only crowded street parking in the area.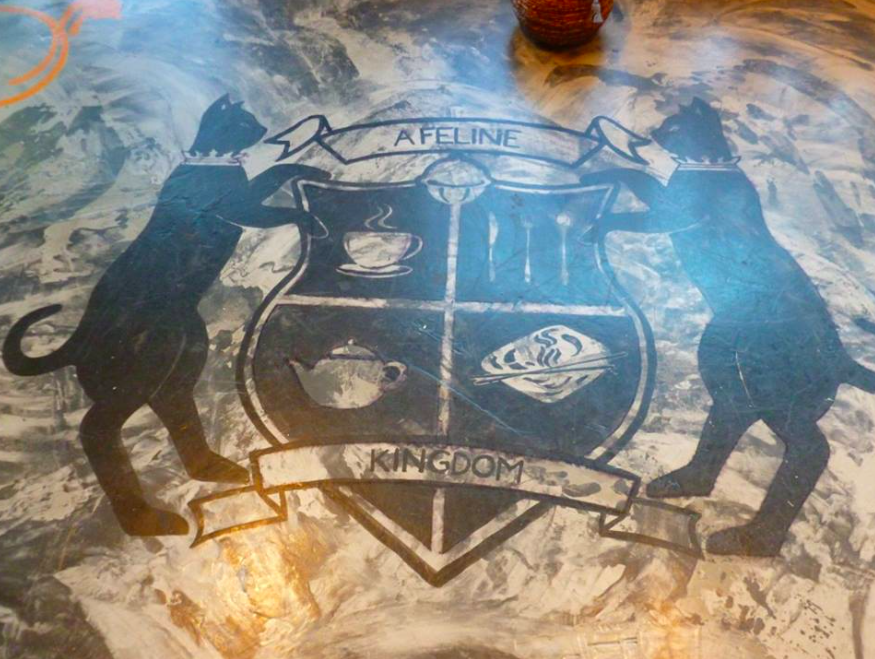 Photo credits Lynn G. and Donovan T.
Seattle Meowtropolitan; 1225 N 45th St, Seattle, WA 98103 (206) 632-2330