Tidy Cats has teamed up with Adam Ellis, the creator of Tiny Hats for Cats to ring in the New Year – and there could be something in it for you!
If you're not familiar with Adam and his adorable feline head gear you should check out his Instagram account at https://www.instagram.com/adamtots.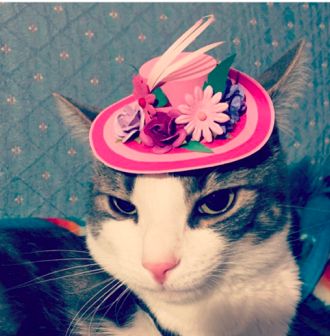 He even made a one-of-a -kind tiny hat for my kitties to ring in the New Year! (read on to find out how you could get one too!). It was quite a stroke of luck that I was able to get a photo of all three of my cats wearing his adorable 2016 New Years hat!
Tidy Cats is giving one lucky I HAVE CAT reader the chance to win a:
Custom Adam Ellis Tiny Hat PLUS
YEAR'S SUPPLY of cat litter  (in the form of 12 Tidy Cats product coupons)
Enter using the Rafflecopter Widget below through January 4th at 12AM! Good Luck!
Disclosure: This post is sponsored by Tidy Cats. As always, I HAVE CAT only posts content it feels its readers will find of interesting.