Avoid Black Friday insanity by checking out these I HAVE CAT picks for the cat-loving women in your life (or just treat yourself!)! And yes, we're offering exclusive discount codes so don't miss out!
CAT LADY BOX 
you're likely familiar with subscription boxes for cats that come delivered to your door stop once a month. Now there's a subscription box called Cat Lady Box created specifically for cat loving women!
Once a month, for as many months as you choose, you'll get a box filled with items ranging from cat mugs, scarves, watches, key chains, wallets, temporary tattoos – and more! Think of it like Birch Box for cat women!
And, when you use the code IHAVECAT at checkout, you'll get 10% off your total purchase – be it one month, or six, for yourself or as a gift! And if you're feeling generous, there is an option that includes a few surprises in it for your kitty(s)!
TRIPLE T STUDIOS
This online store is chock full of cat-themed items to please every cat lady on your list from the conservative cat woman to the classy cat lady, and yes, even the crazy cat lady! You'll find rings, necklaces, bags, backpacks, scarves, make-up bags, watches and so much more!
Personally I adore these simple bangles that remind us of important lessons we can learn from our feline friends.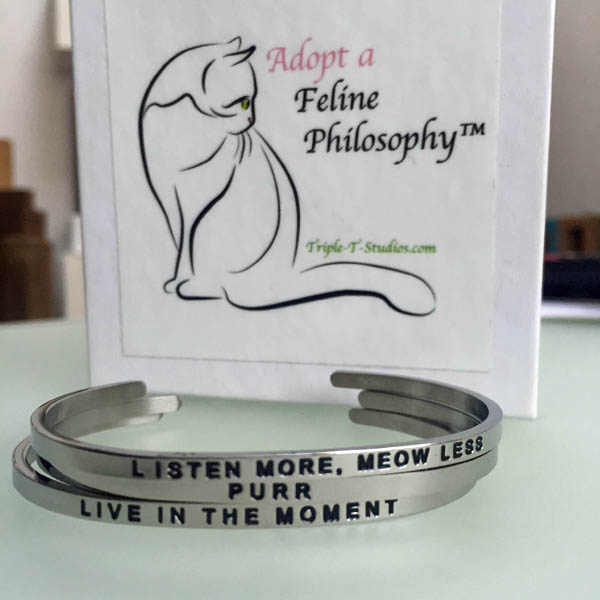 Be sure to check out the site, you won't be disappointed, and by using the code ihavecat20 you can save 20% off EVERYTHING in the store!
CRAZY CAT LADY CONCOCTIONS 
If the cat woman in your life loves beauty products – particularly those that are fair-trade, earth-friendly and vegan – you can't go wrong with what you'll find on the Crazy Cat Lady concoctions site.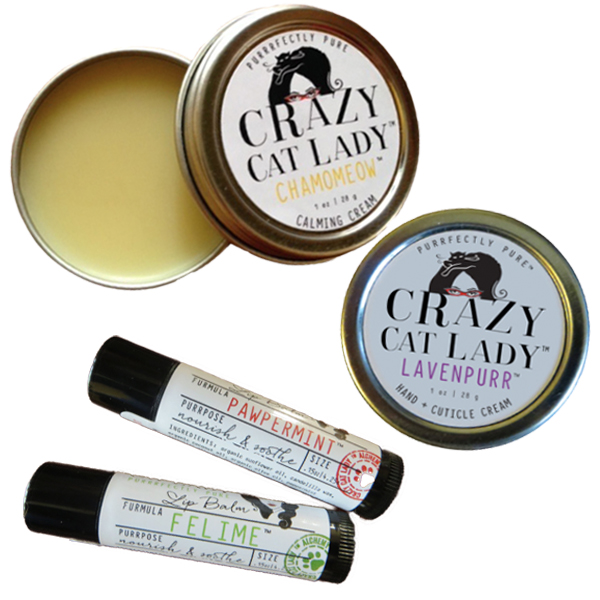 Personally I'm a big fan of the LavePurr Hand and Cuticle Cream along with the Chamomeow Calming Cream. The Pawpermint and Felime lip balms have also been flying off the shelves (well the virtual one anyway!).
While supplies last, you can use the discount code IHAVECAT for 20% throughout the site (until 12/20/15).
COLOR ME CATS COLORING BOOK
And if you're cat lady happens to be artistically inclined, or perhaps a cat girl, she's bound to love this coloring book by the very colorful artist BzTat!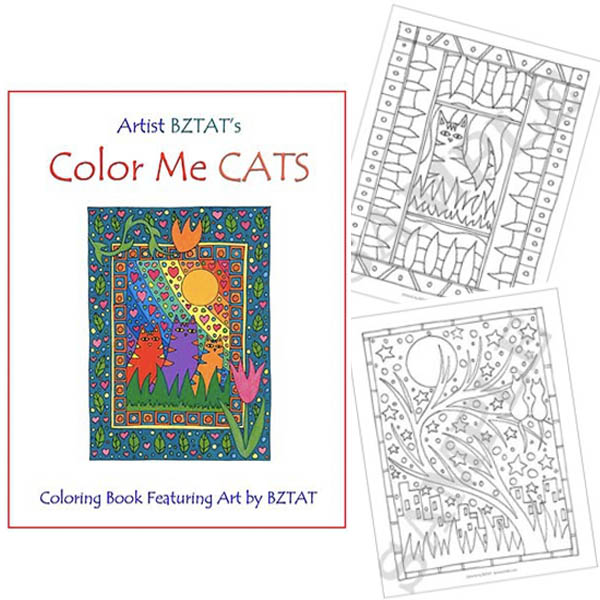 I hope you've found this post helpful as you begin your holiday shopping – or perhaps you've just decided to pamper yourself which is equally important! Be sure to take advantage of those great discount codes and enjoy the holiday week!
All the best to you and your families both furry and 2-legged,
I HAVE CAT =^^=