You may have heard of the "Humans of New York", but have you heard of  "Felines of New York: A Glimpse Into the Lives of New York's Feline Inhabitants"?
Jim Tews, a comedian by trade who made his feature debut on Last Comic Standing, started taking photos of his friend's cats and making up quotes of what they might be thinking (i.e., their desire to see the NYC, but not having a clue how to get a metro card). His whim turned into a wildly popular Tumblr site that is now a book launching on November 24th. You can preorder it now on Amazon!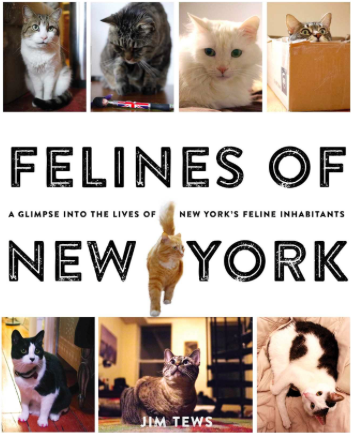 When Jim was looking for other New York City cats to photograph for his book and website I quickly offered up my apartment and trio of felines.  In fact, rumor has it that one – if not more – of my guys is featured in the book (though sadly not on the cover – the humanity!).
I remember spending a day going nuts cleaning the apartment for the shoot and at the last minute thinking I'd better tidy up the bathroom as well – just in case it needed to be used for one reason or another.  Well it's a good think I did because that's where Petie Bear decided he was most comfortable and both a photo and GIF of him were featured on the Tumblr site (below for your viewing pleasure)!
If you happen to live in the NYC area, Jim's book launch will be taking place tonight at Littlefield. If not, don't fret, just remember – preorder The Felines of New York now, it's sure to be a riot and will make a great gift for any cat lover who's wondering what their cat is really thinking.