Today I'm excited to be honoring David Williams, the author of the upcoming photography book, Men With Cats: Intimate Portraits of Feline Friendship  (pre order your copy now!) as our Cat Man Monday! David and I met, fittingly enough, at The Algonquin Hotel during Matilda's Birthday (in case you're unaware she's the resident cat at the midtown hotel). Today David will tell you how the concept of his book came to be, as well as how felines entered his adult life. Enjoy! 
Sometimes I wonder if my obsession with cats comes from the bond my father had with our family cat Spikey, or if it stems from the fact that my mother instilled in her five children the importance of compassion toward animals. We always had a few rescue pugs, barn cats and guinea pigs running around the house. Now as adults, every one in my family has at least one dog or cat.
Around 2009 I began to realize that a lot of my male friends were cat owners – and not just because their girlfriends, wives or female roommates had them. I found it very interesting that so many of these "masculine" men were obsessed with cats and did not subscribe to the "cats are for girls/dogs are for boys" stereotype. After meeting more and more guys who had cats, I decided that it was time to begin a series called "Men With Cats". They would be simple, intimate portraits of guys at home with their feline companions.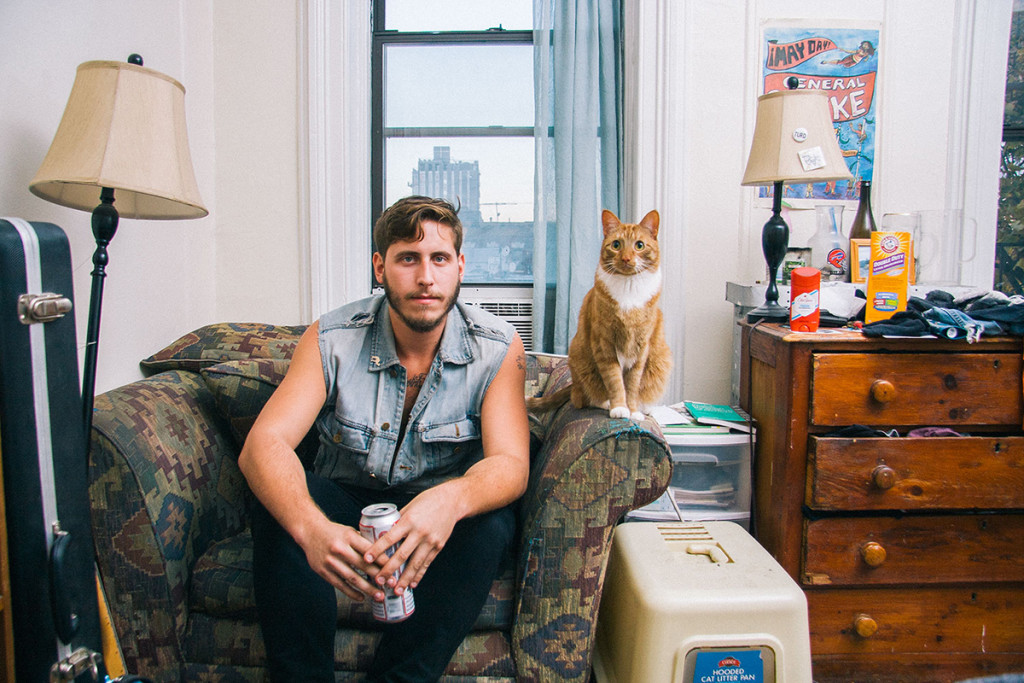 I was interested in exploring, and maybe challenging the genderization of animal ownership and change the way people see the stereotype of the "crazy cat lady". The stigma of cat ownership is a two-sided coin – as a female you are doomed to a life of loneliness and hairy sweaters and if you are a man, owning cat severely emasculates you.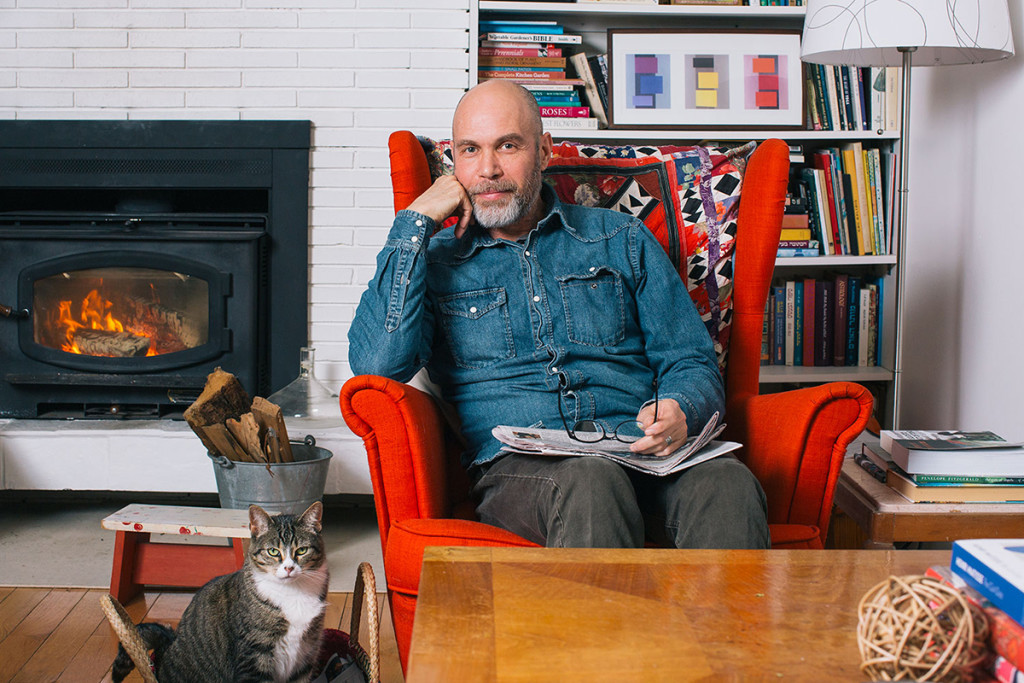 It made me sad to think that some animals may not have homes because they don't coincide with a potential owner's expected gender persona. One of the biggest reasons I loved shooting these quirky portraits so much was because I was able to hang out with so many cats – unfortunately at the timeI lived in an apartment that didn't allow pets. 
My girlfriend Rachel graduated college in 2012, and in August of that year we moved to New York to pursue our art careers. A few months later, Hurricane Sandy hit the East Coast, putting many animal shelters well over capacity. We knew this was a perfect opportunity to adopt our first kitten. We named her Margot, after one of our favorite movie characters, Margot Tenenbaum. She was an extremely shy street cat who has blossomed into and an amazing companion. 
After she turned two, we began debating about getting another cat. Margot needed a friend to hang out with while we were gone all day after all, but we just couldn't make the plunge. Coincidentally, our friend was moving out of state and wasn't able to take his cat with him. Tux, a very talkative twenty-pound tuxedo cat, was literally dropped into my lap when Rachel brought him home as a surprise.
In February this year, Juxtapoz Magazine wrote about the "Men With Cats" series on their blog. The next morning I had dozens of emails from media outlets wanting to learn more about the project and tons of messages from guys who had cats that wanted to share their stories with me. I took all of this as a sign to reach out to publishers about putting together a book. 
A very few short months later, I took off on a journey to photograph 100 new portraits across the country. My subjects represent an interesting cross-section of men in American society – musicians and painters, bikers, truck drivers, tattoos artists, CEOs and small business owners.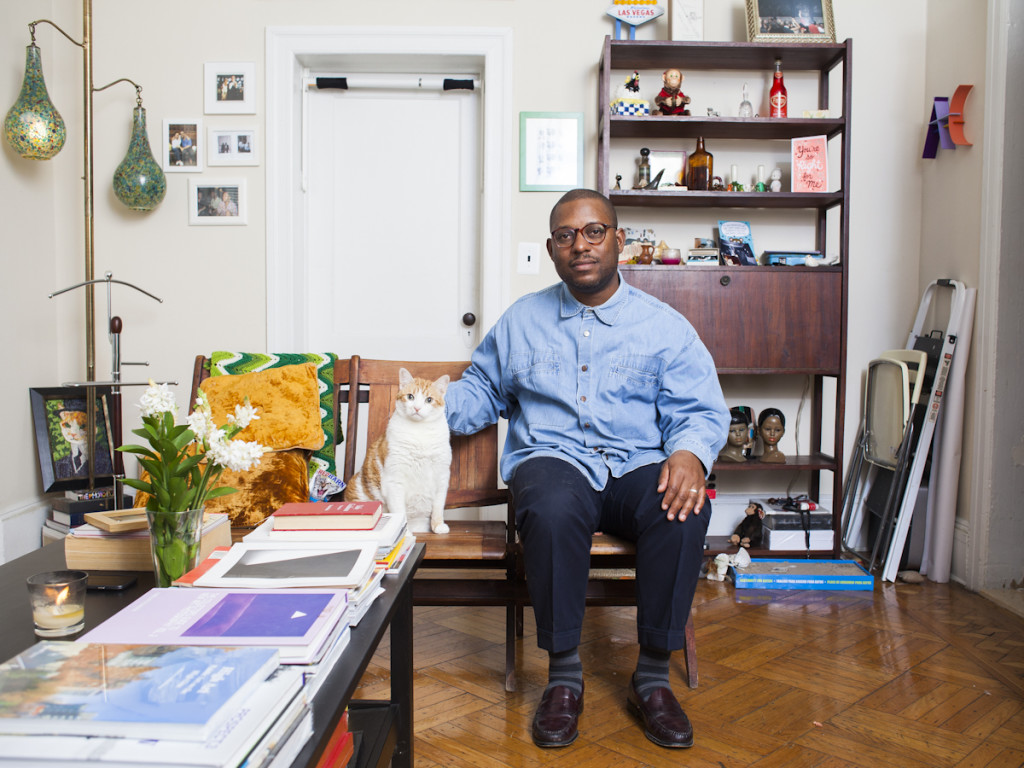 Shooting these portraits has confirmed for me that the pets you own should not be a reflection of your gender identity – animals literally have no idea either way. They only care if they receive love, food of course and a place to call home. Every guy in my book goes above and beyond caring for their furry friends. I hope the project will help bring attention to the strong bond that humans have with their pets and will inspire some to adopt their own. 
My book, Men With Cats, is published by Quirk Books and will be out on February 2nd, 2016. You can pre-order your copy now on Amazon.