If you're just joining us now, be sure to check out the first and second installations of this three part series (part 1 is rather dramatic – as it pertains to me not cats).
Seattle: Felines, Food and Form
I won't keep you in suspense and will start off with the "feline" portion of this final chapter.
Felines
As most of you may already know, two very well known cats reside in Seattle – Oskar the Blind Cat, and his brother Klaus (aka  "The Klaus"). For those of you who don't know about Oskar and Klaus you can get up-to-speed by reading the "about" section on their Facebook page.
In a world dominated by feline lady cats like Lil BUB, Grumpy Cat and Nala Cat, these brothers prove that male kitties can be "celebricats" too!
While I had met Oskar briefly in New York at an event, I'd never met "The Klaus" and it was great having the opportunity to meet them both on their own turf! I was also fortunate enough to meet their relatively new two-legged furless sister Faye who turns 1 years-old this November.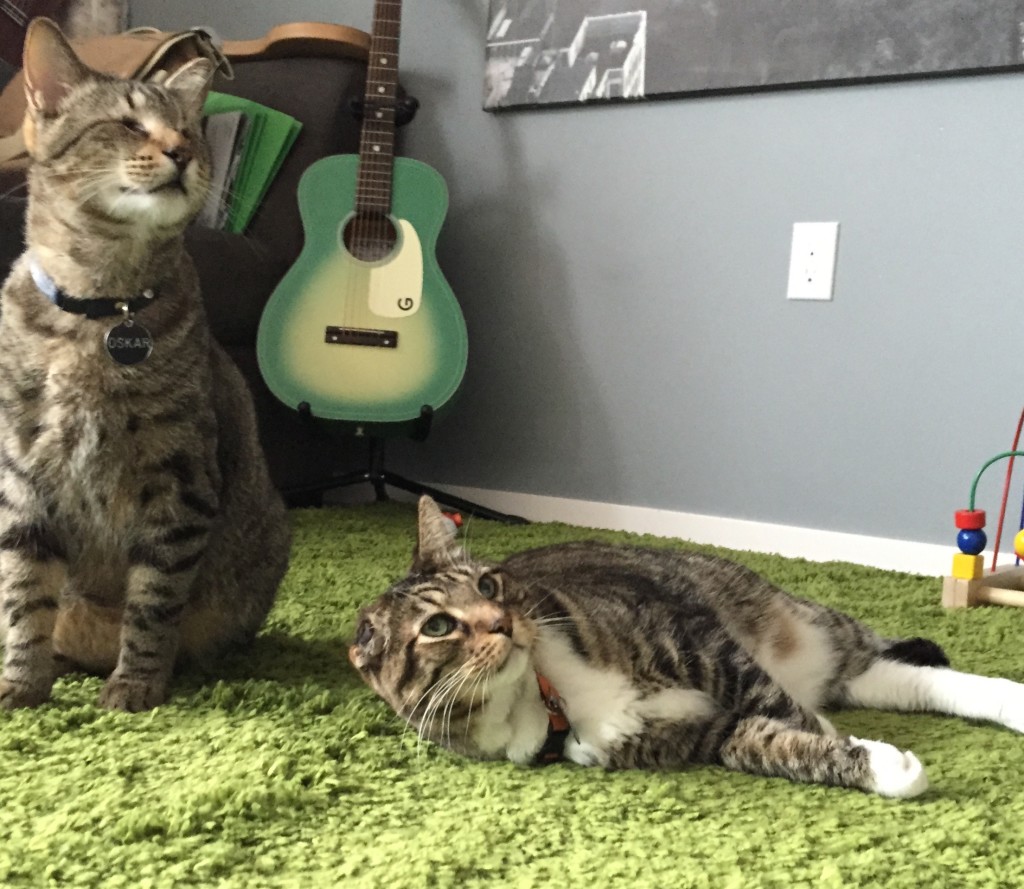 Mick, Oskar and Klaus' Dad, was more than gracious having my friend and I drop by for an all too quick visit. It seems we aren't the only ones who've been  to their home and they've even entertained guests from a number of foreign countries.
"The Klaus" was very affectionate while Oskar hung out with us but wasn't as cuddly, which is how they normally are reassured Mick.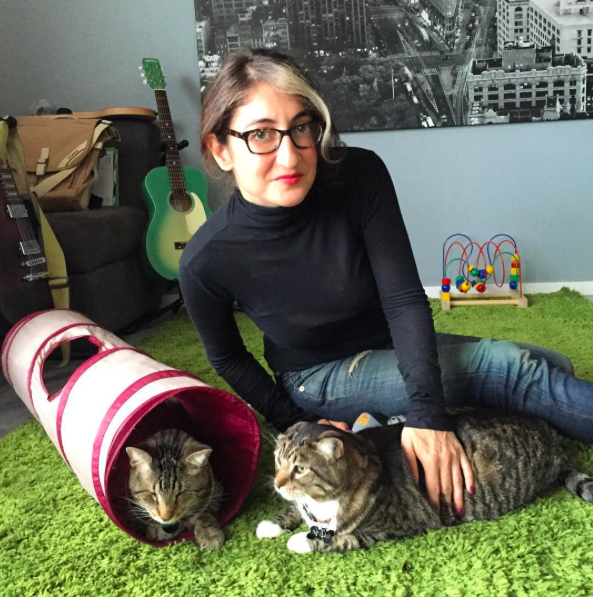 Okay, while I hate to pull you away from Oskar and Klaus, I would like to share some of the other sights, sounds and flavors I experienced in Seattle!
Food
First up, you can't make a trip to Seattle without going to Pike Place, a very large indoor/outdoor and marketplace with its fair share of stunning cut flowers and fresh fish during the day, and plenty of bars and restaurants for evening entertainment.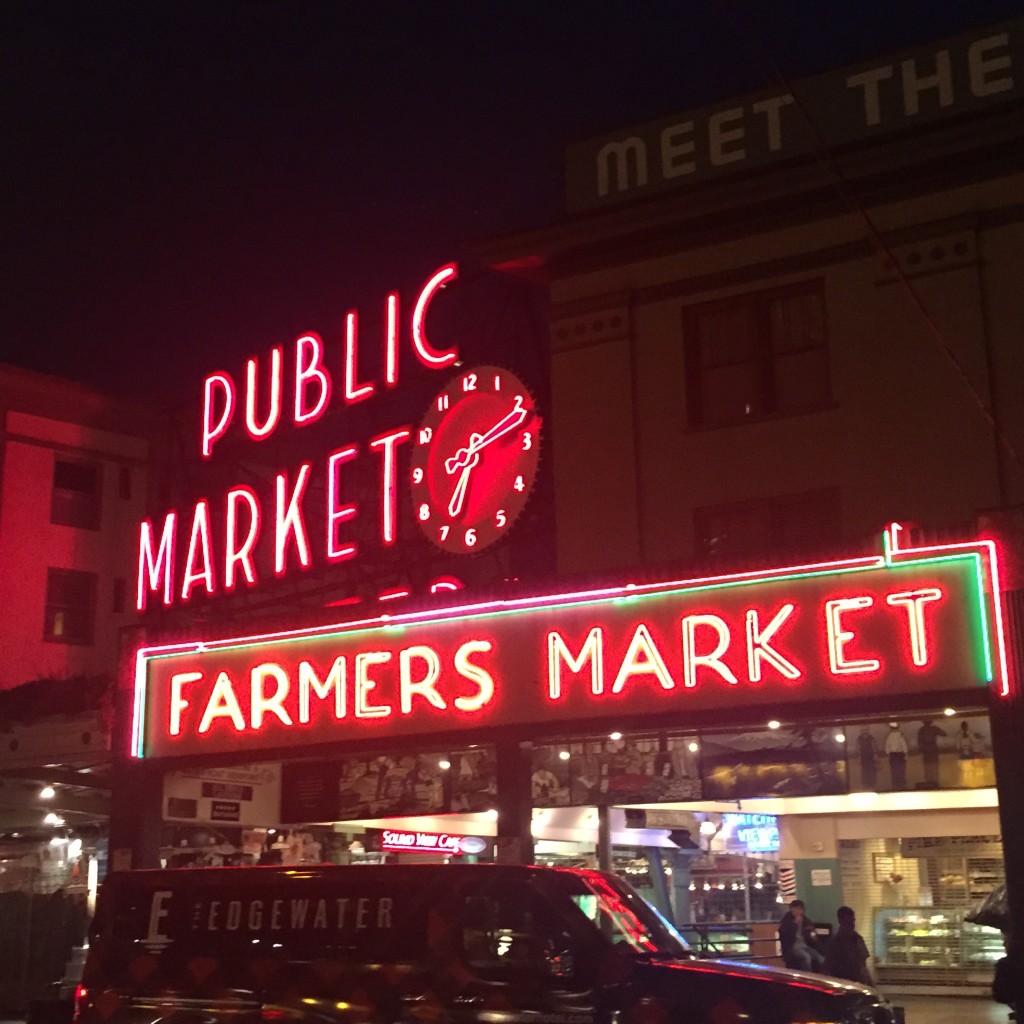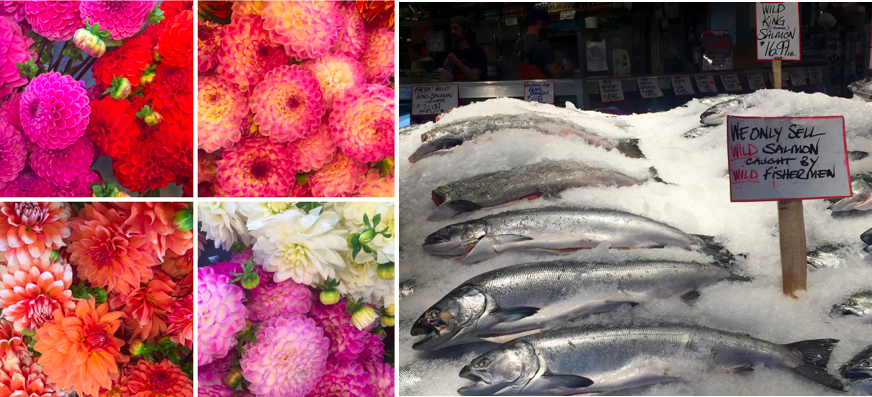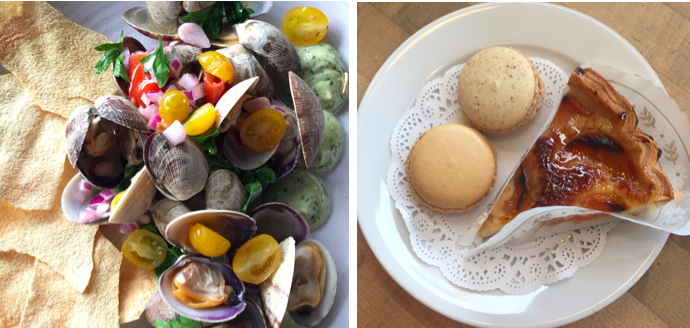 Pike Place, as you make have surmised given they have a coffee by the same name, is also home to the very first Starbucks. No, we didn't go inside given the length of the line. What do you think of the original logo? I hear they were going to bring it back but they decided against it after some public opposition.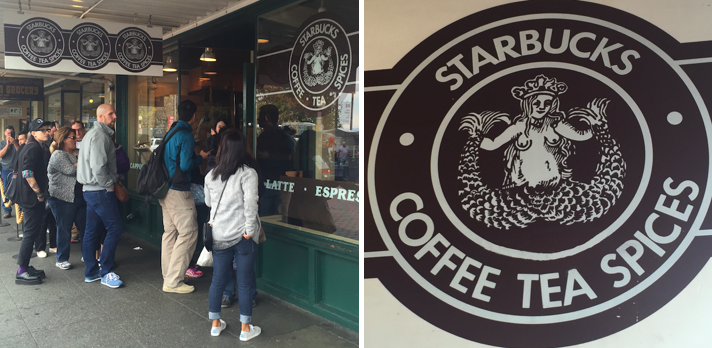 Form: Fashion and Architecture
While we saw the Space Needle, we didn't go up it. Instead we walked the grounds that contain quite a few large scale art structures. One of them being these amazing metal flowers at least 30″ in height. Pity I didn't get the artist's information.
The EMP (Experience Music Project) Museum is also on the premises and a sight to behold. I was excited to accurately guess the architect (Frank Gehry) without looking it up, but I guess it doesn't exactly take a brain surgeon to figure that one out!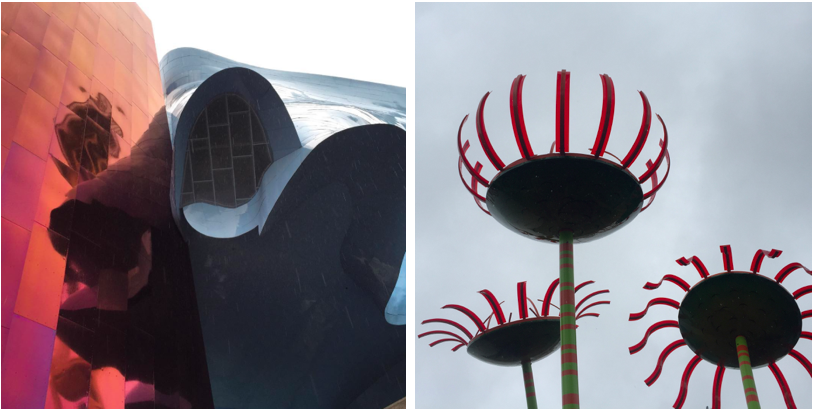 We also hit the Bellevue Arts Museum and checked out their "Counter Culture" exhibit focusing on clothing of the 60s and 70s. Not exactly my favorite fashion era, but there were a few rather interesting pieces I'm including here for your viewing pleasure.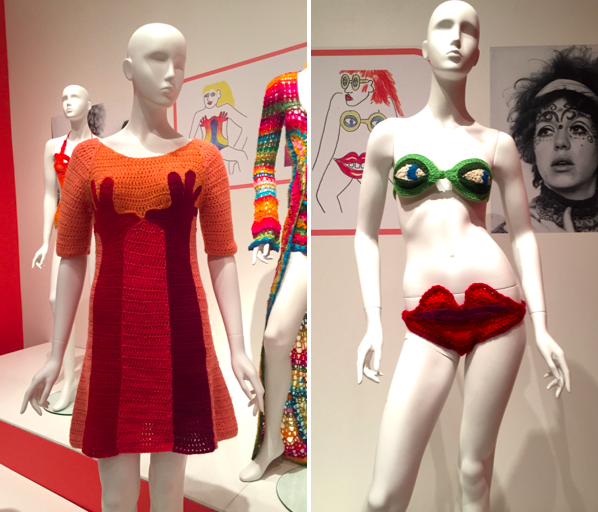 So as they say, "That's All Folks!"  Hope you've enjoyed coming along with me on my whirlwind tour of the Pacific Northwest (and Vancouver BC). I will certainly have to make return trips, but it was nice to finally get a sense of that part of the country. The people were friendly and the geography beautiful. And of course, the cats!