Today's post is written by my friend and San Francisco resident Karen Merzenich who went to hang out with cats at KitTea just for us (so selfless!). So here's a sneak peek until you can get there yourself. And yes, that's Karen below, pictured with a koala.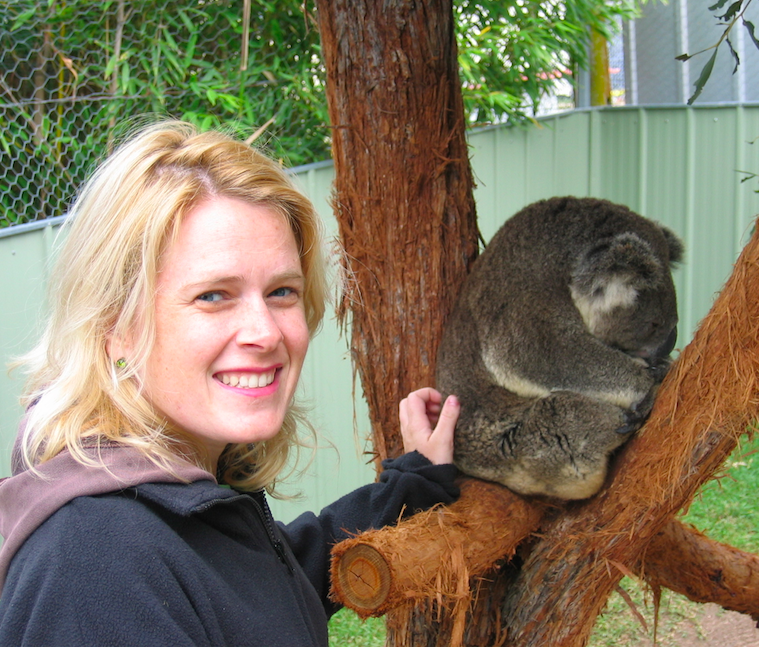 I grew up with cats and would love to have one of my own, but unfortunately my husband is highly allergic to furry beings. But now that I've been to KitTea, San Francisco's first cat cafe, I am happy to know that I can get my kitty fix anytime!
KitTea is described as a "unique cafe experience dedicated to enriching the interactions between humans and adoptable felines in a relaxing environment." The cafe opened in June of 2015, and since then have facilitated 56 cat adoptions with their partner, Wonder Cat Rescue.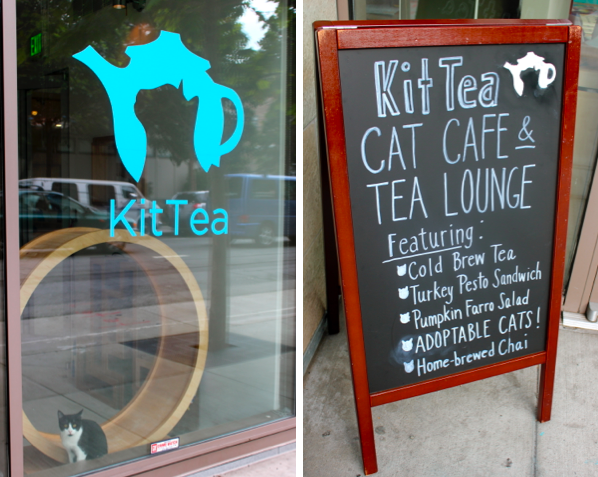 I talked to Courtney Hatt, the founder of KitTea, about what inspired her to open KitTea. She told me she had spent years working in the tech industry, but always tried to come up with business ideas that had a component of pet rescue or pet welfare. After exploring and testing many options–including an organic dog biscuit company, a pet-sitting venture, and an online pet boutique–she realized a cat cafe, partnered with a reputable rescue organization, was the best path forward. After working on the concept, permits, and logistics for more than 2 years, she opened KitTea in June, 2015, at the edge of San Francisco's hip Hayes Valley neighborhood.
Courtney stressed that she was inspired to open KitTea because of her beliefs that cat-people interactions promote health and happiness for both felines and folks, since it socializes the cats and soothes the people. She mentioned that she didn't model her business on the Japanese cat cafes, which seemed to be more about cat voyeurism, but instead chose to focus on the cat rescue and adoption aspect, and the healing that can happen for both kitties and humans when people and cats can spend time together.
Courtney has 3 kitties of her own, all rescues. Shadow, who she called her "inspiration" for KitTea, has been with her for 11 years. She adopted Bindi from the SPCA, and Bill Purray from KitTea itself!
KitTea offers some unusual events, including Yoga with Cats (which includes tea and a head and shoulder massage) and "Meowvie" Nights featuring movies, kitties, unlimited tea, and a sweet treat. Founder Courtney mentioned that she has plans for some special holiday events as well, including kitty-themed gingerbread house crafts.
With her tech background, it's no surprise that the KitTea website is also above par. I particularly love the detailed "Expectations" page that explains all you need to know before heading over to KitTea, and how you can have a great experience there.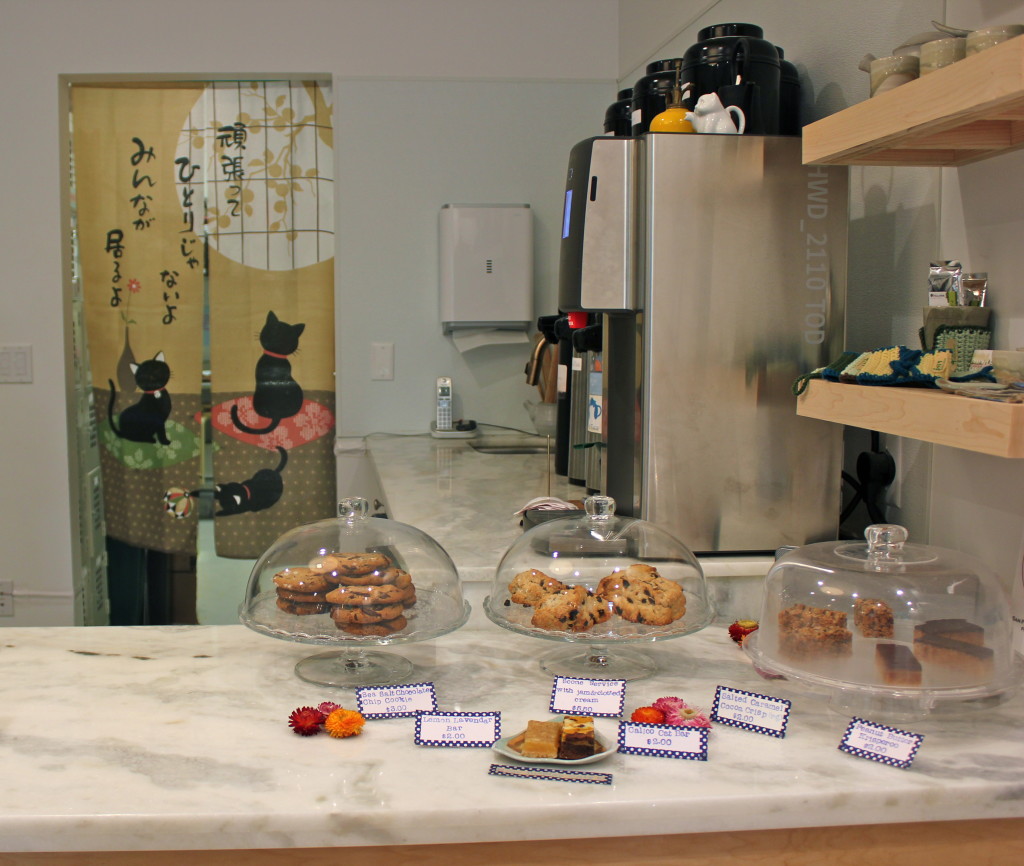 Lest you think KitTea is only about the cats, they also have a super cute cafe offering bottomless pots of tea, sandwiches, and delicious sweet treats. The salted chocolate chip cookie was a highlight, and they'll even warm it up for you, to make it extra gooey!
They also have a little cat boutique, with cat-themed art, catnip, cat toys, and San Francisco-themed cat tees. (As someone who lives on a street with not one but two dog-themed boutiques, this seems like a breath of fresh air to me.) This would be an excellent place to find that perfect gift for the cat lady or cat man in your life.
Even though the KitTea space is on the small side, it feels light, airy, and comfortable. The cafe space and the cat space are separate, but you can bring your food and drinks into the cat room if you like. The cats I saw all seemed to be playing (or snoozing) happily and appeared to be very well-loved and well-cared for. There were a few toys and balls around, so patrons can interact playfully with the kitties, and there is always a human "cat wrangler" staffing the room to make sure that people and felines are getting along well. During my visit, one sweet adult cat was cuddled up between the stocking feet of an elderly man in a wheelchair – and they both seemed incredibly content with the situation!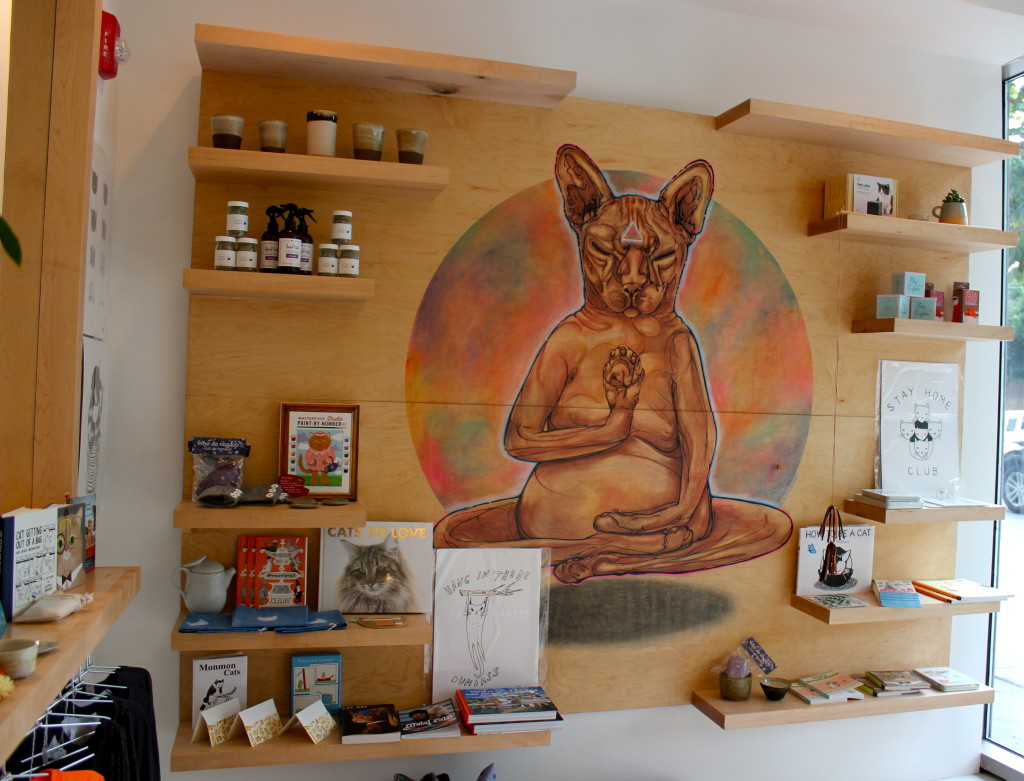 You can book a visit to KitTea online, which gives you a bit of a discount – and ensures there's a spot for you when you arrive. According to staff, weekends get "crazy" and reservations are a must. If you visit 5 times, you get the 6th visit free. Courtney told me there are so many regulars at KitTea that she is exploring membership options for frequent guests. When I visited on a weekday, there were only about 5 or 6 humans in the cat room for the 12-15 cats who were playing peacefully – and anecdotally speaking, I'd be remiss not to mention that about half of them were really good-looking young guys!
On my way out the door, I asked the women working there, "so, is this like a dream job for you?" They shared a conspiratorial glance and said, in unison, "yeah… pretty much!"
To learn more (and/or just see a bunch of cute cat pics!) you can visit KitTea on the web, or check them out on Facebook, Instagram, or Twitter.
 Karen is a freelance writer and San Francisco native who lives in SF with her husband and son. She writes about food and travel on Off The Meat Hook, maternity and mom stuff on Rookie Moms, and brain health and brain foods at BrainHQ.
All photos: Karen Merzenich