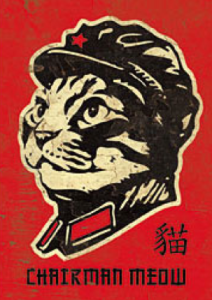 According to their website, obeythekitty.com, "Chairman Meow is the self-proclaimed leader of the Kitty Revolution. He promotes a radical, yet peaceful ideology and envisions a future of cat world domination."
Cat man (yay!) Kevin, the human behind this initiative was inspired by watching his cat, Maurkice Pouncey, "Convinced she was plotting world domination." He remains convinced that, "When humans screw things up with our world, the cats will be there to take over – The Glorious Kitteh Revolution."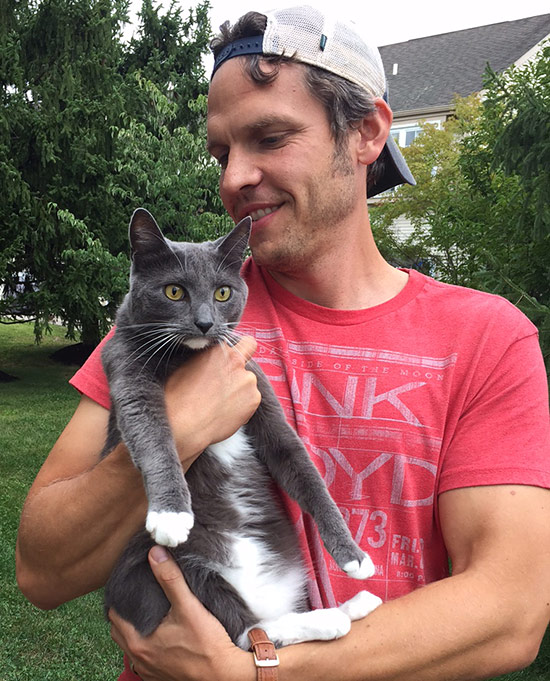 Wondering how to save yourself should this occur? According to the website, those humans who support the revolution by wearing t-shirts and displaying stickers created by the Ministry of Feline Propaganda honoring the great leader Chairman Meow, "Will be treated favorably. Others will be given less favorable jobs; such as working in the salt mines or catnip fields."
Not one, but TWO lucky I HAVE CAT readers no matter where they live have the chance to win Chairman Meow t-shirts and stickers (retail value of over $22!).

The t-shirts are made in the USA and you could win one by using the widget below to enter. There are several ways to get extra chances to win so don't forget to check them out!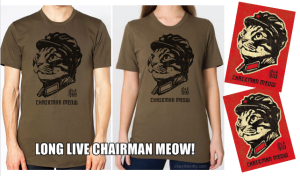 And if you don't win don't fret, you can still purchase a tee at Obey The Kitty so check it out!