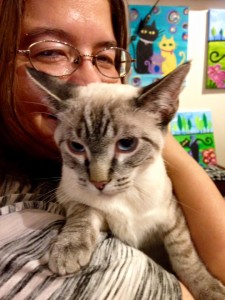 We were fortunate enough to have I HAVE CAT reader Amy Eckert make a visit to, and write about her experience at the newly opened cat cafe Crumbs & Whiskers  in the Georgetown area of Washington, DC! Amy actually lives in Denver, Colorado with her boyfriend and her well-loved senior cat, Oscar.  When she is not teaching political science at the Metropolitan State University of Denver, she can often be found at the Denver Cat Company (her local cat cafe!).
Crumbs & Whiskers is DC's new cat café, which opened in Georgetown two months ago. On a recent visit, earlier this month, I found this place to be a fun, intense kitty experience. As with many cat cafes, regulations mean that Crumbs & Whiskers is more about the whiskers than the crumbs. There's a modest menu of coffee and tea, shakes and smoothies, and cookies, prepared at Georgetown Bites across the street and delivered to Crumbs & Whiskers patrons at the cat café.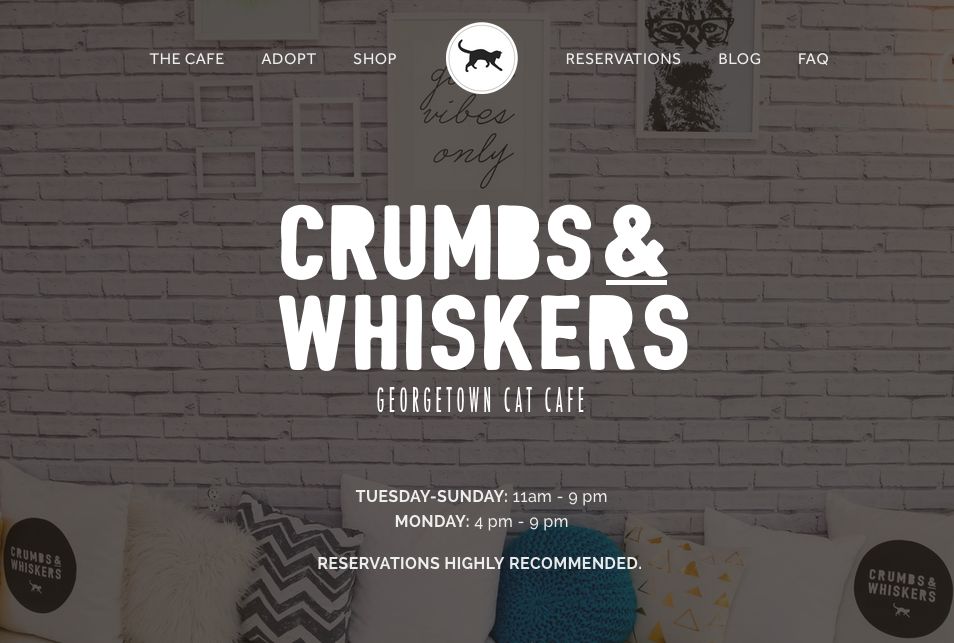 But of course, the main attraction is the cats. Crumbs & Whiskers houses twenty adoptable shelter cats from the Washington Humane Society. This is believed to be the highest number of cats in any US cat café. The cats are housed in a hip, urban space with a neutral, minimalist, cat-themed décor, featuring plenty of cat trees and shelves for the cats for climbing.

I took my iced coffee and the small packet of cat treats I'd purchased and headed up to the second floor.  Patrons relax on the cushions on the floor and spend their hour playing with the many cats.  During my visit, a café employee came through the space and introduced a number of the cats by telling the visitors each kitty's name and favorite toys. He also gave visitors tips on how to make the toys most appealing to the kitties, further enhancing the likelihood of a satisfying experience with the cats.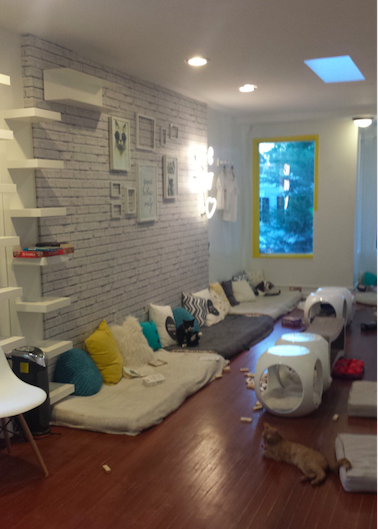 My hour at Crumbs & Whiskers involved more or less constant interaction with at least one cat. It was a fun, busy, cat-filled environment and before I knew it, the staff members were coming through the café to let us know that our hour of kitty love was up. I could easily have spent another hour with the cats, who ranged from the acrobatic orange kitten Barrister Cotton Bottom to the regal Mufasa.
Those who visit and hit it off with one of the café's resident cats can apply to adopt their new feline friend through the Washington Humane Society, which has a dedicated web page for Crumbs & Whiskers patrons.
If you go: reservations are highly recommended. You can make your reservation online $15/hour which includes a coffee or tea. When you make your reservation, you will be asked to submit a waiver. Crumbs & Whiskers is open M 4:00-9:00 and Tuesday-Sunday 11:00-9:00. Children under 13 are not allowed to visit.