Earlier this Summer (I can't believe it's almost over!), I had the great luck of happening up on an Instagram invitation for a Bradley Theodore exhibit, an artist who does lots of street art in downtown NYC.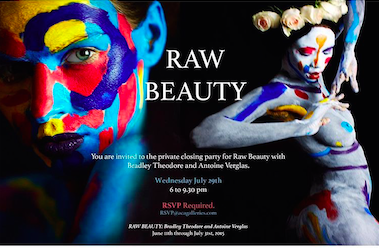 I discovered his work earlier in the year and each time I see a new piece of his work it's like Christmas morning or a treasure hunt! A little treat that makes me smile and perks up my day! He often paints people from popular culture in the fashion scene like Karl Lagerfeld, Anna Wintour, Kate Moss, Grace Coddington among others.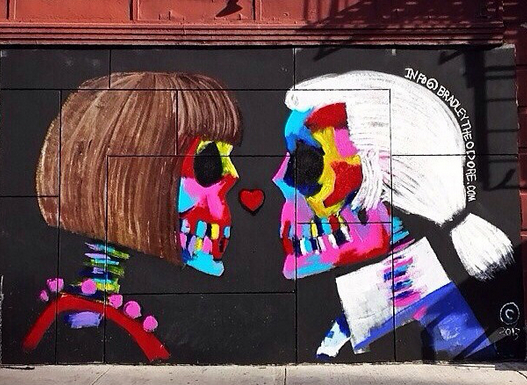 Of course my favorite is one of Karl Lagerfeld with Choupette right next to a pizza shop!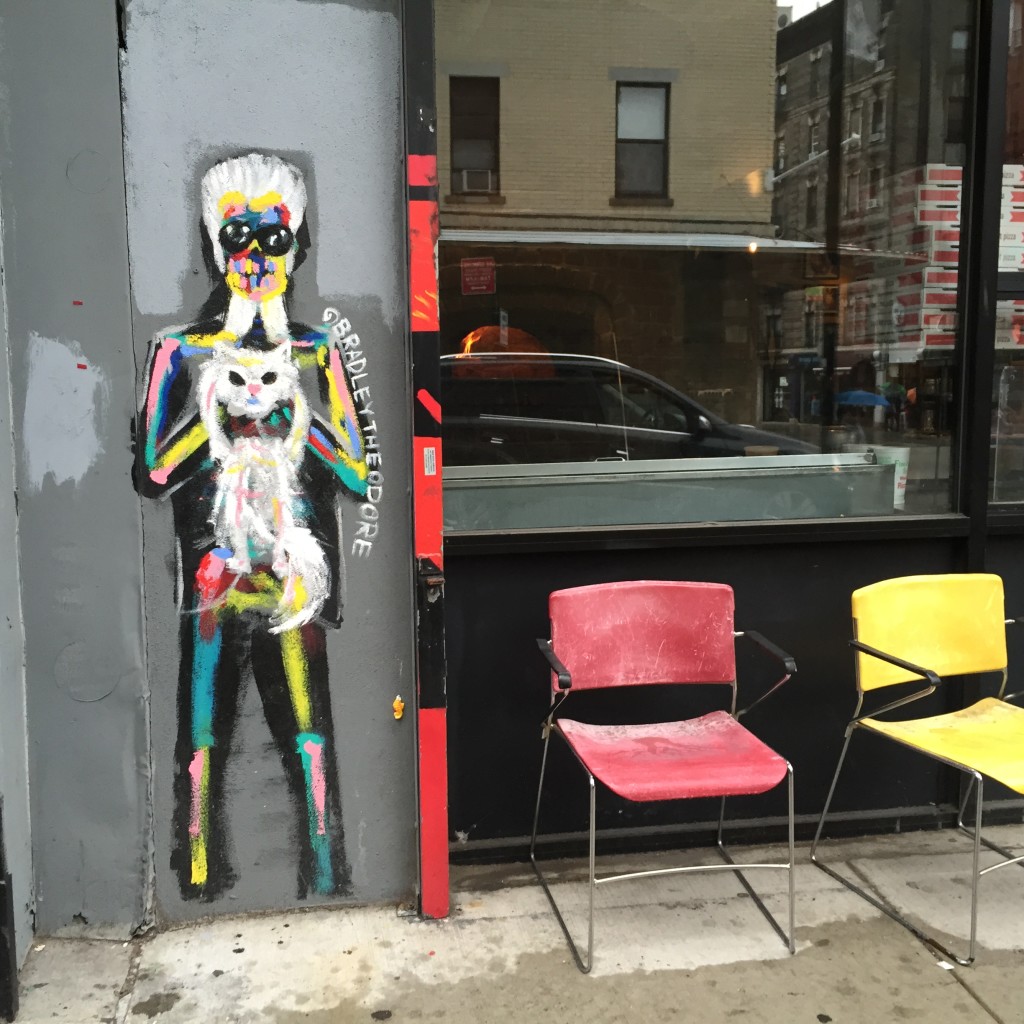 For the exhibit he'd teamed up with fashion photographer Antoine Verglas to capture body painting by Bradley but that was hard to photograph – too much glare so I don't have any to share with you!
I was super excited not only to meet Bradley in person (he actually responded to one of the posts I put up on Instagram during the show!), but to find yet another illustration of Choupette (now if only I could afford his work!).
It was total coincidence that my dress matched the style of the paintings (maybe I shouldn't admit to that and pretend it was strategic!). Ha!
So, after downing two delish watermelon juice cocktails (I was sucking them down like juice and it turns out they were quite full of vodka!). I started talking to a rather handsome young man. He even continued to speak with me after my watermelon-cocktail-loaded-self told him the hat made him look like Huckleberry Finn (I think I was on cocktail #3 by then, thankfully my last!).
Somehow this very polite gentleman and the girlfriend I came to the exhibit with made it a to a pizza spot  few blocks away. I don't recall much about our dinner conversation but distinctly recall the friend calamari was sub-par but the pizza divine!
I was to find out later I had gone in depth about my cats – that I had three etc etc…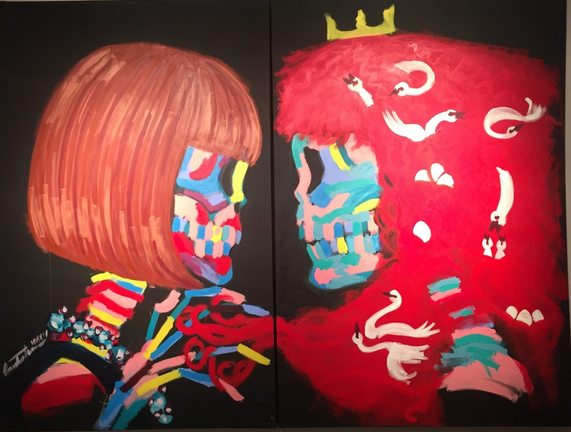 After dinner the boy with the hat did ask for my number, which I then promptly forgot about (probably a self-protection mechanism). A few weeks went by and one night I received a phone call from my parent's area code but not their number. I thought maybe it was one of their rarely-used cell phones (they sometimes use them if their cable goes out).
The man on the other end of the line asked if "Steve" was there (or so I thought). It turns out it was asking if "T" was there, since that's what some people call me and apparently he was afraid of mispronouncing my name! And this even after learning about the cats.
The day of our date came and I was nervous beyond belief wanting to call it off. My friends convinced me not to, it would be "fun" they said. And in truth they weren't wrong.
We had a fun night. A drink on an old barge turned bar called the Frying Pan followed by Spanish Tapas at the bar of a small hole in the wall. We sat in a park on his way home and did smooch at which point I had a, "Whoa, slow that tongue down" moment (sorry to any relatives reading)  which of course was said out loud and not in my head. I just don't understand how any man can get into their 30s and 40s and still not know how to kiss. It's truly beyond me.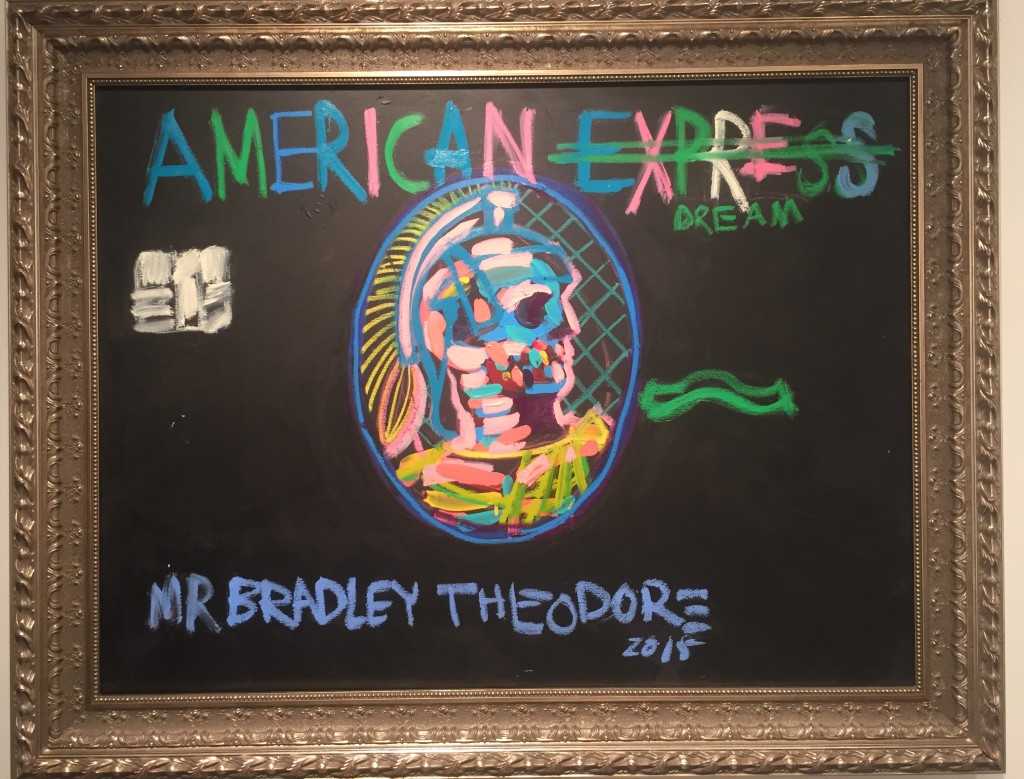 Needless to say I never heard from the gentleman again. Perhaps he figured out my age and that I'm likely older than he is. Or perhaps it was my tongue comment. I only hope I'm doing thenext woman he kisses a service.
Have you ever had to tell a partner to chill out on the tongue action? I cannot be alone here. Can I? Or did you just THINK it?
I leave you with this super cool Bradley Theodore I happened upon this past weekend.  Creepy and awesome all at the same time. Unclear if it's Grace Coddington?