With Café Venosa opening as the third cat cafe in Montreal, guest writer Véronique is not so far off when she proclaims, "We shall rename the city Meowtréal!" I hope you enjoy today's fun guest post with a sneak peek into a very unique cat cafe!
Today's post is written Véronique, a resident of  Montréal and a freelance writer. Her cat, Monsieur Minoune (photo below), likes to think he's her boss. He is quite handsome. He showed up at her doorstep four years ago after being abandoned. She fed him and took care of him and couldn't help falling in love with him – how could anyone resist?! You can follow Mister Minoune's musings on his Facebook Page.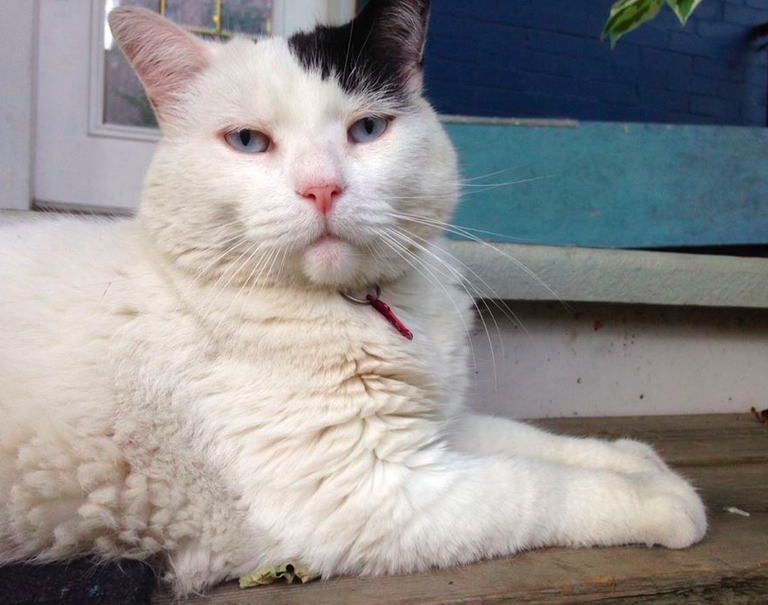 Veronique's interview with Summer, the proprietor of Café Venosa, along with photos also taken by her unless noted otherwise. 
How did you become the owner of a cat café?
The idea came because I was working at the SPCA. I'd been working with rescues and shelters for about 15 years and also doing my own personal rescues. When I worked at the SPCA, I saw there was a desperate need to find [alternative] ways of doing adoptions. The [overpopulation] of cats was just so tremendous there needed to be a different way to do it.

 What makes your café different from the other two cat cafés in Montréal?
I combined this idea [of helping cats] with the idea of protecting all animals. That's why we are vegan. We also thought it would be pretty ridiculous if our café wasn't sustainable and if we were ignoring the environment. We are trying to be sustainable as much as possible, making sure that we are not putting [cleaners] back into the water, that sort of thing. We're also going to start cleaning things with a steamer.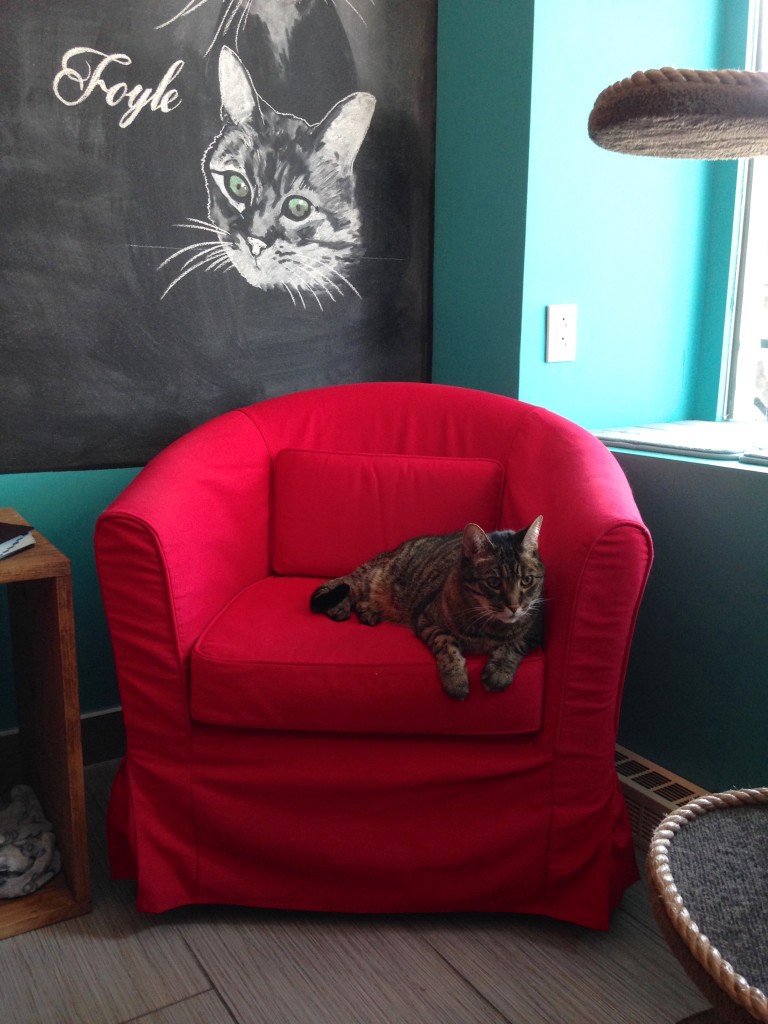 The cats here are from the SPCA. Is it because you have worked with them? Did you consider getting cats from other shelters?
The SPCA always gets the largest amount of animals (14,000 animals/year) so I wanted to work with them specifically. Also because I know them well and feel comfortable working with them. As much as I would like to do it with other rescues or shelters, I'm going to concentrate on the SPCA for now because this way, every time I can get a cat from them, they've got space for another cat.
The cats have their own room at the back. What happens at night? Do they stay there?
Yes. They stay in the backroom and we close the door at night while everything is sanitized and sterilized because people eat here as well. But the cats also prefer to have their own sleeping quarters. When they first come in, they adapt to this room for a week or two and they know this is their sanctuary. If they get scared, they know they can get back there and stay away from all the action and the noise. They are alone for about 8 hours a night, but I can watch them on my camera. Basically, they are just sleeping. They get tired after socializing and playing all day.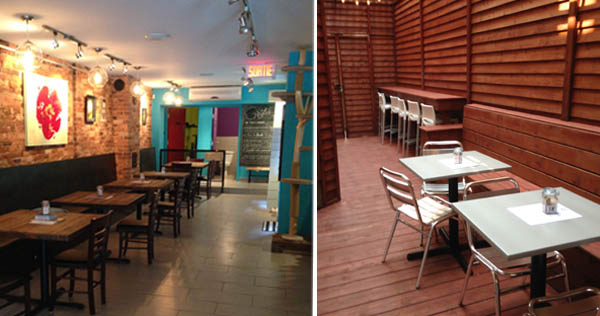 When you choose the cats for the cafe, what are your criteria?
As much as I'd like to work with feral cats, I do have to take their behaviour into consideration. We have to take social cats, that don't mind being. They have to be ok with other cats, obviously. We try to get the very social cats that may not get adopted, like the black ones or the older ones – we've got an eleven year-old here. We're trying to get the older cats, the ones that aren't so cute but that have great personalities. There's no age limit. We don't take kittens because they usually get adopted very easily. I'm trying to work with the older guys.
Tell us about your cafe experience.
You can come here with your laptop, have a bite or a coffee and stay as long as you like. The only difference is the cats, and the possibility to adopt one of them. As you can see, we don't only have pictures of cats on the walls. I also want the café to have an artsy feel.
What happens if a cat doesn't get adopted? Would you consider having permanent residents?
If for some reason nobody ever showed interest in a cat, they could stay here as long as they wanted. But I still think all cats would like to have their own home, so I would try to find them a home outside of the café. I've got a pretty good network of people and I could find a home for a cat if nobody came forward within a few months or so. I think cats are a bit like people. They like to go back to their own bed at night and having their own favourite person. I consider the café as a foster family.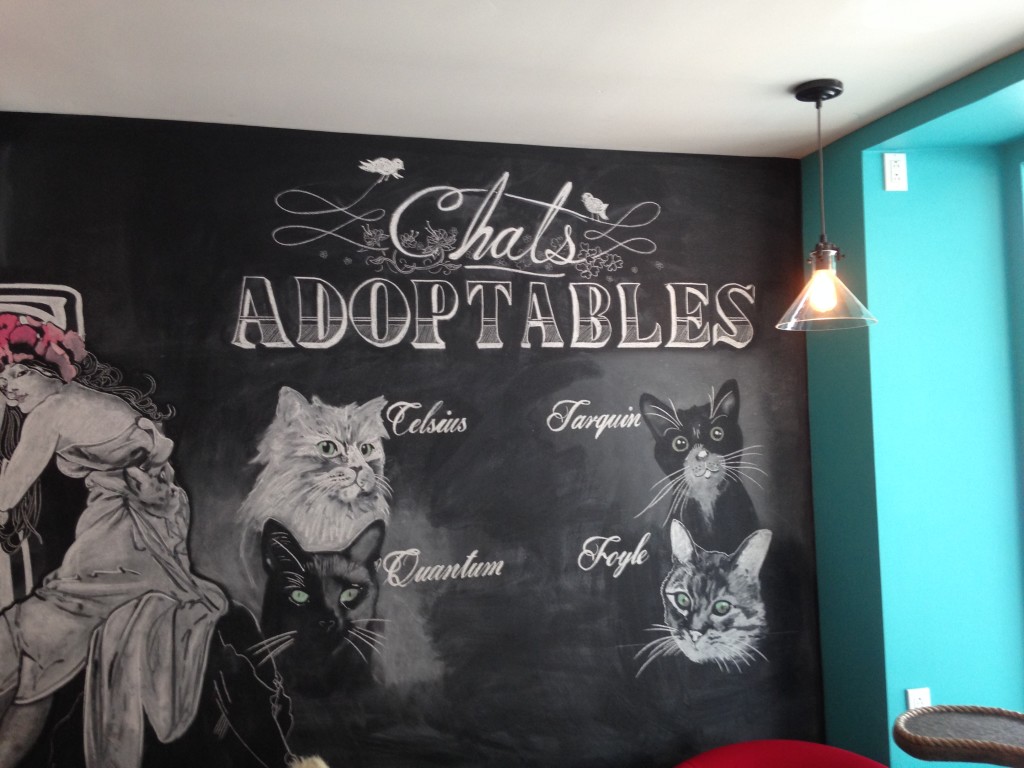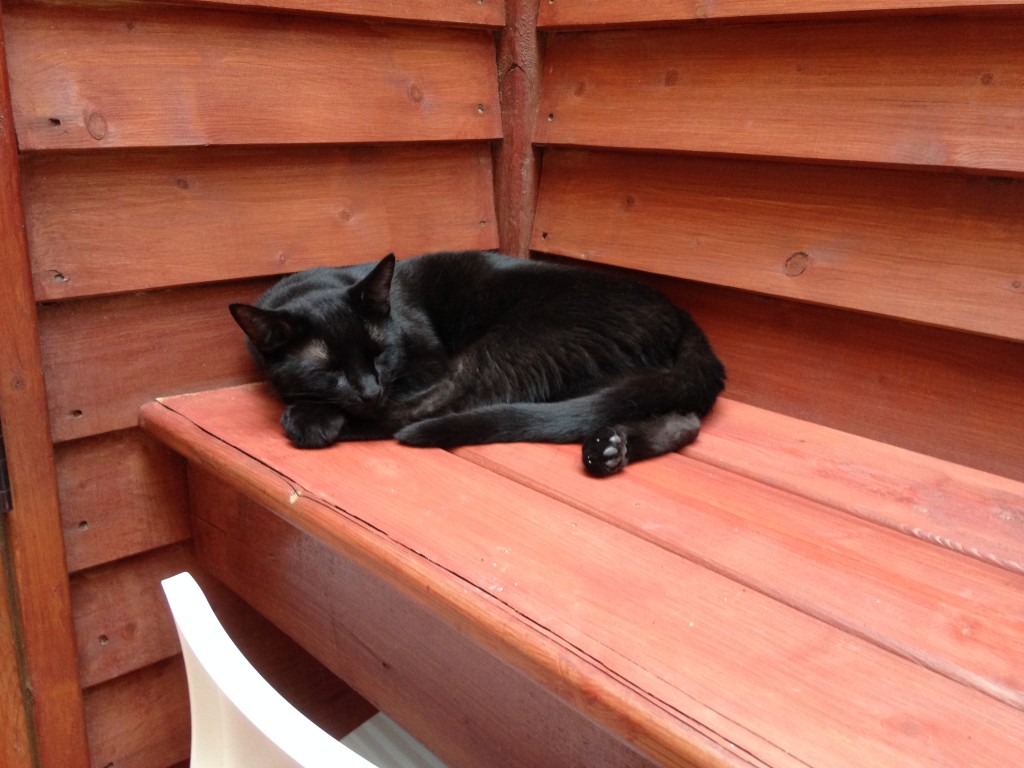 The café was named after your cat. Is your cat here?
No. I adopted her at the SPCA about 15 years ago, when she was one. She's about 16 now and she's my soulmate. She probably wouldn't like this idea of being around a lot of people all the time. (laughs)
How many cats would you have here at the same time?
I would have no more than 8. I think 8 cats in the same room is enough. They each have their own litter box. When there are too many cats, they start to have eye infection, things like that. We want to avoid that. We have a wonderful vet that will come here within 24 hours if we have a problem with one of the cats.
Was it difficult to get a permit from the city for a cat café?
It was difficult because the information was not available so we really had to search for it. But to have cats here, you don't need a permit. There are a lot of rules: you need to have Purell stations, you need to have a room in the back for the cats and one litter box per cat. And for the kitchen, everything needs to be totally separate and cat free. There are rules and they bring an inspector to look at it, but you don't actually need a permit. I think it's just changing the last couple of years, because they realized it's getting popular. (laughs)
If you live in Montreal tell us about your cat cafe experiences. If not, would you pick a vegan cafe over a non-vegan cafe? Why or why not!