This post is sponsored by Febreze ™Air Purifiers and the BlogPaws Professional Pet Blogger Network. I am being compensated for helping Febreze Air Purifiers but I HAVE CAT only shares information we feel is relevant to our readers. Febreze Air Purifiers is not responsible for the content of this article.
As I've said many times before, it's important to me that guests to my home do not feel they've walked into "Casa Meow," but rather the apartment of a modern singleton living in Manhattan – with cats.
A big part of ensuring my home doesn't announce to the world that my cats outnumber me 3:1 is the way my home smells. I'm not a big fan of scented litters (hate it when my bed ends up smelling like baby powder, faux flowers or some other scent), and I don't like scented sprays that attempt to masque the smell of the litter box.
In the past, I've relied on odor neutralizers to help me, and soon I'll be giving a FebrezeTM Air Purifier a test drive. It comes in three models: tabletop, mini tower and tower depending on the size of your room, and of course how much room you have to spare. Given my space constrictions I'll be trying out the tabletop purifier.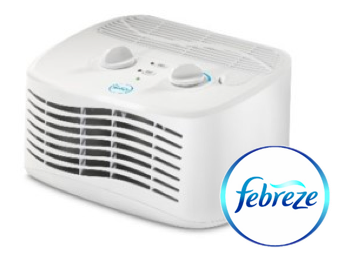 It has a HEPA-Type filter removes up to 99% of air pollutants (Hmmmm cat dander?!) and reduces household odors (read: litterbox smells!).
Living in a New York City one-bedroom apartment, I have to be creative about where I put my litter box. If I had a home, I'd certainly create a closed-in area in my garage the cats could access from inside my home. But since that's not an option, one of their litter boxes is in a small storage space under my stairs (at least I'm fortunate enough to have stairs!).
The downside of this super smart (**pats self on back**) concealed litterbox space is that there's zero ventilation. And since it's in the living room, unless I scoop immediately after the kitties go, or spray an air neutralizer (both hard to do discretely if I have a visitor, particularly of the male persuasion – which I need to work on getting more of!).
So I'm super excited about trying out this new product and letting you know all about it! I have high expectations, stay tuned!