Muse is a new brand of wet cat food by Purina available at PetSmart.  The name was inspired by the fact that each of our cats have unique personalities, and they've asked I write about how each of my cats have inspired me!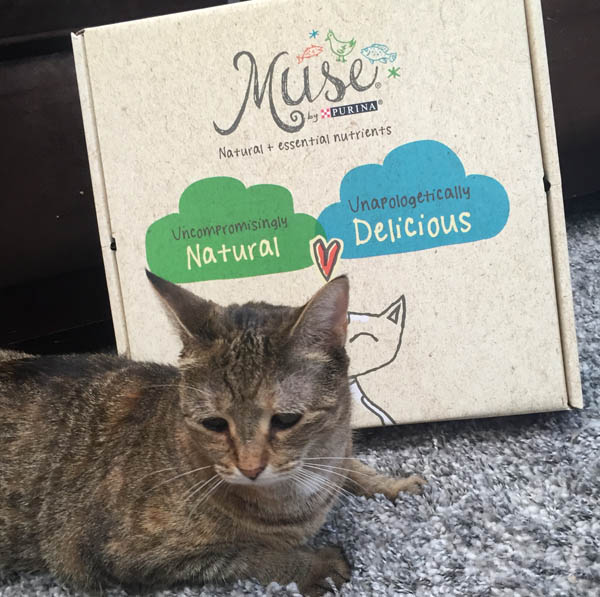 Stay tuned because when you tell us how your cats are your muses (or muse), you'll have a chance to win a great pack of their new food along with a few other goodies!
At first I thought I'd get all fancy and turn to the nine muses of Greek mythology for inspiration.
This became much more complicated than I had hoped. Sadly, none of them are history buffs (that  I know of), particularly humorous, erotic (!!!), into astrology, religion, poetry, song or dance! Unless you call the incredibly annoying "song of their people " they regale me with at ungodly hours of the morning (insert shocked emoji here!).
While Haddie is funny in a funny looking  way – in the cutest say possible –  I'm not sure that's the same thing exactly. Though she is passionate about Kip that's for sure!
I decided to throw that idea out the window and go with the dictionary definition of "muse." One of the many definitions I found was a muse as, "a source of inspiration."
So today I will share with you how each of my cats, Kip, Petie and Haddie inspires me (in reverse age order).
Haddie reminds me that where there's a will there's a way. She was supposed to be a foster, but set her goals on making my home her own and succeeded. I recently wrote about this in detail titled "How Haddie Came to Stay (aka the Squatter)" which I hope you'll check out as it's quite amusing now in retrospect. She won. I guess we both did. But I have a sneaking suspicion her crush on Kip had something with her wanting to stay here!
Petie inspires me with his resourcefulness and innovation. I've never see a cat (or person) go through such lengths to get what they want (in his case kibble which is a treat in this household). There's a reason my kitchen is covered in toddler proof locks. Petie somehow manages to open heavy oven doors a in search of hidden kibble and successfully broke the seal on my fridge after he realized that's where I was stashing the kibble (see above reference to toddler locks).
Kip reminds me to slow down in order to be more in-tune with myself and others because he's so intuitive when it comes to me. He knows when I  love and selflessly volunteers himself as the "little spoon," even if it means his fur will be soaked in my tears. I'll never forget my Mom's amazement when I woke up after having crashed out post a minor procedure to find Kip next to me. My Mom informed me he'd stayed put by my side watching over me for at least two hours. He didn't even sit but was literally standing guard.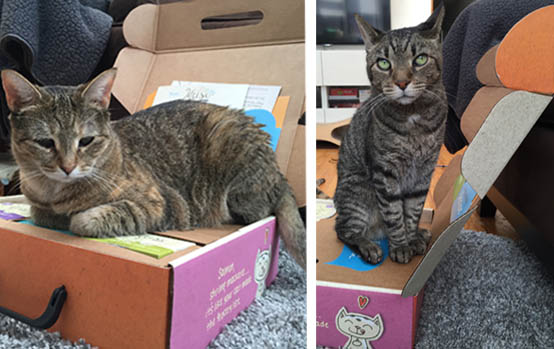 We want to hear about how your kitties inspire you. How they act as your muse, or perhaps just amuse you! If you win, you could get a fun gift box with samples of Purina's new Muse wet food along with a whisker-stress-free cat bowl and crinkle toys (Haddie's a big fan). Oh and I almost forgot, the box it all comes in is of course – as far as your cats are concerned it's likely the best gift of all!
Use the widget to enter, leaving a comment is mandatory to be considered a winner!  US mailing addresses only please!
FTC Disclaimer: This is a sponsored post for which I received the pictured Muse box and a nominal gift card. As always, the content is my own.