It's about time for a giveaway wouldn't you say? Glad you agree! And it's an INTERNATIONAL GIVEAWAY so all are encouraged to enter!
I'm excited to introduce you to a new line of handmade cat toys I discovered on Etsy called "For Mew" based in Reno, NV. Not only are the toys made using organic catnip and 100% vegan supplies, most importantly  toy making is "supervised by real cats to ensure quality."  You can't beat that!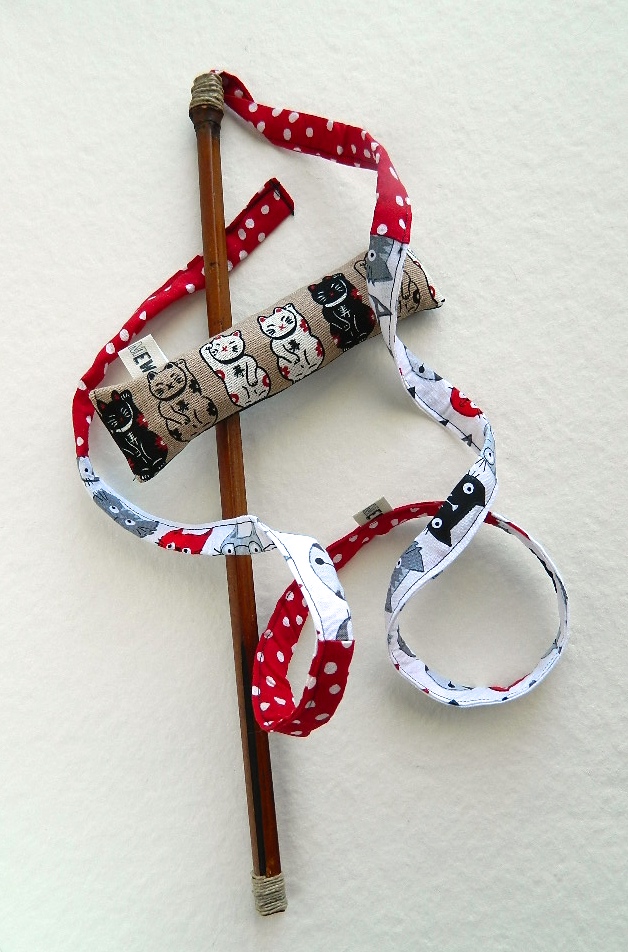 By entering the giveaway you could win two cat toys, the "crisp" and "noodle" pictured above!  PLUS everyone gets 15% purchases using promo code IHAVECAT at check out through July 31st, 2015!
Did I mention 10% of all sales goes to the  Nevada Humane Society? So each purchase makes your cat happy and helps another cat!
For Mew makes the "crisp" catnip toy with "crinkle" (my cats love that sound!), and a larger catnip filled kicker called "racker."
They also make a bamboo handled "noodle" and a mat that comes with a velcro opening for the organic catnip that comes with it. Plus the mat has one corner with a jingle bell sewn in and another corner with "crinkle" for added kitty fun!
So don't waste another minute! Enter today! Leaving a comment telling us why you think your cat or cats would enjoy a noodle and crisp is mandatory! You get extra chances to win by selecting additional options in the Raffelcopter widget! Use widget for all entries as it's used to pick the winner at random in a week!

FTC Disclaimer: While I was not paid for this post, I did receive cat toys for cat testing!  The opinions on my blog are my own, and I only post items I believe will be of interest to my readers!