In the spirit of Memorial Day, Haddie and Kip are enjoying an extra special delight – shrimp! Well, it's not REAL shrimp (shhhh don't tell!). Since the catnip toy came from Cheshire & Wain in London, England I guess it's technically a prawn catnip toy!
Founder of Cheshire & Wain, Sonja Farrell (and former Cat Woman Wednesday) is in NYC for the holiday week and I had the pleasure of hanging out with her last night.  But alas, it slipped my mind to take a photo (do check out her post, it's about her stunning cat Mr Percy Peter Wells!).
Previously focused on luxury collars, the company now makes several food-themed organic catnip cat toys available for sale in their US shop.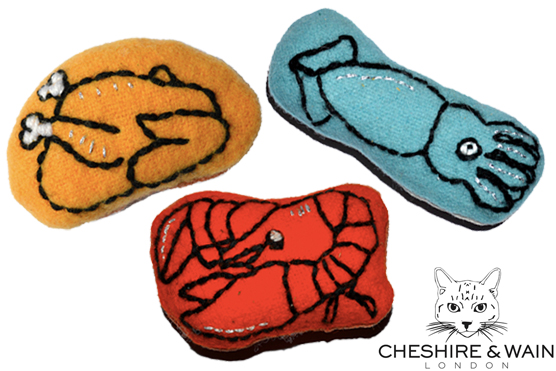 It's so interesting (funny) to watch my cats playing with the same toy. They each have their own approach. Though around 11 years of age, Kip can get rather excited when it comes to playtime – bunny kicking and trying to shove toys into his mouth!
Haddie on the other hand alternates between using her toys as pillows and rubbing them all over her face. And while they enjoy catnip toys, neither seem to get "high" from them. How do your cats play with catnip toys? 
If you're wondering where Petie (aka PetieBear) is, he can't be bothered to expend energy for a "fake" piece of shrimp. The real deal, however, is another matter.
How are you and your cats celebrating Memorial Day? Besides the obligatory extra napping of course!