Crazy Cat Lady Concoctions is a line of natural skin products by a self-proclaimed Crazy Cat Lady with a line of all natural beauty products. They make great Mother's Day gifts if you still haven't gotten one (order by Tuesday, or RUSH ship on Wednesday within the US). Discount code IHAVECAT15 good for 15% off all purchases all over the world through May 28th!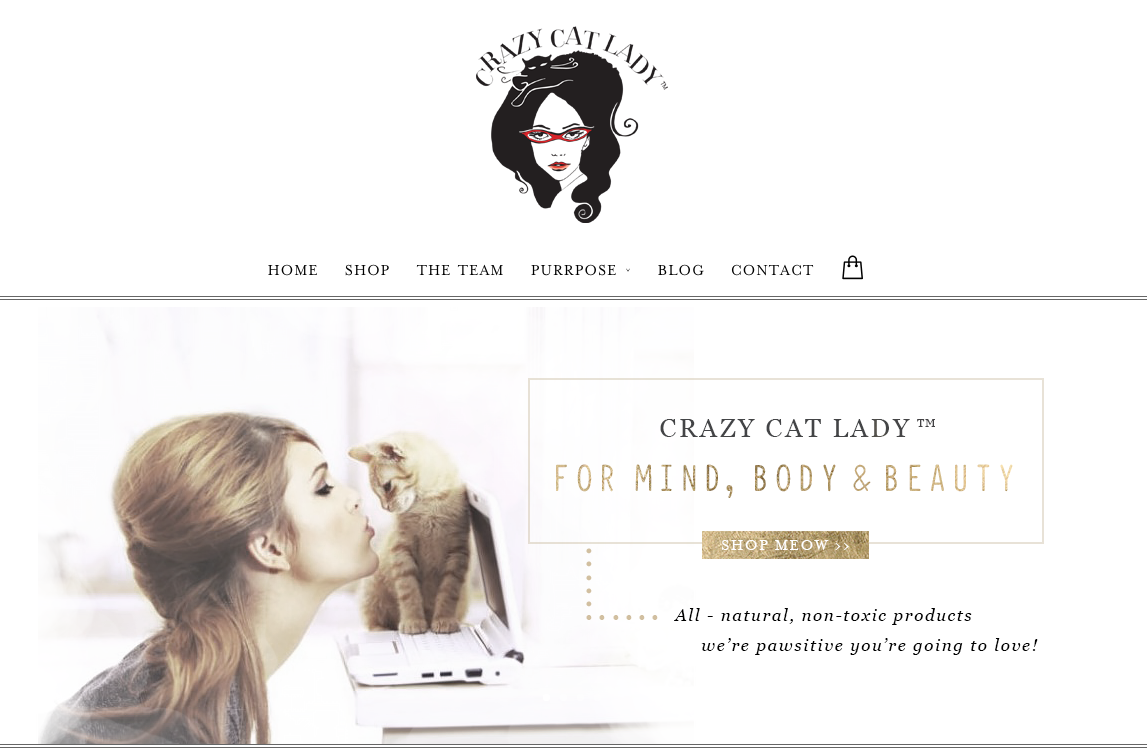 When I came across Sheryl's website I was torn. The all-natural products in all my favorites essences – lavender, chamomile and more – drew me in. Plus paraben-free and vegan to boot! To top it off, she's an esthetician by trade so the lady knows of what she speaks – and sells.
A beauty guru with a conscious who loves cats – what more could I want?  The truth of the matter was, I was struggling with the name of her company, Crazy Cat lady Concoctions. Particularly as a person whose mission it is to distance cat loving women from the "Crazy Cat Lady" moniker, and its negative connotations (Diane Lovejoy, author of Cat Lady Chic, sums it up perfectly in the introduction of her book).
Plus what was up with that logo? A cat burrowed in her hair? That was just plain crazy. So, I decided to ask Sheryl about it point-blank. Her response?
"YOU must be crazy. LOL! The key is to change the stigma not fight it – you will never be able to drop the humor in the words 'crazy cat lady' as people see it as good, not bad, its funny. That's why my products sell. 'Cat Woman Lip Balm'?  Booooooooring!"
"I utilize my brand to be silly and show you can have multiple cats and not be crazy, but be full of love, do rescue and have a great sense of humor. Cat Woman is a crime solver associated with Bat Man (talk about nuts??) go be seen in public dressing up like cat woman, you will SURELY be labeled crazy!  Time to change your tune sista' and bring in some more cats!"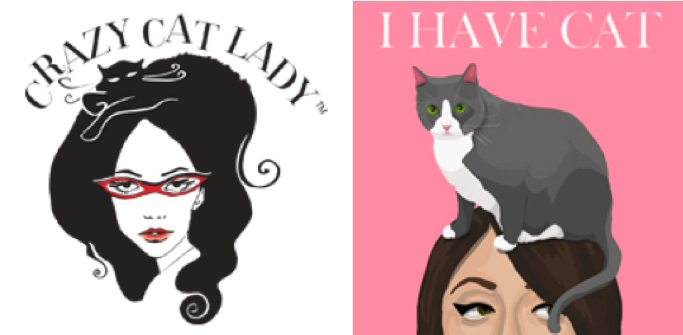 Hmmm, did she have a point? She's certainly not shy. THEN she very astutely had to point out I have a cat on my head in my logo as well. #NotSexy it seems. I of course disagree, and see many differences, but she did have a modicum of a point…I guess (grumble grumble).
Sheryl gives facials in her home, and none of her clients have ever complained of a "cat smell," so that certainly goes a long way in my mind to demonstrating to the "outside" world that women with cats can have "normal" stinky-free homes!
Perhaps we were more alike than I'd like to think. As an example, while I rally against what I see as the equivalent of the "N" word, asking instead for the term "African-American" to be used, Sheryl was of the "take it back and make it your own" school of thought."
My personal favorites from the products I've tried – and I've not YET tried them all – are the balms (hand, cuticle, cream) and she even has gift packages ranging in price the perfect gift (or MOTHER'S DAY GIFT!).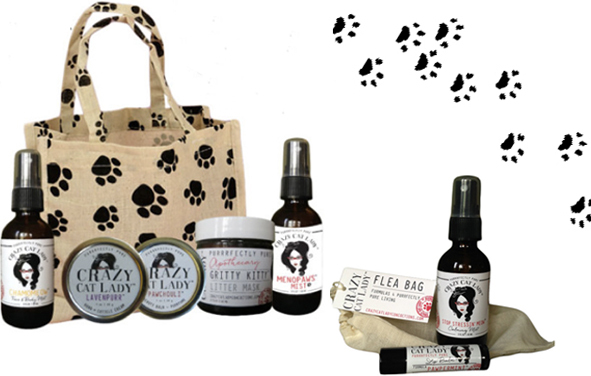 Regardless of where you stand on that issue, her products are totally rad, and I adore that she has four cats all prominently displayed on her website each with designated of business duties. According to her website:
"Behind every 'cat lady' is a team of fur-nomenal felines [and apparently a squirrel too – he's in charge of IT]. If orders are delayed, missing or not up to par please reach out to the appropriate employee above to have your issues resolved."
That should work out well (not! LOLOL! ).
I also love that she promotes animal rescue on her website along with ways to help homeless animals without adopting! "Homeless pets need help! And not just from the bleeding hearts of "crazy" cat ladies. If anything would make a cat person crazy it's simply that these animals need support that they aren't getting."
If you ask me, she doesn't really look THAT crazy, though it took a LOT of restraint not to Photoshop out those cat ears (which she claims are not part of her normal wardrobe!).
Have fun perusing her goods and don't forget our discount code IHAVECAT15 for 15% off good through May 28th!
Oh, must not forget the IT/Security squirrel (even though he's not a cat. obviously).
Be sure to follow Sheryl on Facebook, Twitter and Instagram to keep up on her latest additions!