Get a Petie of your own* by ordering a hand made in the USA, organic catnip Petie patterned toy (or 3!) made specially for I HAVE CAT by Polydactyl Cats in Philly!
Each toy is approximately 3″ on each side. The perfect size for kitty to tote in his or her mouth – how funny would THAT be to see?! – or tossing about with their paws!
The toy is double-sided, with a larger Petie on one side, and many smaller Peties on the other!
Supplies are limited! (for real, this is not just a sales ploy) Once we're sold out we're not sure if and when we'll have more! So don't miss out!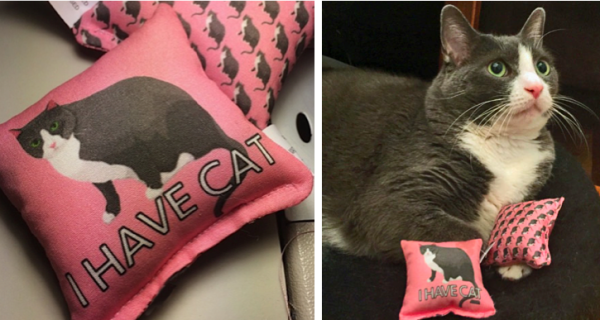 Each toy is $5.79 + $2.49 shipping (same shipping for up to 2 toys, and $2.79 for 3-4 toys – see below for shipping information outside the continental USA).
I can' promise Petie will personally fondle EACH toy, but if you make a request we will do what we can to accommodate 🙂
Go to the I HAVE CAT shop to make your purchase!
*NOTE: Petie on the catnip toy  is not true-to-scale, but this is a good thing or you could very well be eaten out of house and home!