The Cat Ball®, LLC is a small woman owned business in Bellevue, Washington founded by Jennifer Schmidt making unique cat beds appropriate for an array of aesthetics. And it's been getting tons of attention lately from hauspanther to Etsy and the pages of Catster Magazine (read on to get your discount code!).
While it was her "brain child," she had a little help from her cats at the time! Jennifer's background is in apparel design, pattern making and costume construction.
Normally, when working on a large-scale design she begins with a smaller sized prototype just as an architect might. So when she had to construct a mascot costume of a rather large soccer ball it was no different. But her cats at the time – Twix and Pacer Stacktrain – had other ideas, and decided it made a fine bed!
I love the tagline "Your Cat Will Figure It Out®," and it's so very true as you'll see in the video below, taken just moments after I'd received the package. Figures fatty (aka Petie Bear) appointed himself official bed tester and wasn't very good about sharing for a quite a few days.
Jen says this happens often and she's even received photos of multiple cats trying to squeeze themselves into the Cat Ball® instead of waiting a turn!
So after Twix and Pacer made her seriously consider converting her soccer ball model into a cat bed, she made refinements and The Cat Ball® was born! It's different than other cat beds in several ways:
Six panels and a hexagonal shape allowing it the ability to lay on any side in a stable manner.
Two openings, a larger one in the front, and a smaller in the back (as Jackson Galaxy himself says, cats need an escape route – but as you'll hear later, it also provides the cats with other benefits).
Is fully lined and machine washable!
It folds easily easy for affordable shipping and storage, popping right into shape once opened.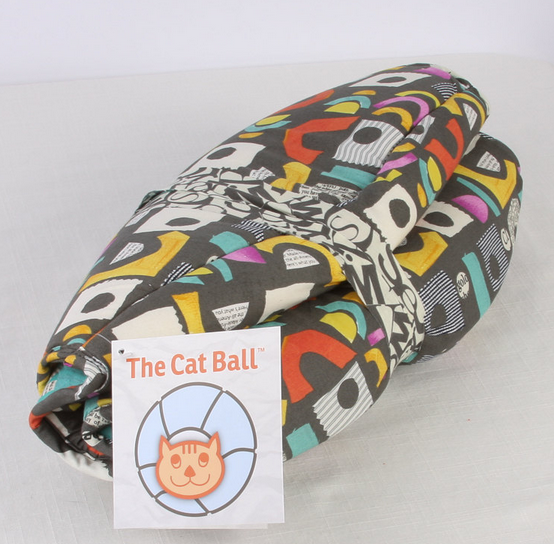 The Cat Ball® is about 17″ diameter and is about 16″ tall and come in an array of fabrics and combinations to suit all tastes: modern, retro, classic and just plain fun – and funny. And, I HAVE CAT readers get 20% off The Cat Ball® using promo code  IHAVECAT274 at check out (on the Etsy Store)!
I desperately wanted the shark but Jennifer convinced me to reconsider and go with something more classic for the long haul (I'm not gonna lie, I'm still eying that shark and can totally see Petie in it! Bahaha!).
And for that smaller opening in the back, many cats enjoy walking right through it, or using it to peek out of as if they're totally hidden and stalking for prey (or perhaps a toy on a string!)! Or in Petie's case, it works perfectly for giving that big tail of his a nice stretch! LOL!
Her current cats and official Cat Ball models are Retro, a male lynx point Siamese with crossed eyes, and Cricket, a petite Siamese lynx point.
Retro's hobbies include: shrew extermination, scratching, laying on his back and catnip.
Cricket's hobbies include: creative swearing, creative ways to attack Retro, the bathtub faucet.
Jennifer also created the Cat Canoe for those kitties who like to let it all hang out or for the cat who doesn't enjoy be in a covered bed.  Jennifer even discovered the canoe fits in most cat carriers, making trips to the vet a bit more comforting!
So far the Cat Ball® seems to be a hit, and it doesn't hurt that it matches both Petie and my living room (coincidence?! ha!).  Still thinking about that shark bed though…!
You can follow Jennifer and her fabulous creations, cat models and customers on Instagram @TheCatBall and Facebook on TheCatBall Page.
If you could have a Cat Ball® which one would it be?!
FTC full disclosure: We received a free catcall and some of the links in this post are Amazon affiliate links!