I'm not one for dressing up my cats for the holidays. But while picking up cat food at Petco I saw this…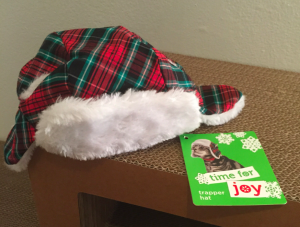 It changed everything. Immediately I envision my sweet Kip as a lumberjack kitty, much like the one displayed on the tag. (note the ear holes – ha!).
"Time for joy" I guess we'd see about that!
Seeing each of my cats have their own fans, I went the democratic route to determine who should try the hat first (or who I should attempt to get to wear it!).
Guess who won?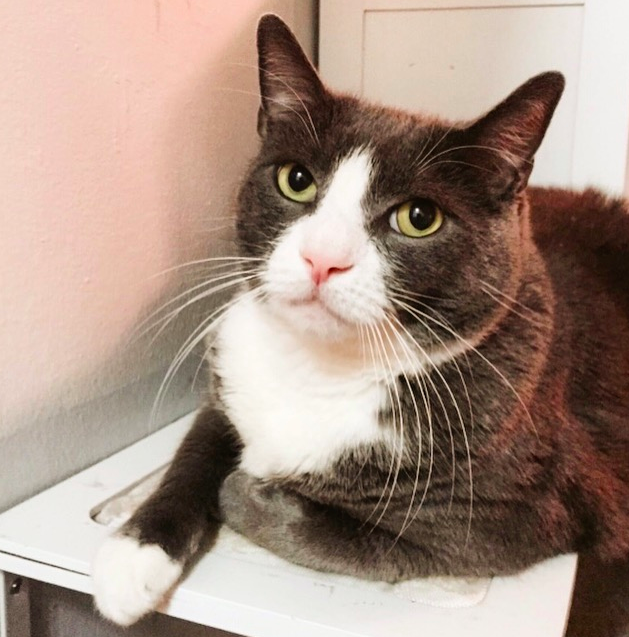 Yup, Petie.
Ignoring all non-verbal cues displayed in the photo above ("Don't even think about it Ma'), I was determined. It was for his minions!
Below you'll find the first shot taken after donning hat.  Not exactly the look I was going for. And nothing like the "joyful" kitty on the tag.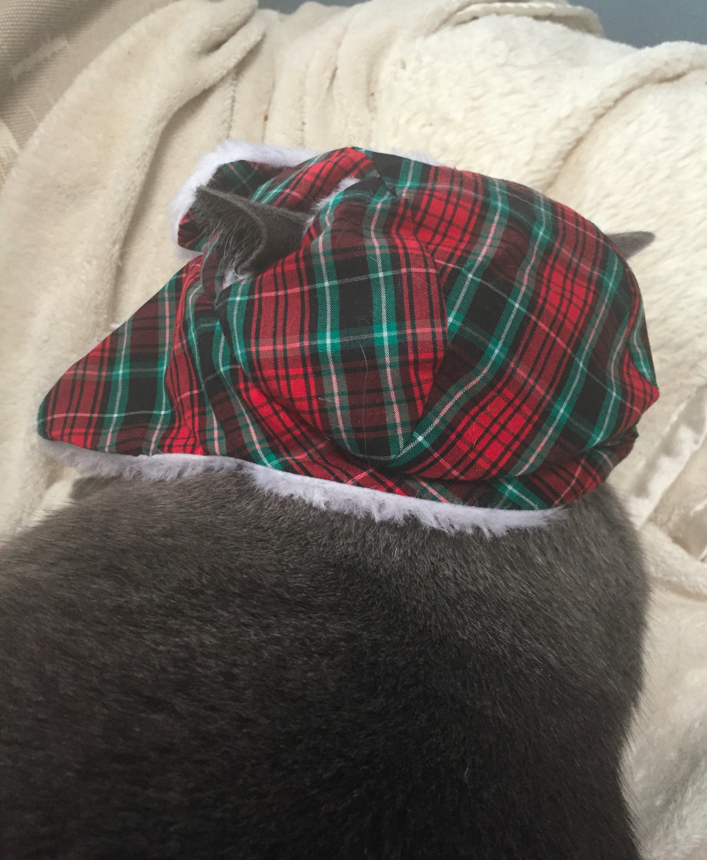 After some cajoling, (read: treats) he came around and just look at the adorable shot I got (below). It's true you can't see his ears. They retracted immediately after I yanked them through the ear slots.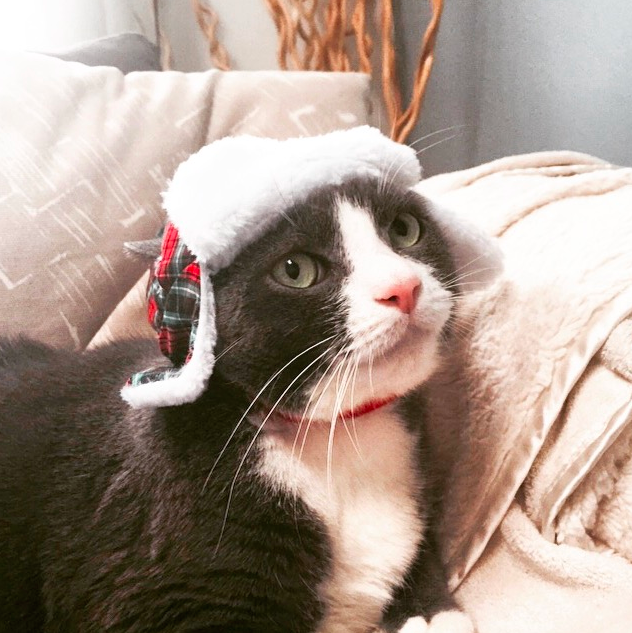 While Haddie put up less of a fight, she wasn't exactly the picture of holiday cheer. Though I'm happy to report as you can see, one of her ears paid attention and stayed put.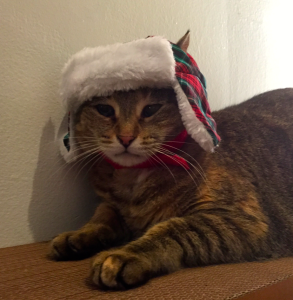 The cat I'd envisioned in the hat in the first place was my most unhappy and clearly embarrassed customer.
Kip refused to make eye contact. Even after said hat was removed.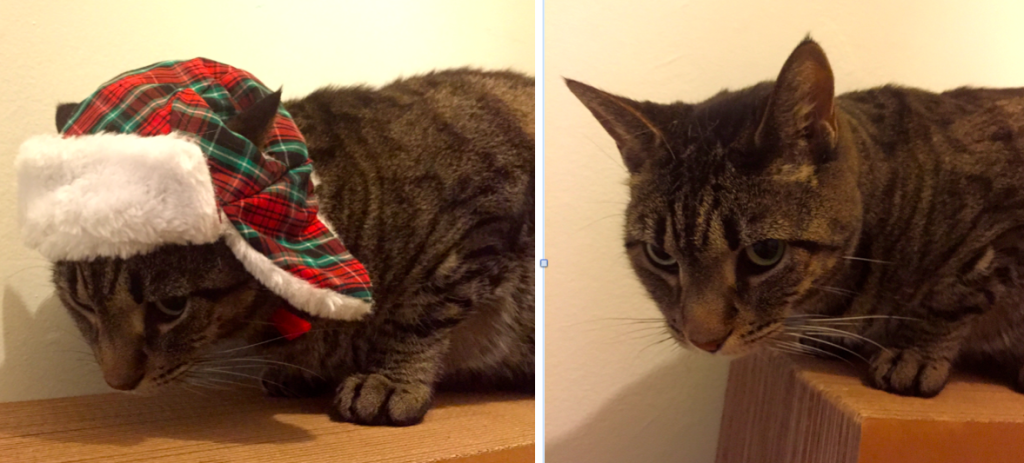 But I was undeterred and by now on a roll, digging up an old set of kitty antlers.
Petie was still cornered on the chaise lounge so I went for it. Look at those eyes! Oh dear. But he's sending mixed messages if you ask me. Note the perfectly posed prancing reindeer feet!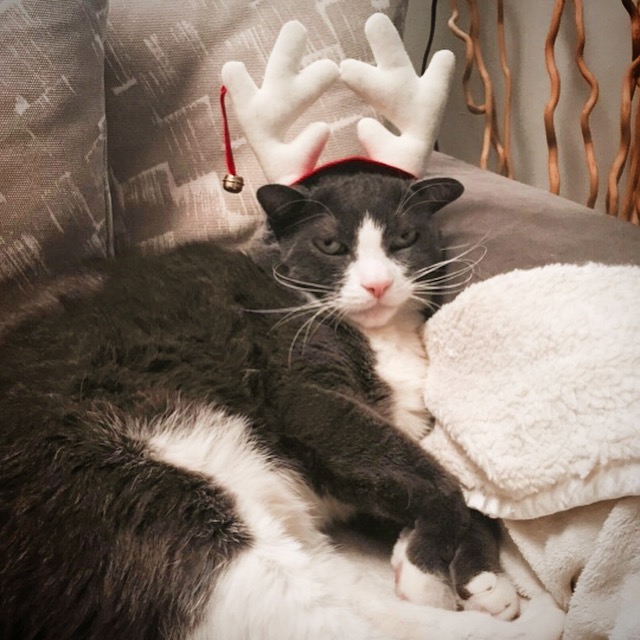 A short while later, post-antler removal, Petie decided to love on me. All was forgotten and forgiven. Or was it?
Someone reminded me of the famous saying, "revenge is a dish best served cold." One would imagine these sayings come about for a reason. perhaps he was merely lulling me into a false sense of security?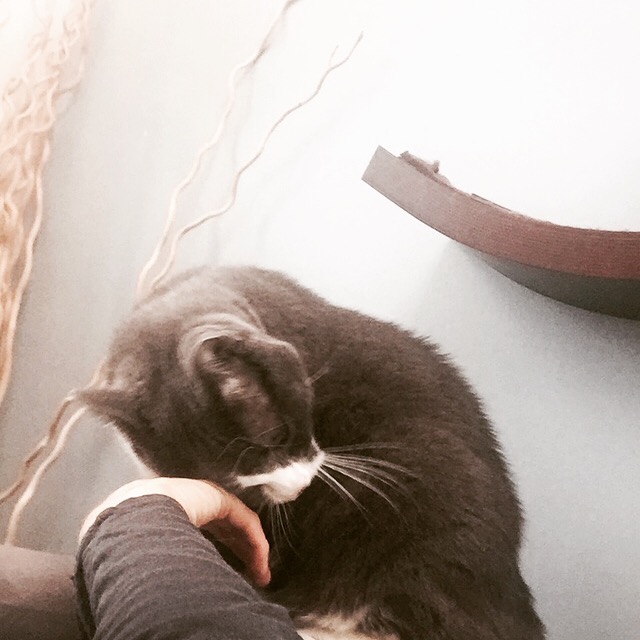 It will come as no surprise to you that I'm not alone in amusing myself around the holidays with a cat hat or two. In fact some brave (?) souls take it a step further. A quick search on Instagram reveals 8,073 uploads with the hashtag #santacat.
I spared you the effort and found the best/saddest ones for a post I wrote for The Cat Channel today titled: "Santa Cats of Instagram: Meet the eight types of cats in Santa hats you'll find this holiday season." They range from "I will kill you in your sleep" to "OMG I've been paralyzed. It's worth a look!
Did you get "festive" with your cat(s) this year? Any scars? Sleep with one eye open. Even the REAL Santa may not be able to save you!