It's not too late to purchase "Catification" and "whiskerslist 2015 boxed calendar"in time for Christmas if you order today! Or, order with regular shipping to have on hand as the perfect gift for the cat lover(s) in your life when the occasion arrises (Or maybe just get it for yourself – why not? It's the best kind of gift!
PLUS, you'll have a chance to win both this very practical book and hysterical calendar at the end of the post (US ONLY – sorry, sorry sorry!).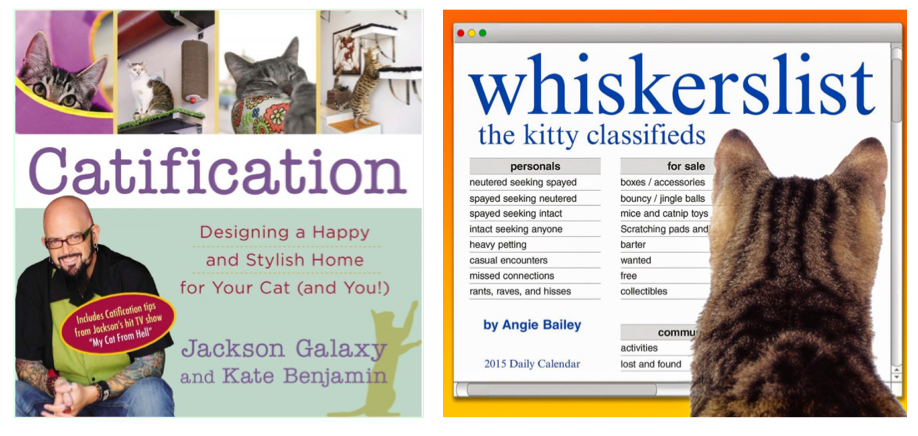 Catification, Designing a Happy and Stylish Home for Your Cat (and You!)
This book co-authored by Jackson Galaxy from TV show "Cats from Hell" fame, and Kate Benjamin of the uber-popular cat website Hauspanther provide you with ways to create feline-friendly home environments – while keeping it stylish (FINALLY!).
"Catification" as a concept based on creating a way to appeal to, and stimulate your cat's natural instances (what they call the "raw cat" in this book).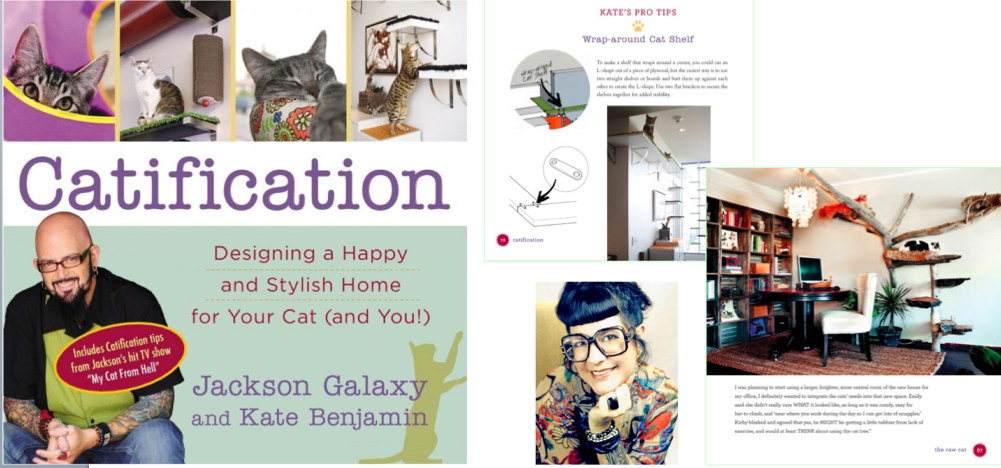 By bringing cats inside – a relatively new phenomenon if you look at history as a whole – we have, for the most part, made them adapt to our lives. We feed them the way that suits our needs, not theirs. Ditto for the entertainment (or lack there of) and living arrangements we provide.
Jackson and Kate clearly know what they're doing because "Catification" not only made it to #1 on the NY Times "Animals" best sellers list (beating out quite a few popular dog books I might ad…just saying'), they also came in at #17 in the "Advice, How-To & miscellaneous" category where the competition quite varied!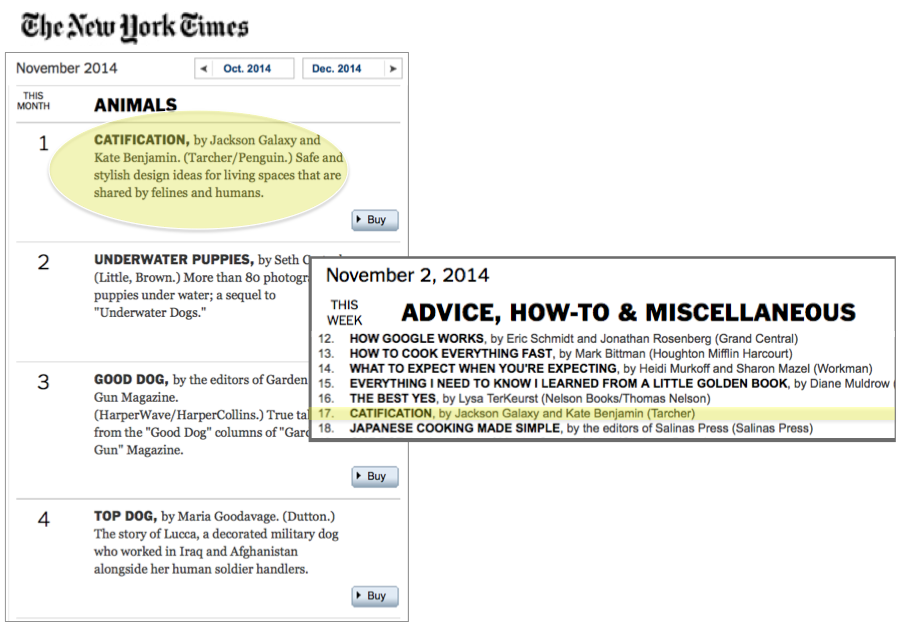 People who adapt their homes for their cats are often seen as "crazy" or "extreme." This is absolutely NOT the case! In fact, they are they just more in-tune with a natural cat's temperament and care enough to want what's best for them. As a result, they will benefit from a more harmonious home and cats with fewer behavioral issues.
Here are a few pics of some of the "catification" I've done around my apartment. Wonder what Kate and Jackson would say….I'm a little nervous!
Above from left to right:
Cat Wave Shelves by Urban Pet Haus, my cats love them and I think they look like art when not in use…well even when I use I guess! Several people have actually thought they were wall sculptures before seeing the cats jump up on them!
The Cat Hole (unfortunately name I know) allowed me to convert a small storage area under my stairs into a place to stash second litter box in my smallish NYC apartment. We call it the "catman cave" (they will create a sticker for you for free!), and although Haddie is an honorary member she rarely uses it!
Square Cat Habitat Itch Scratchers, they have ones that sit on the floor if your kitty prefers to scratch horizontally. I love these because you can choose from an array of colors as well as textures based on what your cat prefers scratching PLUS, you can replace the carpet very easily using FLOR carpet squares!
Kittyblock stackable cardboard loungers and scratchers.
Keep on reading to find out how to enter to win a copy. And don't forget, if you order TODAY on Amazon using this link and upgrade shipping to 2-day, you will still make it in time for Christmas! Unless you have Amazon Prime – or know someone who does –  then you're golden!
whiskerslist, The Kitty Classifieds 2015 Boxed Calendar 
Based on a book of the same name by my fellow-blogger and friend Angie Bailey, this calendar will keep you in stitches – well at least once each day! And, you may just see a cat or two you recognize (if you catch my drift!).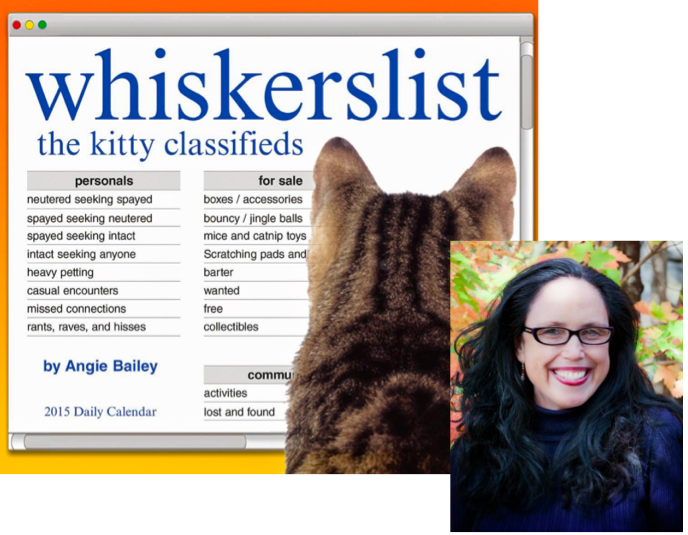 As you can see from the examples below, the calendar is a spoof of Craigslist – Craigslist as if it was written by and for cats! Categories range from "Personals," "Lost and Found," and "Help Wanted," to name a few!
Angie (who you likely know from her blog CatLadyLand or her new book Texts From Mittens) became hip to this previously secret feline website when she caught her cats on it one morning after having forgotten to shut her laptop down the night before…or had she…perhaps they'd been watching closely and new the password. Wouldn't put it past a cat, would you?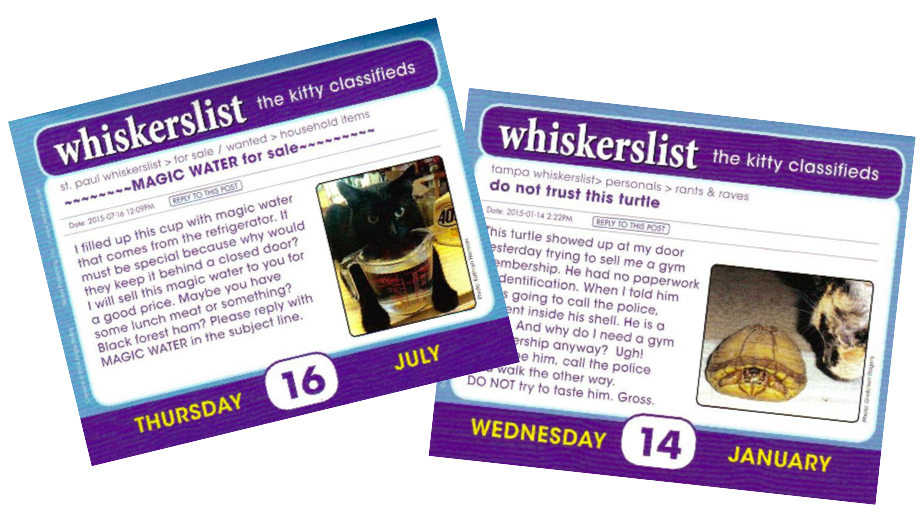 I love Angie's author description on Amazon:
"….wife, and mother to two humans and three cats. She loves to take silly photos of her cats and sleeps with one eye open…"
As she's wise to do after blowing the door off their previously underground lives! 
Order today with 2-day shipping for delivery by December 24th. Or just order regular shipping and give your gifts on New Years (it is a 2015 calendar after all!).
Use the widgets below to enter to win a copy of CATIFICATION and WHISKERSLIST. Feel free to enter both! Hey, you can always gift it to someone for their birthday! GOOD LUCK!
a Rafflecopter giveaway
a Rafflecopter giveaway
Disclaimer: I was not reimbursed/paid for this post beyond receiving a complementary copy of each of the mentioned publications.