Don't wait until Cyber Monday to get your feline holiday shopping in!  Check out the unique, modern cat products – some classics and some new – we've pulled together for you!
Check out the great deals AND our FIRST EVER GREAT IHC HOLIDAY GIVEAWAY to boot! Don't miss out peeps!

DRIP MODULE: Sleek Modern Pet Bowls
When I first saw Drip Module pet bowls it was love at first sight! The design, the colors glossy blue, orange and white (as well as a matte black) are yummy and sure to fit into any color scheme!  I also like that they come in a variety of heights for cats and dogs alike and are hand-crafted in the US (San Francisco) by an architect inspired by the shape of frozen water droplets!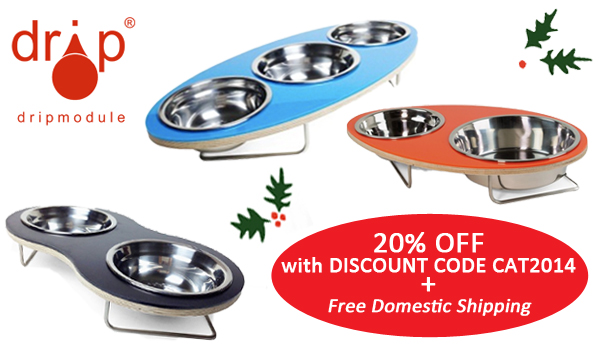 I HAVE CAT readers get 20% off Domestic AND International orders when using the code CAT2014 at checkout. PLUS domestic customers will receive free shipping. Offer good through 12.31.2014. Order by December 22nd to assure arrival in time for the holidays within the US! International orders normally take 7-10 days.
Don't forget to enter the holiday giveaway gift pack at the end of this post for a chance to win a triple bowl feeder from Drip Module (works for 3 cats or 2 cats and a water bowl)!
KATRIS: Cat Scratcher Building Blocks
Modular, durable, non-toxic, eco-friendly (made with 99% post-consumer content and is 100% recyclable!). What's not to love about the hot new Katris interchangeable cat scratch blocks?!  Unleash your creativity and keep it fresh for the cats by coming up with new arrangements when the muse hits you!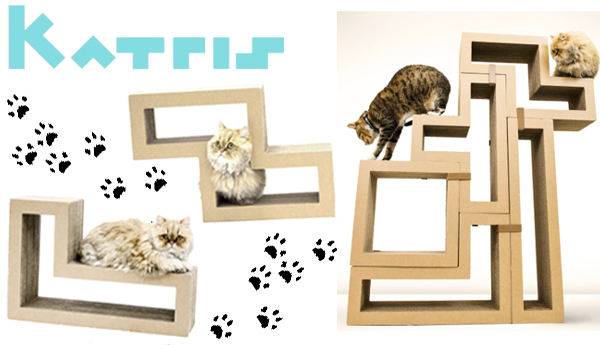 And, you can arrange Katris blocks to meet the specific needs of your cat – senior cats or specially-abled cats who can't jump high, active cats who want to climb to the highest point in your home etc!  The product was inspired by the owner's cat Mimi (we're pretty sure she's the tabby in the photo above!), and is intended to be fun for both cat parents and their fur babies!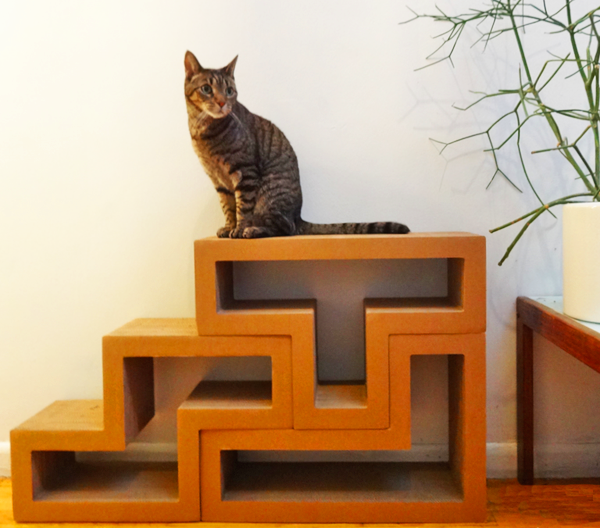 As you can see, Kip approves! I'd better unwrap the rest of those blogs and build higher! Katris comes with clips to ensure blocks don't move/fall, and a packet of powerful catnip to lure your kitty(s).
And, check out the photos above.  Katris makes a great gift for the modern pet-less friend on your holiday list too! I might have to steal a few of the blocks for my own use! Be sure to take advantage of the sale currently going on over at Amazon where you can get a $99 Katris block of your choice for 50% off!  
KITTYSCOOP: Litter Helper
A brand new invention made in the USA (yay!), Kittyscoop Litter Helper was developed so cat parents can clean out the litter box without coming into contact with used litter (icky poo!). The scoop's design allows you to clean the litter box in one simple step by depositing  "refuse" directly into a plastic bag reducing dust, allergens & smell!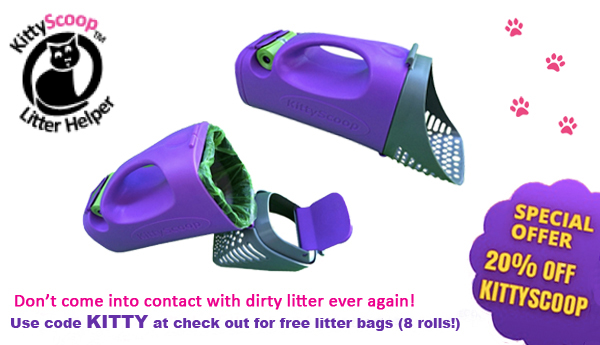 Once the compartment is full, open up the back, pull out the old bag out and replace it with a fresh one from the handy built-in roll of litter bags!
Don't miss out on the special Kittyscoop offer going on now, 20% off and a bonus bag of litter bags ( = 8 rolls)! AND, be sure to enter our HOLIDAY GIVEAWAY for a chance to win one!
CAT CONNECTION: Peach Industries Mini Lounger 
Created by a Vet Tech and Industrial designer who live with a menagerie of animals – two cats, one dog and a rabbit –  mini Kitty Loungers by Peach Industries are made in the USA (woot!) and $10 off today through Monday at TheCatConnection.com!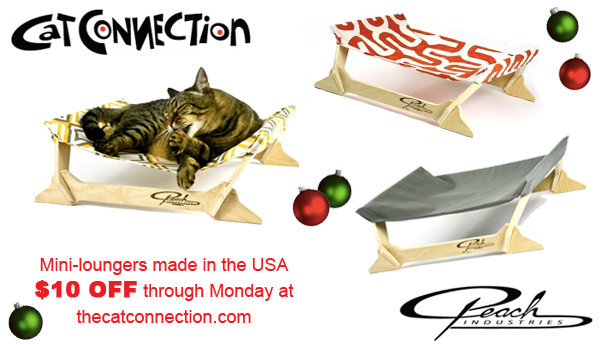 These loungers are made and sourced in the USA, including the 100% woven cotton cover and sustainably forested birch frame that's assembles quickly and easily without any tools (bonus extra: covers are machine washable).
If you go over to TheCatConnection today, BLACK FRIDAY, you can get an extra 25% of all toys PLUS a gift card for a mystery amount ranging from $5 – $100 for the first 500 orders! 
MODKO: Where Modern Cats Go!
The Modkat litter box by Modko was one of the very first reviews we ever had on I HAVE CAT back in 2009, and we love the product now just as much as we did back then! Our black ModKat is still in fabulous condition and I love watching my cats while they're in there with their heads stuck out! Great photo pop –  though I imagine they would disagree!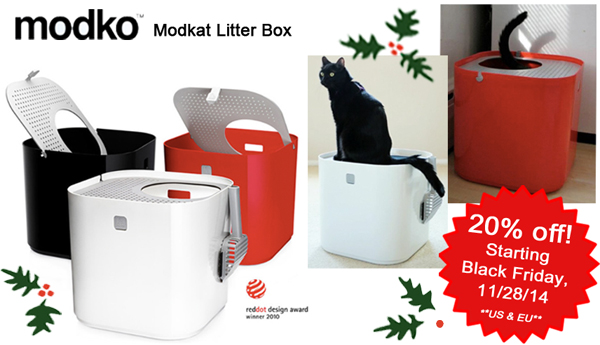 If you don't already know the story, Modko is a Brooklyn based company. Modkat litter box was born after Rich's desperate search to find something for their cat that didn't ruin the aesthetic of their carefully designed apartment. It was his wife who finally reminded him, "You're a designer, why don't you just design one!" And so he did!
Recently Modko has ventured in to the world of humans and doggies. You'll have to visit their website to check out their latest inventions! Through December 10th, they're offering 20% off the Modkat for US and EU customers!  BUT, if you head over there today, they've upped the ante to 25% through Monday with Free Shipping for orders over $100! 

THE GREAT I HAVE CAT HOLIDAY GIVEAWAY! 
Here it is folks! Our First Ever IHC HOLIDAY GIVEAWAY PRIZE PACK valued at over $150! Sorry this giveaway is US only (we'll try for international next year!).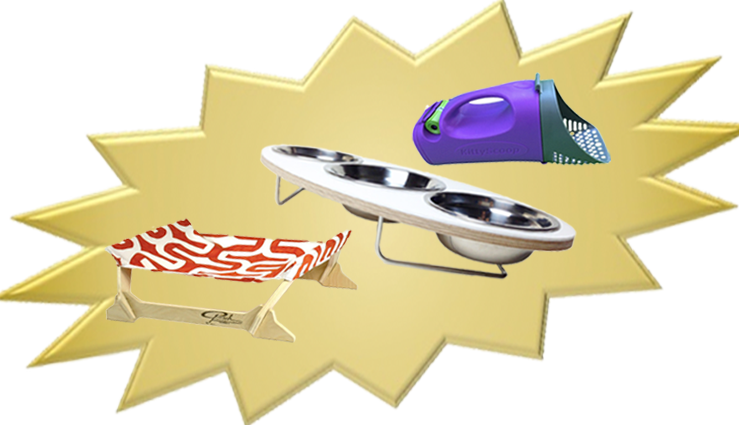 The winner of this prize pack will receive three fabulous kitty products!
Drip Module Ellipse three bowl feeder in the color of their choice (glossy blue, glossy orange, glossy white or matte black)
KittyScoop Litter Helper 
Mini-Lounger made by Peach Industries donated by The Cat Connection in the fabric of their choice
NOTE: To enter, you MUST "like" the three FB pages noted in the widget below. There are also other ways you can gain extra points to win that are NOT mandatory (i.e., Tweeting out the giveaway which you can do every day to get more points to win!).
Good luck, and HAPPY SHOPPING! 
FTC Disclosure: This is a sponsored post and we've received product and reimbursement for our time. I HAVE CAT would never post anything we didn't think you'd enjoy or we didn't like!