Looks who's on the homepage of A Letter To My Cat's website right next to LIL BUB – they'd make a pretty cute couple if you ask me….
Dear Kip,
I had no idea what to expect when I adopted you. Never having grown up with pets – unless you count goldfish and a hamster – I was as naïve as they come.
You looked depressed in your cage the day I saw you at Petco. When they placed you in my arms you didn't put up a flight and flopped right into them. A handsome green-eyed Tabby of uncertain origin, named after the neighborhood where he was found.
I'd found the perfect lap cat (or so I thought). Having just broken up with a boy, I was looking to be comforted. I needed some kitty snuggling. Being depressed, I figured a depressed cat was the perfect match.
To say I was in for a surprise would be putting it mildly… 
That's the beginning of the letter to my first cat Kip. If you keep reading this post, you'll learn where to find the rest of it, and how you could be one of two lucky I HAVE CAT fans who will win a boatload of prizes just by writing a letter to their cat! Plus the contest is going to be judged by the creator of "A Letter To My Cat" – how cool is that?!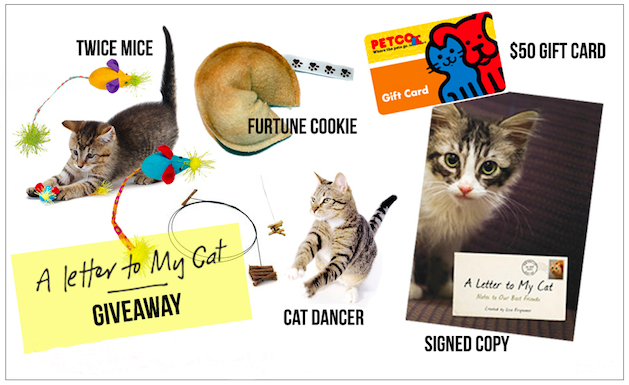 "A Letter to My Cat: Notes to Our Best Friends" was released last week as the follow-up to "A Letter To My Dog," by Lisa Erspamer. I'm confident it came out second purely because they wanted to be sure it was perfect and did so by working all the kinks out with the dog book. That's my story and I'm sticking to it. I suggest Lisa does as well (Just kidding Lisa! Well, kind of!).
The book is a compilation of heartfelt letters from regular folks and celebrities like Dr. Oz, Joe Perry, Fred Willard, Carrie Ann Inaba expressing their love for and gratitude to their feline companions. The photos that accompany them are gorgeous (I mean, just look at the cover shot below).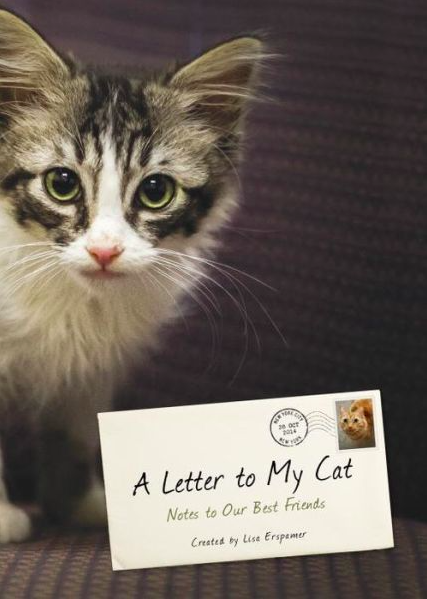 While certainly moving, the book will also make you smile and maybe even chuckle (one of those: "I laugh, I cried, it was better than Cats" kind of books). It's relatable and will make remind you of everything you admire and adore about your kitty and all the ways he or she has enriched your life.
In speaking about her experience making both books in an interview on FOX11LA, Lisa says she found them to be like their pets – one more outgoing and the other more introverted (you can figure out which is which). And while I don't agree with her on that point, I do agree with her observation that cat lovers are "edgier," which I'll take to mean creative, non-conformist and independent. I can live with that.
Therefore this book is  OBVIOUSLY at least 10x more interesting than the dog version. Just saying'.
This snippet from one Amazon reviewer will give you a good feel for the book:
"I am not a cat person (not by choice … it's my allergies' fault!), but I bought this book as a gift for a cat-owning friend of mine. I started to flip through it before wrapping it and a few of the beautiful photos caught my eye, so I started to read a page here and there. Before I knew it, I had read every letter in the book! … My favorite letter was from a homeless veteran who lives in the wilderness with a truly unbelievable cat…." – Steven S.
And here's a sneak peek at a few pages from the book and portions of what a few celebs had to say to their kitties!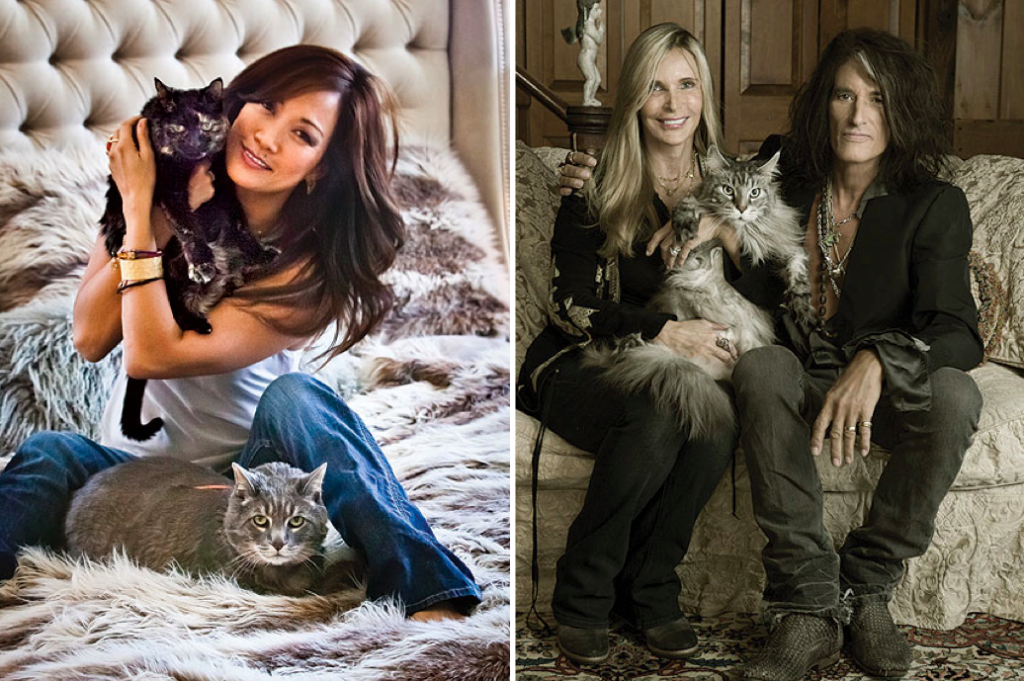 Carrie Ann Inaba tells Taz, who recently passed away (I'm guessing after the book went to press), "You have been my protector and my friend – my guide to peace and my love pillow at night when life gets me down. While Joe Perry admits to his cat Icon that, while he's always been a dog person, he's gotten him to change his ways!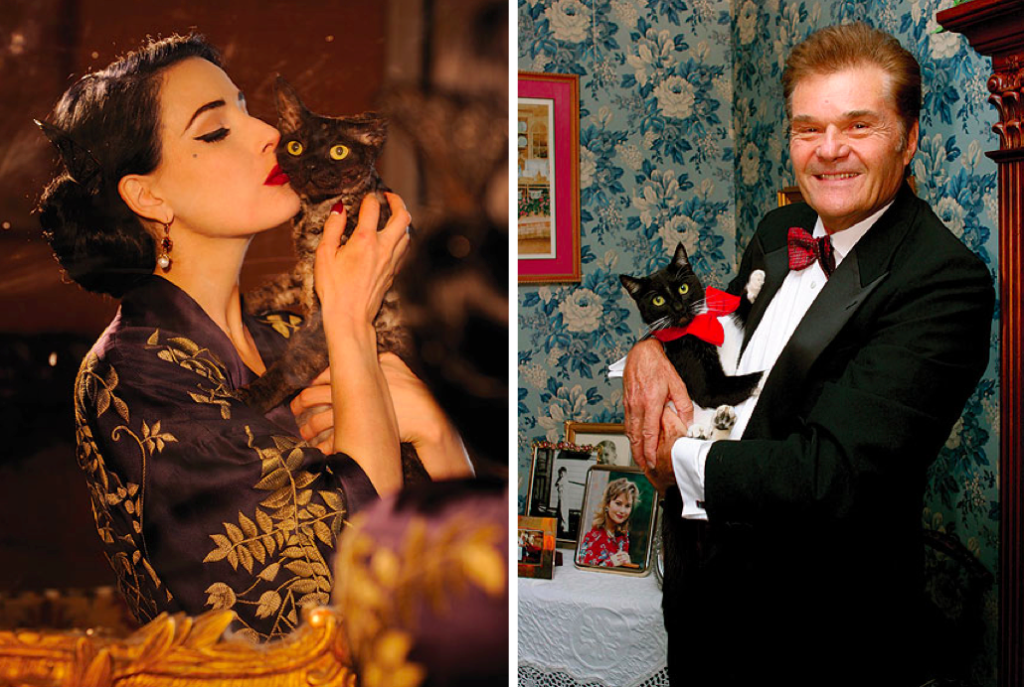 Dita Von Teese reminded kitty Aleister he (?) is "…a force to be reckoned with … Angelina Jolie was actually afraid of you when she met you!" While Fred Willard's letter to  cat Mittenz thanks him for helping him get that new couch he's been needing to get for a while now….(ha!), and tells him he looks great in a tux!
Okay, now back to the GIVEAWAY and how you and your kitty could win:
All YOU have to do to enter is write a letter to your cat telling him/her what you love most about them, how they've changed your life, made you a better person – whatever you'd tell them if you could. It can be to a current kitty companion or one that's no longer here.
Write your letter as a comment to this blog post and Lisa Erspamer, the author of "A Letter to My Cat" will review all entries and select two lucky winners in the coming weeks (US only sorry!!!!). Deadline for entering is 11/15/14 5pm EST. I can't wait to read these comments/letters!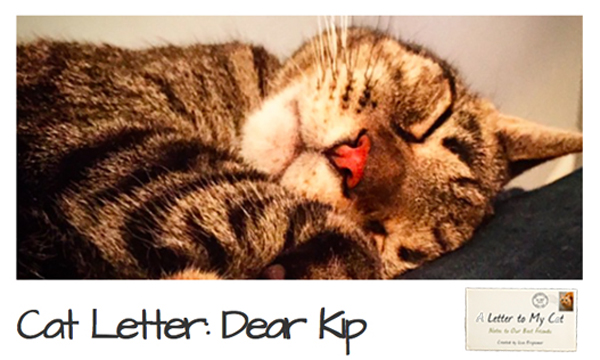 If you'd like to read the rest of my letter to Kip, go to ALetterToMyCat.com where you can also give your kitty a shout-out via Twitter.
And last, but not least (I know this is long but there's so much good stuff to cram in!), I leave you with this video of a few folks taking about what makes cats so special and reading from their personal letters. You'll recognize more than a few of them – Jackson Galaxy anyone?! Enjoy, and get out your hanky!
Don't forget to enter by letting your furry one know how he or she makes your life complete! And if you can't wait to see if you win, or want to get an extra copy as a gift click here to purchase "A Letter to My Cat"
.