12/22/14  – CHANCE #4 to win! Scroll down & use widget that says GIVEAWAY #4!
+++++
12/5/14  – CHANCE # 3 to win! Scroll down & use widget that says GIVEAWAY #3!
+++++
October 2014
"AS SEEN ON TV" is not copy I envisioned writing in an I HAVE CAT post, but here you have it! The folks at SmartyKat®, makers of the Feather Whirl™ cat toy, are extending their "made for TV offer" through cat bloggers just in time for the holidays!
Smart folks, they probably realized we're all glued to our laptops 24/7, with no time for "real" TV. Are "made for blog readers only" offers soon to follow?
We're also giving away a Feather Whirl™ to an I HAVE CAT reader approximately every two weeks for twelve weeks – that's 6 chances to win a Feather Whirl™ for your cat (US ONLY)!  if you want to partake in the offer and do happen win, it will make a great holiday gift for a lucky cat in your life, or maybe a shelter kitty? Just saying'!
Feather Whirl™ bobbles and swirls, mimicking movement of prey in the wild and enticing your cat to pounce (or in Haddie's case – kill!).  They say it's made of BHA-free plastic making it cat-safe and super durable claiming, "your cat can grab, chew, pull or bite all he or she wants and it won't break." 
My little Haddie girl loves biting onto and dragging her toys around the apartment. So I was a worried their claim wouldn't apply to her. Well, just take a look at Haddie and the Feather Whirl™ in action.
When she gave that toy a good smack down right off the bat, I thought Feather Whirl™ was doomed. But it made quite a rapid and in my mind, miraculous, recovery! I can't speak for how it will last over time, but for the moment both Haddie and toy are still ticking
So what's this AS SEEN ON TV offer you ask? Well, for $19.95 + S & H you'll receive:
The Feather Whirl™
2 AA Duracell batteries
3-gram bag of 100% certified organic catnip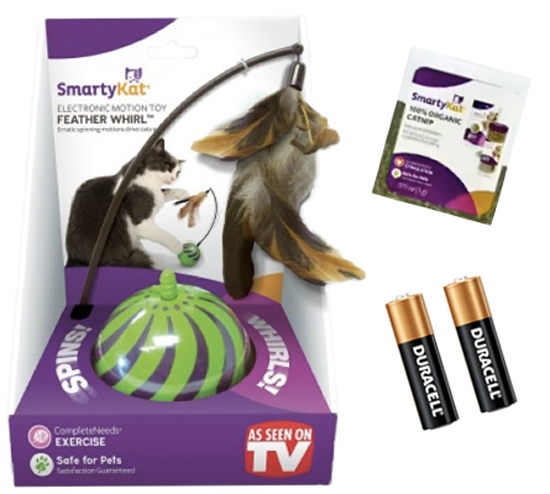 But wait, there's more! (more copy I thought I'd never write!) You'll also get $13.00 worth of cat toys for FREE!
Skitter Critters (3-pack of mouse toys)
Bouncy Mouse
Loco Laser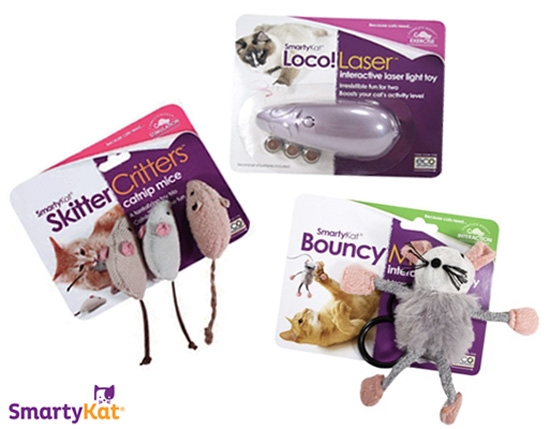 So go to WWW.FeatherWhirl.Com to take advantage of this "AS SEEN ON TV" exclusive!
To enter this week's giveaway, you must use the Rafflecopter widget below. Tweeting, liking, and sharing through the widget will give you more "points," increasing your chance of winning! GOOD LUCK!
a Rafflecopter giveaway
a Rafflecopter giveawaya Rafflecopter giveawaya Rafflecopter giveaway
FTC Disclaimer: This post has been sponsored by SmartyCat. However I HAVE CAT would not post about topics it did not feel interested its readers.