Sharon Wright could easily pass as Kim Basinger's sister. The kick-ass sister with more talent, two cats,  a pig and a new husband to boot! (Be sure to check out Sharon's bio below – for a real sense of her talent and sense of humor!)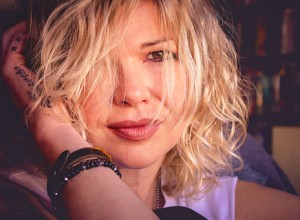 Somehow this incredibly talented woman found and contacted me knowing I'd love her photography, and forgave me for taking so long to get back to her.
Sharon usually photographs dolls, but has a series combing cats and dolls that conveys an amazing degree of intimacy and emotion. I truly forget it was a doll in the shot. Wait until you see "Bath time," which may be (though I like "Secret" and "Laptop as well – my given names, not Sharon's).
I'm excited to introduce her and her amazing photographs with you today. Can't wait to hear what you guys think!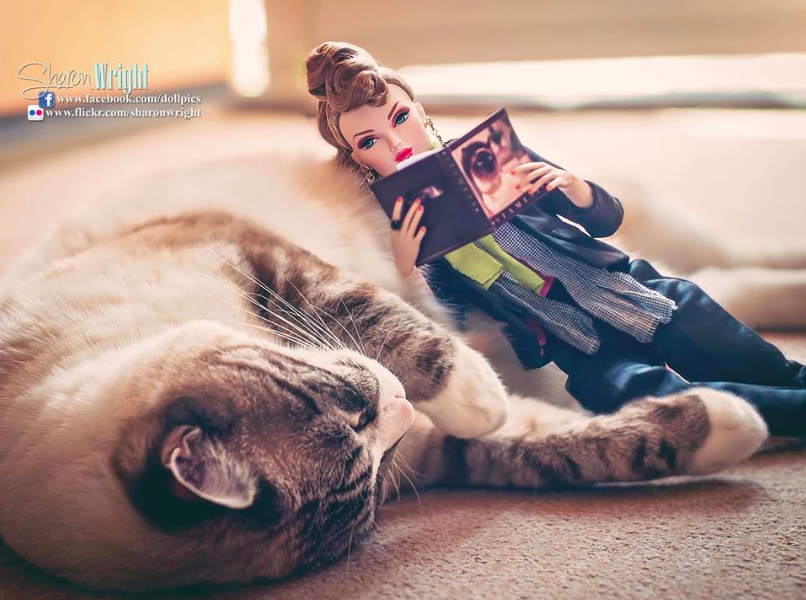 Was your childhood one with or without animals?
We always had dogs growing up. Some stayed at our farm, and a couple lived with us in town. I was a complete tom boy, so the dogs and I would go fishing a lot out at the farm. In town, I had a dog named, Benji who was JUST like the original. He was just as smart too.
We'd go to the playground and he would climb the ladder then go down the slide with me. He got so good at it that when my dad was working on the roof, he climbed the ladder and got up there too, lol! He lived to be about 17 years old.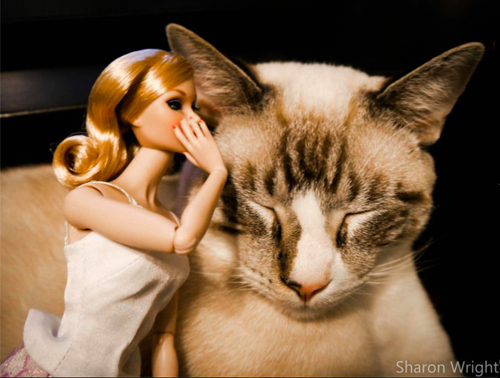 How long ago did your love of cats begin?
Since forever.
If you never had them how did you know you loved them?
My friends had them and all I wanted to do was play with and pet them.
When did you finally get your first cat and how did that come about?
I didn't get my first cat until in Junior High. My parents didn't like them – or so they thought. When they finally let me keep one, my dad fell head-over-heels for her. She was a stray kitten, a calico; I named Callie Cocomo (Coco for short).
I loved that cat dearly, but ultimately the cat chose my dad. So when I moved she stayed with him. I couldn't bring myself to separate them.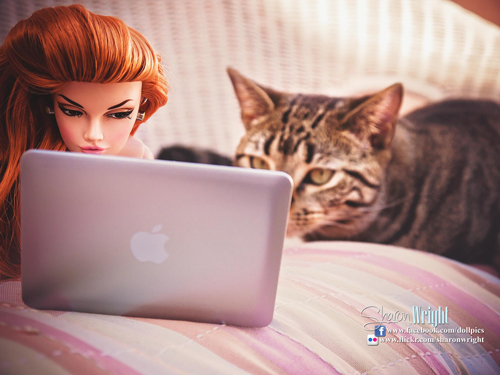 You were recently married – congratulations! – did you find having cats ever impacted your dating life negatively?
No, I've never had any issues with dates and my pets. I've always told people that they were there first, lol.
Tell us a little about the cats you have now.

We have two, a brother and sister rescued as kittens. It's funny, but originally my husband was a dog person and I preferred cats, so we decided to get something completely different and got a pig. Yes, a pig. No, they really do not stay that tiny – ever.

Anyway, after we got Norton we decided he needed a friend and we would get him a cat friend since dogs and pigs don't really mix as well (yay – I win!)
We went to the local shelter originally hoping to get an older cat since they don't get adopted as easy, but ultimately decided to get the two kittens, as they would adjust to the pig easier.
Their names are Mongo and ZuZu, both mixed Siamese cats. Mongo is the alpha for sure, but he takes care of his sister and cleans her all the time, it's really sweet.
ZuZu is, well, she's not quite all there half the time. She's a bit slow and not very graceful. But, she is the sweetest darn thing you've ever met
Since Gary wasn't a cat man at first, how has he taken to the cats?
I had to completely convert him. He'd never had a cat and wasn't overly fond of them. I'd say he took right to them. Though I know he wishes they'd get super happy to see him when he comes home like a dog would!
Were dolls a childhood love of yours?
Nope, I was a stuffed animal person. Had a gazillion of them. I only remember having a couple Barbies, but didn't really play with them too much.
How did your photography career begin, and when did photographing dolls come into the picture (literally).
My neighbor collected these high-end fashion dolls by "Integrity Toys" and she would take pictures of them all the time. I was trying to learn how to use the camera and asked if I could play too. I was hooked immediately.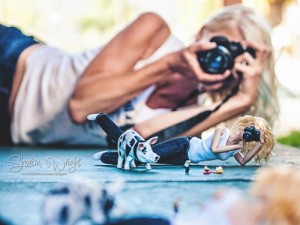 They're fully articulated so you can pose them however you'd like. Nothing like those stiff legs and arms of Barbie – these were real "models" and I could so much with them. They became my muses as I figured out photography.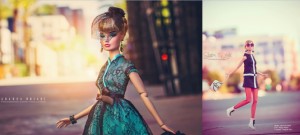 What was your inspiration for moving away from more traditional photography genres and creating a niche photographing dolls?
As soon as I started posting pictures of them people went nuts. I could finally tell stories with them and people were reacting very positively. I tried to shoot humans for a while. I just found I preferred my smaller models much more. I could shoot what I wanted and not what they wanted, and they always show-up and never complain 🙂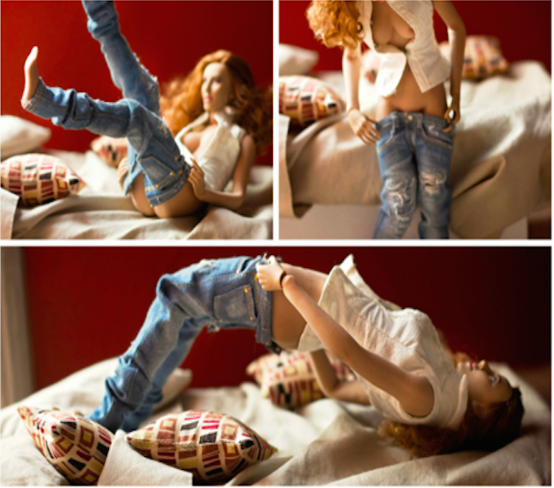 What made you think of integrating your cats into your photographs?
I know I just love to bury my face into their fur, they are so comfy to cuddle with – so why not! People like dolls and they like cats – it was natural to combine them.
How did people react to your cat and doll series?
The first time I posted a pictures people just died. It wasn't even a great pic but people wanted to see more.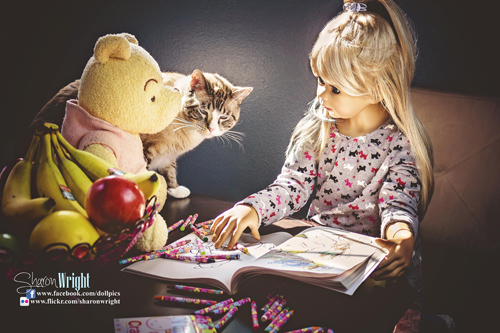 What do you most enjoy about photographing the dolls with your cats, and what's the biggest challenge?
It just brings another level to the image. I specialize in bringing dolls to life in natural settings, and normally I try to make it look like we are in "their" world. With the cats it really focuses on the their being in "our" world it in a very real way.
The biggest challenges are getting Mongo to sleep in great lighting 🙂  and getting ZuZu to not paw at them and mess up their hair.
Is one of your cats a better model than the other?
Mongo is the deepest sleeper. I can do just about anything to that boy when he's asleep.   Even when he wakes up he's a really good sport about it. ZuZu, however, is FAR too curious and wants to play with everything so she doesn't show up in too many of the pictures.
Any plans for additional cats joining the family?
No, I think we will stay with two – but I never say never. Gary and I are both sort of suckers for an animal in need.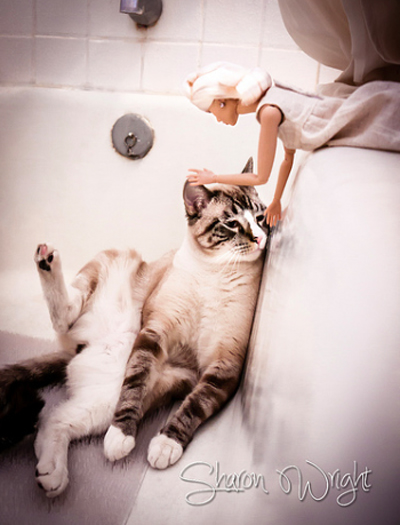 What about new projects involving cats or other animals? Norton perhaps?
I haven't really put a lot of thought into it. Norton is a lot of pet, so adding more to our family just isn't on the plate. I still do cat pictures with dolls when the mood strikes – don't worry, there will always be more of that 😉
As far as Norton, he's not a good model with the dolls. He likes to bury himself in blankets when he sleeps and he's always looking for food, so if I put on of the dolls near him he'll want to taste it first 😉
________________________
SHARON WRIGHT'S BIO:
Sharon Wright is the Executive Editor for Haute Doll magazine and maintain a personal photography page on Facebook – so check it out!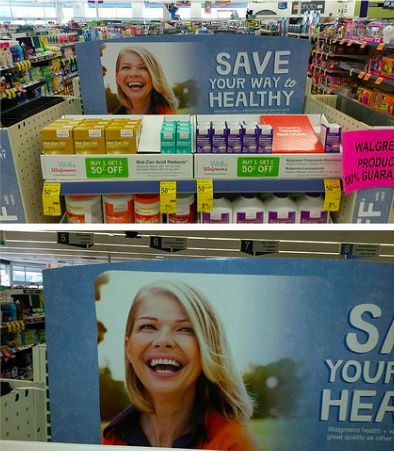 She's an award-winning actor, picked-up a "couple" of Emmy awards for writing and producing the short film, CHANGE FOR A DOLLAR, has done some modeling and currently resides in LA.
In regards to her modeling gigs, she says:
"Maybe you've seen me in Walgreens pimping out bladder control meds…(yup, really proud of that one…), or online for erectile dysfunction pills. It's a really glamorous job. LOL!"
A few of her favorite things (in case you were planning a care package) are: Footed pajamas; Pistachio ice crew and Lifesaver Pep-o-mints are her addiction!
What do you think of Sharon's photography? Any favorites (besides her stunning wedding and honeymoon pictures?!).
________________________
Are you a hip, young, cool and/or hot cat man or cat woman? If so, you could be our next  CAT WOMAN WEDNESDAY or CAT MAN MONDAY!   For inspiration check out previous posts here:
Send a 500-800 word essay to tamar@ihavecat for consideration with images.