Back in 2012, the folks at the Walker Art Center thought it would be neat to have a public viewing of cat videos. Everyone seemed to enjoy them at home or work alone behind their computers. Some watching with one eye on the door at the ready to change the screen should a non-cat-lover walk in.
Why not bring those cat lovers together and watch them out in public, in the open – without shame?
The Walker thought a hundred people or so would make for a very successful event (I mean how many cat lovers could there REALLY be right?).  Were they ever in for a big surprise when around 10,000 showed up instead!
They'd clearly hit a nerve, and a tradition was born. Since that August in 2012, The Internet Cat Film Festival has gone on a tour of major US cities each year – this year they're even going global, making it to Australia, Japan and Sweden!
While I attended last year's festival at the WARSAW (a music venue in Brooklyn, NY) complete with Lil Bub and Will Braden, the creator of Henri Le Chat Noir, it's wasn't the same as attending it at an outdoor venue like the Minnesota State Fair. This year, Organikat has teamed up with the Walker to sponsor the festival in Los Angeles in a park!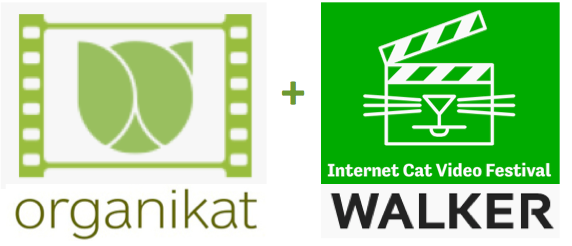 If you live in the LA area, you can still get tickets of $15, a portion of which goes to help several local rescues.   If not, don't fret because:
#1) I am attending (yay!) and will be certain to report back!
#2) I HAVE CAT has a giveaway package from several of the festival's sponsors and exhibitors! (US residents only – sorry!)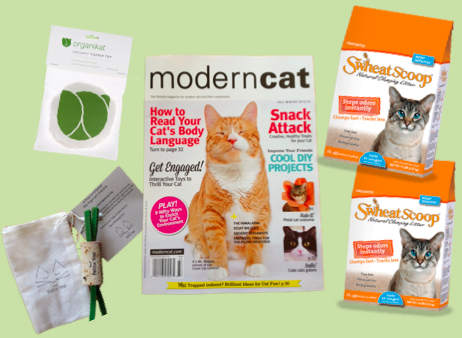 The giveaway includes:
Vouchers for two bags of Swheat Scoop (14lb), a natural litter made from ground wheat.
A handmade Organikat catnip toy with

 100% certified organic cotton on the outside and 100% certified organic catnip on the inside. Best of all, there are no fillers, just pure catnip! Even the logo is safe for your kitty as it's printed with a water-based, non-toxic, fiber-reactive dye! 

The Thunderbolt wine cork toy from Feline Yogi. Made out of a recycled wine cork that has been sanitized and soaked in catnip tea and yoga mat scraps so as not to be wasteful! Kitties love batting this toy around! 
An issue of Moderncat Magazine 
GOOD LUCK!
This post is sponsored by Organikat but I HAVE CAT would never share anything with you we didn't completely believe in (or think you would enjoy.)