I'm ecstatic to report that I HAVE CAT fan and Montreal resident Evelynne Weakley agreed to share her experience visiting "Le Café des Chats" (literally "the cafe of cats"!), North America's very first cat cafe, on the day of its Grand Opening!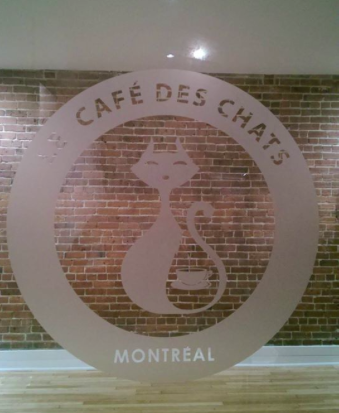 As with most businesses, this cafe has not been without controversy (or shall I say, cattiness!).  The Montral Gazette reported earlier this month that a competing cafe yet to open by the name of  "Café Chat l'Heureux" (a play on a French term for warm or inviting) accused  "Le Café des Chat's" owners of copying their idea (here come the claws!). It turns out, however, that the owners of "Café des Chats" did in fact register their business first. Hopefully there are enough cat lovers in Montreal to keep both establishments flush with cash (or would that be catnip?). 
While I am quite aware it is Labor Day in America, I urge you to take a moment and experience North America's first cat cafe through the eyes of a cat lover like yourself. Take it away Evelynne! 
*********************************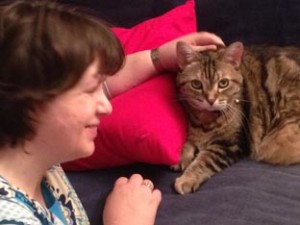 My name is Evelynne and I'm a Scottish born Canadian who has lived in Montreal for nine years.  For eight of those years I've shared my life with my cat, Isis.  She's a sweetheart but not as openly friendly as the cats from the Cat Cafe.  I work in technical support and I read A LOT [Tamar here – she's not kidding, just check out her website! Canadian Reader!]!
Today, August 29th 2014, marked the opening of North America's first cat café in my hometown of Montreal, Quebec. For those of you unfamiliar with the concept, a cat café is a coffee shop with free roaming cats. Being a lover of all things feline, I had to check it out.
Clearly there are a lot of cat lovers in Montreal; the queue was around the block.
I waited for about 40 minutes to be allowed in. The lady manning the door was very apologetic for the long wait, but they were only letting people in a few at a time to avoid overwhelming the kitties on their first day on the job.
It's clear that "Le Chat Est Roi" or "The Cat is King" here at the Montreal Cat Café. The wellbeing of the cats is of paramount importance, which was great to see.
The back of the café is a cats only area, accessible to cat through hatches and humans through locked doors. The cats can go there at any time if they want to be left alone for a bit. Fresh drinking water for the cats was also in evidence.
At least one of the cats was content to greet all these new people from the hatches, knowing he had safety behind him.
The café has a few simple rules:
Don't feed the cats.
No loud noises,
No flash photography
Don't pick up the cats.
No children under the age of 12 allowed.
Again, this is all to ensure the wellbeing of the cats.
Inside the café were many cat trees and shelves for climbing. One of the cats – clearly not a shy one – had booked the prime spot on the cat tree right by the window from which he could watch the goings on on rue St Denis as well as pose for all the photographs that were being taken!
I spotted several cat toys for guests to use with the cats, as well as a couple of armchairs for snuggling (should both parties agree to it of course!).
There are eight cats at the cat café ranging in age from four months (a cute grey fur ball named Peace) to five and a half years (King Kong). They were selected for adoption from the SPCA who worked with the café to select animals who were very social and outgoing. The eight cats are not available for adoption, but will act as ambassadors for the SPCA.
I believe I saw most of the cats out-and-about and they all seemed relaxed. King Kong has clearly decided he is the head greeter. He'd taken up a position at the cash register where he could say hello to guests as they arrive and goodbye as they leave.
The fact that the treat jar is also located there might have influence his decision!
When I arrived, Snow was people watching from the hatch to the safe area, but when I left he was out and about greeting people.  Munchkin already felt relaxed enough to snooze on a guest's lap.
As this was opening day, the café wasn't serving its full menu, just samples of – VERY tasty iced coffee and brioche pastries, so I can't comment on the quality of all the food at this time.
Given it was their first day on the job, I was very impressed how relaxed the cats were. As there were many guests about, I didn't get to interact with the cats as much as I would have liked, but I will most definitely be going back.
I'm certain the café will be a big hit for Montrealers and visitors alike, and I wish "Le Café des Chats" of Montreal, North America's first cat cafe every success!
 *********************************
ThanksEvelynne, I feel I was one of the first people in the country to see the cafe! 
Road trip anyone?
I'm curious what the IHC readers think about the  fact that the cats at this cafe are not available for adoption. Is it a good idea to let the group bond and then keep them together? Or would you rather see the cafe used as a place where members of the community can get to know cats for potential adoption?
You may remember that in Italy's first cat cafe the original intention was to have the cats be adoptable, but after they opened the staff fell in love with them and management decided the cats had finally found there forever home – at the cafe.