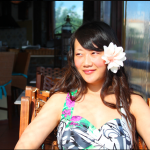 Jacqi Chew is a jewelry designer who works from her studio in Utrecht, The Netherlands (please do not ask me to point it out on a map!).
While she is known for her feline themed jewelry sold around the world, she began her career in fashion working for an internationally renewed lingerie designer!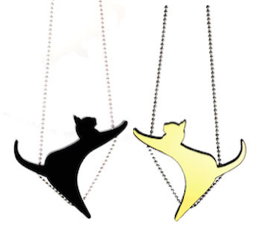 You may be familiar with her modern laser cut acrylic glass jewelry (left). But her new collection called "Catwalk," was inspired by her cat and muse Haruki and is my favorite of her work thus far (be sure to check out Haruki's blog princessharuk).
Jacqi has generously offered a "Catwalk" earring and necklace set (valued at $135) to one lucky I HAVE CAT reader from ANYWHERE IN THE WORLD!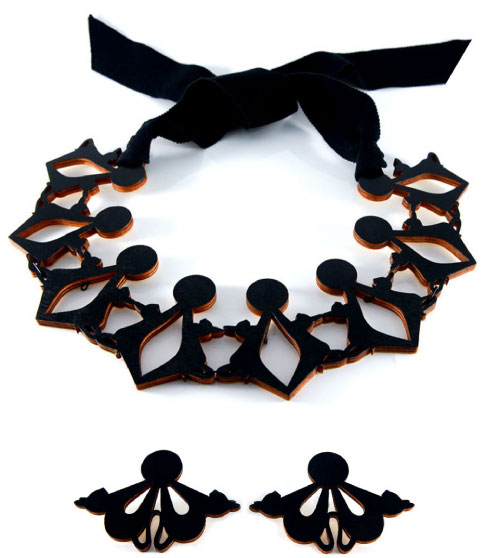 The shiny black wood is varnished for protection and the earrings have sterling silver posts. The figure that makes up both the necklace and the earring is that of, "the stretching poses my cat makes when waking up." says Jacqi.
Personally, I like the "Catwalk" collection because as most of you know I'm a fan of subtlety when it comes to cat accessories. For instance, my favorite cat-themed item at the moment is the scarf pictured below from ASOS London.
"Catwalk" jewelry is original and modern on its own. It doesn't screen "I LIKE CATS BUY ME LOTS OF CAT STUFF ALL THE TIME." It's not "cat jewelry" per say, it's just nice, unique handcrafted jewelry.  Now let's say you meet a fellow cat lover. THEM you can let them in on the "wink. wink."
Good luck everybody – hope all the international fans are excited! And remember the more ways you enter the better your changes of winning! And if you can't wait to get your paws hands on Jacqi's handiwork, make sure to visit her Etsy store.