I had the pleasure of meeting Laurie Ruettimann at BlogPaws a few years ago. In addition to loving that fact she has four cats, she's potentially one of the coolest HR people I know. Granted she's a former HR person but still, I don't usually associate HR folk with being kick-ass cool. But Laurie is exactly that. 
Laurie grew up with cats and her current clouder consists of: Jake, a 14-year-old tabby,"my first husband who doesn't understand why I need another man" (When I ask if that "man" is her husband she replies, "Ha! Yes! And Ryan Gosling!). Molly, a 10-year-old dilute calico who thinks Laurie's husband is her husband ("she owns his heart" – awwwwwwwww!), Emma a 7-year-old grey and white cat you'll read about today and Scrubby, an 8-year-old "Ginger motherfucker Pee cat who is amazing and scrubilicious."
See why I think this woman rocks?
Laurie's smart, talented, and a sought after speaker. But personally, I love the videos she makes where she goes through HR trade show swag bags and analyzes each random tchotchke!  You can learn more about Laurie at her blog worklifecats.com, a blog about work-life balance (and cats of course!).
So without further ado, here's the story of how Emma came into Laurie's life. In her words.
*************** 
An eight-week-old kitten had been thrown from a moving car in rural Michigan. She was rescued by a stranger. There were no broken bones, and she wasn't bleeding; however, she was having seizures and diagnosed with traumatic brain injury.
Our vet was looking for someone to foster this poor baby girl, and I was a certified foster mom and a writer who worked from home.
"Can you bring her home and keep an eye on her?" he asked me.
"I dunno," I said. "Traumatic brain injury is tough. Is she a mean kitten? Does she pee? Is she mouthy?"
"No, she's adorable and pudgy."
"Can you tell me anything else about her?" I asked. "
She kneads dough and makes biscuits. Constantly. Even her feet are happy."
I was out the door and in the vet's lobby in ten minutes. Thankfully, I wasn't disappointed by this kitten's charms. Her cheeks were chubby. Her eyes were big as saucers. Her body was shaped like a jelly donut.
"You're coming home with me, baby."
Within hours, we named the kitten Emma. She responded nicely to our household routine, and her easy-going personality allowed her to bond with our other cats. Emma has a sweet disposition that reminds me of the sugar-plum fairy and fizzy-pop. She never has a bad day and doesn't carry grudges — even with older and territorial cats in the house.
And she is always making biscuits.
Even to this day, Emma has the happiest feet in America.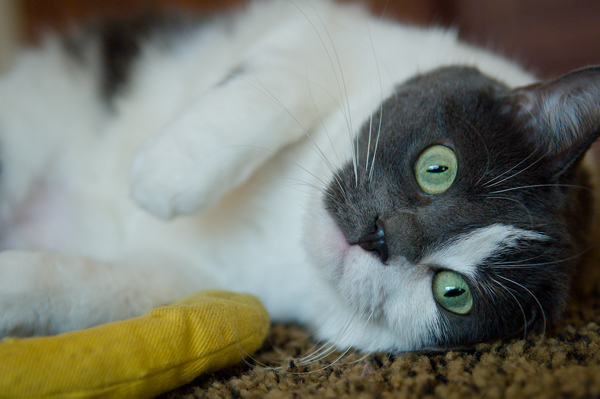 As Emma grew into an adult cat, I was relieved to watch her adjust to a normal life. While she sometimes seizes when she is nervous, there is no way she remembers being thrown from a moving car.
I sometimes wonder if Emma's effervescent personality is what saved her from being emotionally scared.
The other nice thing about Emma is that she has a sweet little voice and expresses herself constantly.
"You're awake? I'm thrilled. Why don't you feed me? I'm cute."
"It's 2:30? How about some rubs? Right now?"
"Join me on the couch, mom. We can talk about my favorite catnip toy."
This poonchy cat and I have the best conversations, and she doesn't ask for much more than to sink into my lap and fall asleep after she eats dinner. We can dress her up in costumes and ask her to pose for pictures. As long as we tell her that we love her, it's okay.
Emma was my last foster kitten. I don't know if I'll ever be able to foster another cat, but I know that I picked a great cat to join us in our home. Her capacity for love is limitless. Emma is tender, joyful, and wholly sweet.
There is no purer love than the unconditional love of a kitten. It is a blessing when you can transform that love into an ongoing relationship and a lifetime of companionship. I feel lucky that I have been able to share the past seven years with Emma.