It's true. SmartCat All Natural Clumping Litter by Pioneer Pet – the folks who've been bringing you awesome pet fountains – is made from…grass!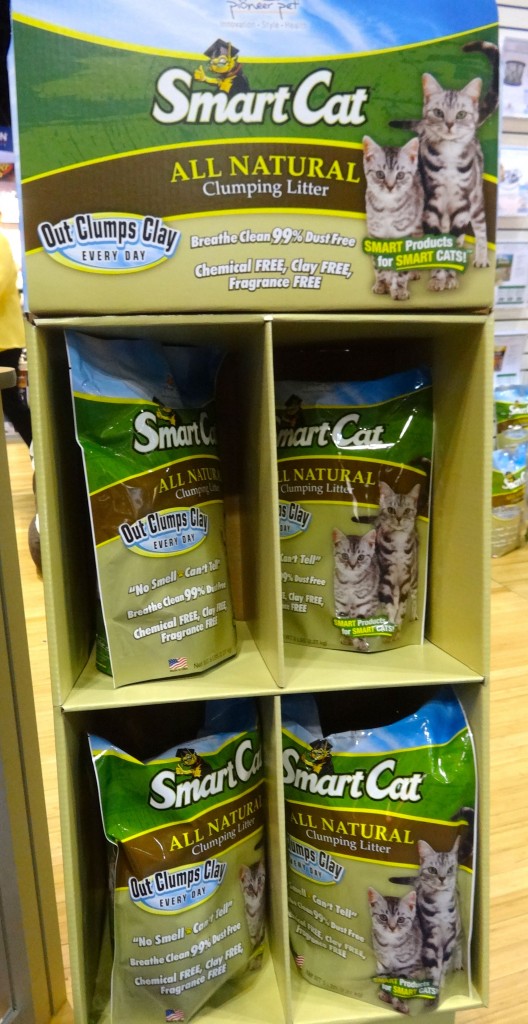 Well, grass seeds to be completely accurate. SmartCat first caught my attention at Global Pet Expo earlier this year. It was one of the products that most intrigued me.
It's finally hit the pet store shelves but you actually have the chance to try it for FREE by entering the I HAVE CAT's giveaway!  Enter to win not 1, but 2 TWENTY POUND bags for yourself + 1 bag for the shelter or rescue group of your choice! TWO WINNERS will be selected. Now that's pretty cool! (US ONLY)
While at Global Pet Expo I had the good fortune of meeting Pioneer Pet co-founder John Lipscomb, the man behind the litter. Of course the very first thing I wanted to know was how the litter didn't sprout considering it's 100% grass (don't pretend you weren't wondering the same thing).
He kindly reminded me that the urine prevents them from growing. Oh. Right. Doh. Stellar first impression eh? NOT!
John's a chemist and it's in his DNA to improve upon the status quo. It seems litter was on his mind and he set out to make one that's:
lightweight (a 5lb box has the same amount of litter as most 7lb boxes)
super absorbent
dust-free
clumping
all natural (100% from grass from the USA with no chemicals or fragrances)
biodegradable
SmartCat can even be used in automatic litter boxes – something no other natural litter can claim.
I've tried it with my cats and can attest to its lack of dust which means no kitty foot prints on the upholstery! The litter is rather small so I cannot speak to how it would perform in terms of tracking in a traditional litter box as I used it out in my "top loading" ModKat (ModKo) litter box.
AND, not only do you have the chance of winning a whole lot of litter, you can go online and purchase some right now and get free shipping through September 5th, 2014 by using the code NATSHIP. Anything else you buy at the same time will also qualify for free shipping as long as you're also purchasing litter! 
Good luck to you and your favorite shelter!
Don't forget, the more ways you enter, the better your chances of winning!