Diane Hoeptner is a prolific artist. According to her bio, " Saks Fifth Ave offered hand signed limited edition giclees of one of her water-lily paintings, and Modern Cat Magazine featured her cat paintings in the premier issue."
Born in Ohio, Diane was lured to LA (the place of my birth!) where she stayed for 17 years. In 2004 she moved back to Ohio where she currently resides with her husband, and a cat named Coco. She writes, "I (finally) got lucky in love, better late than never right?"  (I can only hope the same for myself! Diane, anyone over in Ohio for me?!)
We're similar – apart from not getting married young – in that neither of us grew up with cats, and it took us both a while to recognize felines as unique entities with little souls and personalities rather than a species of sameness.
So how did the painting of cats come into the picture for Diane? According to her interview with ModernCat.com. "It wasn't until a year ago that artist Diane Hoeptner began taking cats seriously. Before this, she only painted her cats as a 'break' from her area of expertise, floral still life, a genre that has brought her considerable success."
My favorite quote from our interview is when she says, of painting cats, "Painting them without reducing them to sentiment and cliché has become a passion." I'd say she's succeeded wouldn't you?
I knew I had to have one of her paintings and sent over a selection of photos for her to choose from. There was no way I would be able to decide which of my three cats would win the jackpot on this one!  See if you can guess which cat's photo she ends up choosing!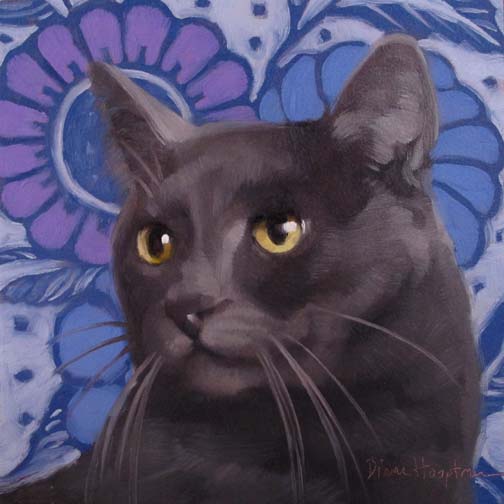 I had the opportunity to interview Diane about her work and her cats:
How many hours a day do you spend painting and how long does it take to complete a new piece of art? I'm always amazing at how quickly you complete a gorgeous new painting! Thank you!! I probably spend 5-7 hours per day in the studio.  An average painting measures 8″ x 8″ and that usually requires a full day.
Do you normally work from photographs, real-life objects/cats or memory? I use my own photographs as reference and make regular visits to the Cleveland Animal Protective League for fresh inspiration.
When Layla died, my husband and I went to a local shelter just to look and I was so taken with the variety of cats there.  Enchanted, really.  The shelter (Cleveland Animal Protective League) has four playrooms, each occupied by cats waiting for their human.  I went back again to photograph the cats as reference material for paintings.
Once I started sharing the paintings on my blog, I felt obligated to share their stories too. As an artist doing what I love, I don't consider myself an animal activist.  But my paintings have made a difference.  Feedback, I love to hear:  "I'm not a cat person, but I LOVE your paintings!"  The paintings have encouraged people to consider adopting and that is deeply gratifying.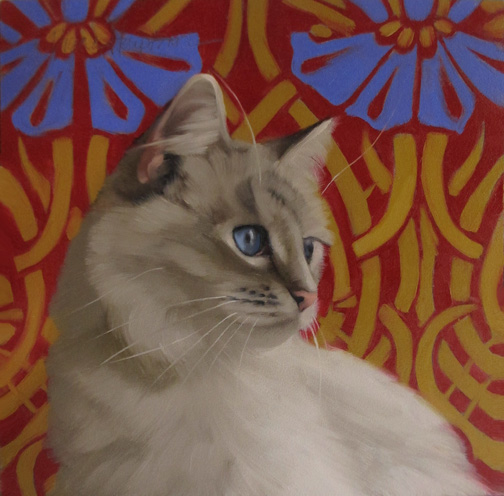 Between painting and blogging do you find you need to lock yourself away in order to complete them, or is your process more fluid? There is an element of "locking" myself away. Sometimes other work activities feel equally important (marketing, bookkeeping, correspondence etc.) and I have to remind myself: Everything good and worthwhile for my career is secondary to painting.  Photographing the art and planting butt on seat long enough blog about it is next in line!
What's more difficult for you to do in a given day and why, painting or blogging. Oh gosh, that depends a lot on what I'm painting or blogging.  Since I started painting cats, blogging has become easier! Writing about Coco, Layla and the shelter cats I paint is infinitely more fun and easy than trying to write about my latest floral still life.
You mentioned in one interview that your husband is a cat lover. Who was the feline fanatic first, or have you both always been? Did either of you have cats when you met? I had my cats Coco and Layla when we met. He took to them instantly.  I used to wonder if he was just making a show of it when we were dating. Oh, how he doted on them!   But to this day, (almost 7 years later) he's never wavered in his affections.
Speaking of, how did you meet, and is he in the art world as well (as a singleton I should really be learning about these things!) We met on Match.com,  Although he is not in the art world, he grew up with a robust respect for art and he's a good critic.
Did you grow up with cats? If so, what impact, if any, do you feel they had on your life. If not, at what point did you discover your fascination with them? What is it you admire or appreciate most about cats? I didn't grow up with cats.  My first cat (Layla) was an unexpected gift… a tiny furball pulled from inside an boyfriend's jacket. Layla was the PERFECT kitty for me, a total cuddle-bug from day one.  But it was only after Coco came onboard that I became completely fascinated with cats as individuals…
Seems crazy in hindsight, but I used to think they were all the same.  
They are such enigmatic little beasts, the kind who never smile.  Painting them without reducing them to sentiment and cliché has become a passion…they provide endless inspiration!
Up until recently you had two cats, Layla and Coco. I'm so sorry for your loss of your Layla. What was their relationship like and did they each have a favorite human? Do you think you might get Coca a companion in the near future?  Coco came from a shelter in San Pedro, CA.  He was chosen for his extreme beauty and also because I mistakenly thought Layla needed a companion.  (Silly but true:  I remember being vaguely jealous seeing Facebook photos of other people's cats who snuggled…  Mine never did that!). ****PS- Tamar here, I get jealous about the exact same thing!!!****
Layla was the alpha cat and she never let Coco forget it, even after Coco grew much bigger and stronger than her. 
Layla was my girl and Coco has become my husband's boy. 🙂 
I'm afraid getting a companion for Coco is off the table for now, not because we don't want to.  He's just too sensitive and we fear it wouldn't go well.
Have you noticed a change in Coco's personality since Layla's passing? I had a friend whose cat came out of the woodwork to become a very outgoing, extremely affectionate cat after the Senior cat of the house had passed on. Yes!  In fact Coco has morphed into a cat we hardly recognize.  I used to call him Spaz-attack  (when my husband wasn't around, heh). He was always checking for Layla's presence and deferring to her in every situation. He enjoyed petting-but would make himself scarce when it stopped. Post Layla, Coco cuddles contentedly!!  He no longer runs in terror upon hearing a sneeze.  He has become a fantastic companion.  It's really amazing.
You mention on your website that you're, "…torn between painting floral still life and cats!" Correct me if I'm wrong but you seem to do a good job of flowers and shrubbery in your feline paintings. Or would you still consider a painting with both a cat and flowers in it a cat painting? Like many artists, I believe painting a good floral still life is the gold standard! My approach to painting them is very traditional.
When I began painting Coco and Layla, they brought such life and personality to my art!  Photographing cats from a local shelter reinforced my notion that capturing these sentient beings in all their wonderful sweetness and snark-was relevant and worthwhile.  My background in computer graphics has enabled me to plan cat paintings digitally before I pick up a brush.  Patterns are added to accentuate each cat's coloration and personality.  Composition and color harmony are planned for in advance.
I have combined floral and feline in several paintings.  They are fairly new territory and doing them feels like a great adventure. Though, I'm not sure if I've achieved a painting where a cat plays the supporting role to flowers yet… Cats tend to steal the show! (Isn't that the truth!)
Do you find yourself paintings more cats or flowers these days? I believe you said your cat paintings were flying off the shelf. Why do you think that is? I definitely paint more cats.  I think I lucked into a niche with them.  Nobody else is painting cats like I do. People connect with them and I enjoy it.
Has anyone ever given you a hard time about a type of flower or plant you painted with a cat saying it's toxic to felines (just curious because people can indeed get nutty about those things!)  Kind of: In 2008, I blogged about how lily petals are toxic to cats if ingested. Later in the same post, I described how Layla was becoming downright sneaky in her efforts to get outside. Once outside, she would eat grass, come back inside and throw up. Though the post mostly alluded to her bratty behavior trying to get out, was very promptly informed in the comment section–that cats need greens and throwing up is normal!
You used to work in 3D animation as well as designing and selling pottery to outlets such as Wal-Mart. What did those experiences teach you, and is there anything you miss about those jobs? I'm so grateful for every odd job I ever had!   I sold antique lamps and door hardware on Ebay for a few years, I learned about photography and how to ship parcels from home. Both are integral to my business today.   When I was living in L.A. The Dreamers Guild a (now defunct) video game company hired and trained me to do computer animation and graphics– that lead to many more opportunities and has been a blessing since. Job perks I miss: Regular pay and the ability to leave work at work.  🙂  But I wouldn't trade any of it for what I do now.
Diane posts a new painting almost daily on her blog (dianehoeptner.blogspot.com) and accepts commission inquiries.