Svetlana Petrova was depressed after the loss of her mother and was unable to tap into her artistic creativity for two years.
At a friend's suggestion, it was her "big-boned" ginger cat Zarathustra who inspired her to reenter the art world.
At first she wasn't sure what she could do with him given his girth – thanks to years of her her mother spoiling him. But it turned out Zarathustra is quite the ham who enjoys posing, "and makes strange faces like he's speaking with somebody." (BBC)
So she began taking photographs of him and inserting him into famous works of art – Chagall, Botticelli, Da Vinci and Dali to name just a few.
The description of who they are and what they are doing is provided on the FatCatArt website from Zarathustra's point of view  (keep in mind they are Russian so there are some translation inconsistencies that frankly make it rather entertaining to ready!).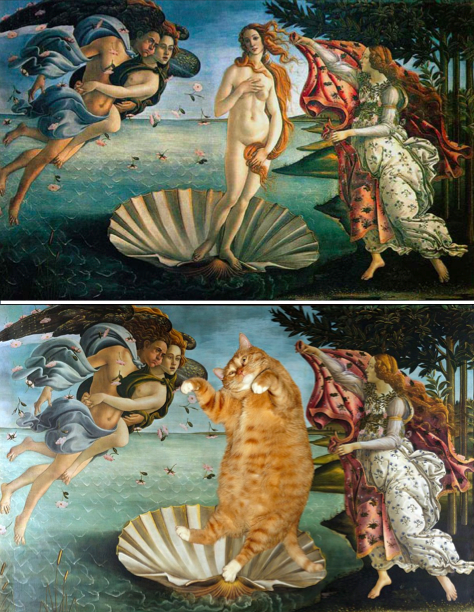 'Our name is Zarathustra. We are a cat. According to our assistant (named by ignoramuses as our'"owner') We are the best cat in the world. By the will of the gods, We have been relieved of our animal desires, therefore Our postprandial time is given to the reflections on lofty matters. We are so gracious in Our enjoyment of repasts. And We are also very very fond of Arrt.
Our main passion is to sit for the great artists. Only great artists can appreciate our generous body and sublime soul: What is Arrt? And how to treat it? This is Our tireless concern." – http://fatcatart.ru/?lang=en

I love the sentence "only great artists can appreciate our  generous body…." (I'll say!).  But he does pose a good question. WHAT IS ART? Svetlana certainly forces us to face that matter head-on.
She's convinced Zarathustra is "a natural artist and …knows he is making art and is always very friendly to photographers who take his picture." (cbc.ca)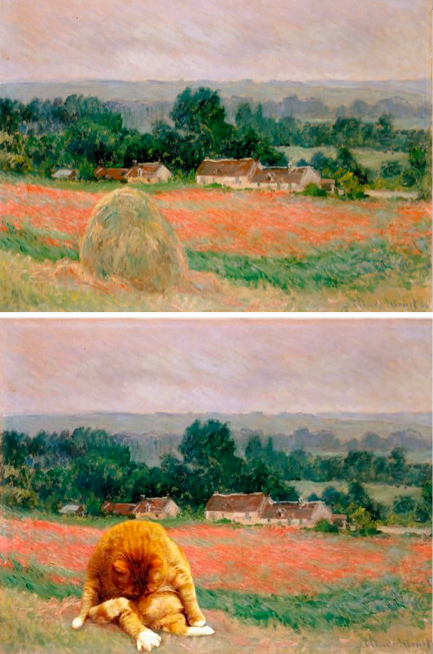 Because of the way he is sliding out of her arms in the painting, Svetlana likens her Mona Lisa to that of "a modern girl who's taking a selfie with her cat."(BBC)  I'm not sure I see it, seems a bit of a stretch, what say you?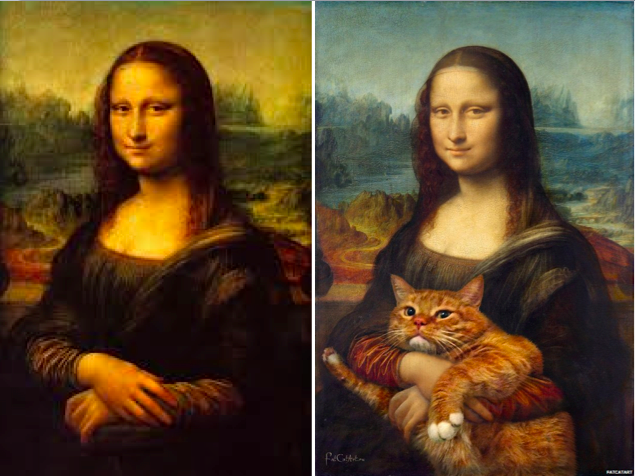 Apparently her works have been confused for the real thing. A friend, who received one of her paintings as a gift, had trouble getting past security at the airport.
"She tried to explain: 'Do you think an 18th Century painter would really draw cats instead of horses?' She had to scratch it with her nails to show it was printed underneath." (BBC)
I wish I had been there to witness the dialogue between them, it must have been quite entertaining!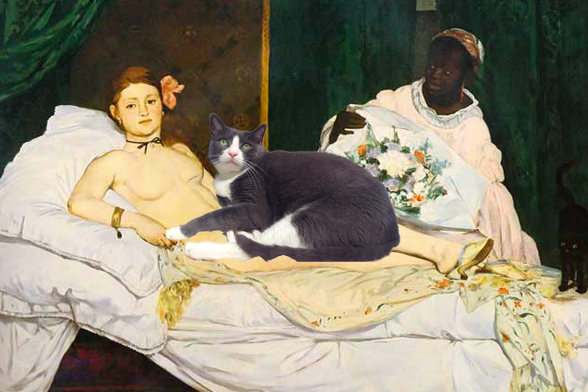 Now why didn't I think of putting Petie into famous works of art? He could have been my ticket to wealth and celebrity! Perhaps it's his expressionless face and reluctance to look into the camera that could prove to be problematic.
What do you think of Svetlana's work? Art or not?
Obioviously the ruling on Zarathustra is unanimous – how could one not love a chubby ginger with a face (and body) like that!
If you're near Abingdon in the UK, you can view Svetlana's work in person in an exhibition called "From Icons to I-Cats", being held at the Stonehouse Mill in Abingdon, England. May 30th – June 5th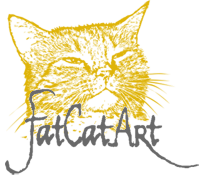 Don't despair, if you're not in the UK, you can see more of  Svetlana's work her her website and Facebook page. And you can purchase her work on her online store.