I received a mysterious package at my apartment door early this morning. What could it possibly be? I hadn't ordered anything.
SURPRISE, It was Kip! My Mother's Day gift!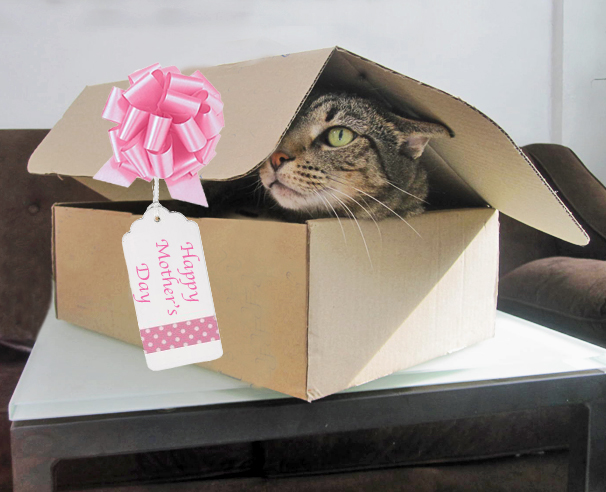 I thought it would be fun to have a post on Mother's Day that celebrated furry Moms. Those cats (and dogs), who've proven themselves to be shining examples of motherhood. Below you'll find submissions from fans of the I HAVE CAT Facebook page.  I hope you enjoy these heart-warming stories as much as I did.
 ***************************** 
Cocoa, Her Love Goes Beyond Genetics – Leah Sees
I got an email from my foster group about a mom and two kittens who were found outside the shelter Monday after Easter in the rain. I went to pick them up to foster, but kittens weren't doing well so all three (Mom and two kittens) were transported to our vet.
The kittens were in such bad shape one actually died.  I called the vet Friday to see if Cocoa (the mom) and surviving kitten were ready to come home, and I was told there had been "a development" overnight.  I braced myself to hear that the other kitten – or Cocoa! – had died too. Imagine my shock to hear she gave birth overnight!
Those two babies she was brought in with were not even hers! But she adopted them and nurtured them as best she could anyway!  Cupcake, the older kitten, is now about four weeks old and is socializing in the "general population" during the day and only goes back to the nest at night, but when she cries, Cocoa still runs to the nursery door and cries out to her as if she were her very own!  Cocoa's two week-old babies are fat and happy!
Callie, a Dog Who Knew The Right Thing To Do – Errin West
This is Callie, a 13 year old Italian Greyhound/Chihuahua mix. When we unexpectedly had a litter of 4 two-week-old abandoned kittens dropped off at our (pet) store last fall, it turned into a full time job just keeping up with their needs and antics. A stuffed animal just wouldn't cut it to keep them comforted while we took breaks.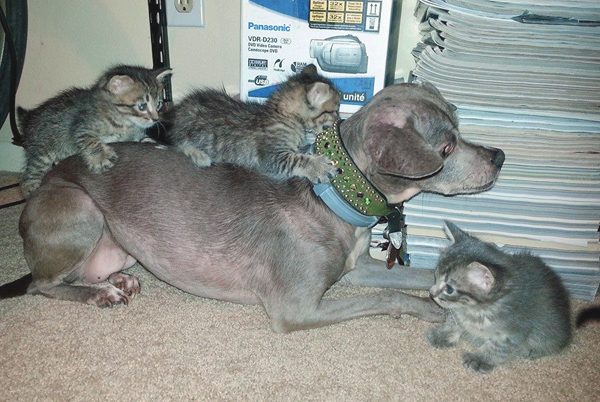 The in stepped Callie. She decided they were her babies and would climb into their box to cuddle and lick them just a mother cat would do. She didn't attempt to nurse them, but she kept them company and provided the warmth and snuggles that they needed. She is almost hairless, so for her to endure their little claws and nibbles was AMAZING!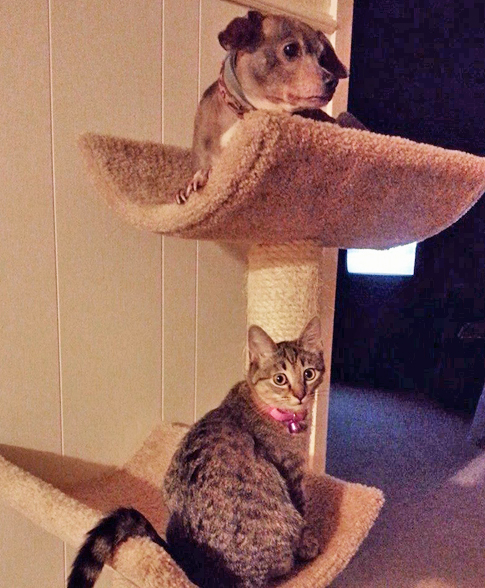 (Looks like someone's gotten into character Stanislavski style! LOL) 
Khaleesi Doesn't Let An Unexpected Visitor Phase Her– Robyn Anderson
I foster for a local no-kill cat shelter called Challenger's House and usually get to foster a pregnant cat around this time each year. Last May I had Khaleesi, who was with me for about two weeks before she finally went into labor. She'd delivered two kittens when I got a call from another local shelter. They'd gotten a call from someone with a newborn kitten whose mother and siblings had been killed in a tragic accident. Would I be willing to try introducing him to the new mother?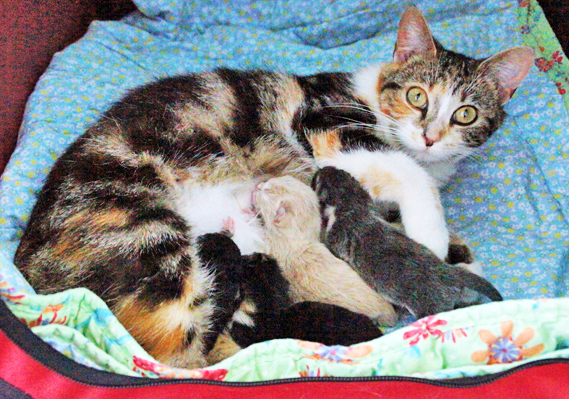 I was willing to give it a try, and while we were waiting for the woman to bring over the little orphan, Khaleesi delivered kitten number three. When the little kitten was brought to us, we rubbed afterbirth on him and slipped him under Khaleesi. She was puzzled and didn't seem able to quite figure out what had happened. But she took to him immediately, mothered him alongside her own kittens and loved him with all her heart. She and all her kittens have been adopted into forever homes now, but I'll always remember the look on her face when she saw him laying there next to her. Such a good mama!
Who Says Boys Can't Be Good Mommies? – Lori Clarkson
My story is about my boy cat Charlie. It all started in early September 2012 when Charlie's litter mate was sick and had to be euthanized.  Charlie was lost without his brother, and my daughter and I could never seem to console him.  Then at the end of the month we heard about a mommy cat and her litter of 4 who were living on a deck without shelter or food, and that the house owner was about to move out.  A friend of the owner's took in the family to find them homes, and happened to work with a close friend of mine who knew we were missing a cat in our home.  My friend asked if we were interested and sent us pictures of the four kittens – two gingers, one white and a tabby –  along with their very tiny white mom cat.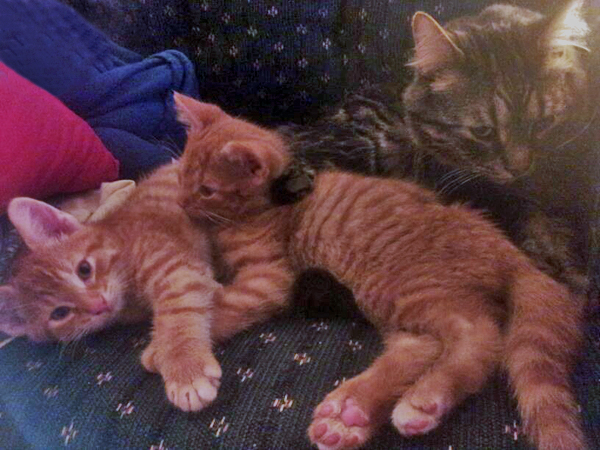 (Look, it's their first weekend together and Charlie already has his paw on them being all protective!)
Well, we decided that a kitten needs a buddy, so we took the two gingers:  Ben and Jasmine (both boys, but Jasmine took a while to figure out, and the name stuck!).  They were around 5-weeks, and had not been weaned completely, but we could not leave them with their mother any longer, as she had become sick.  Charlie took about 20 minutes to decide he was okay with the new additions.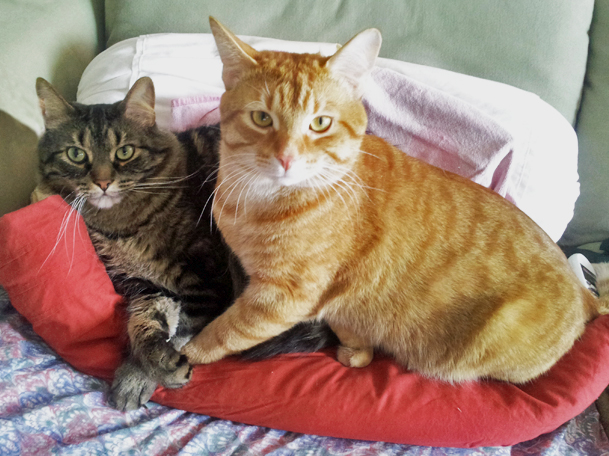 (Charlie and Ben – look they are holding hands!  Lori said they are probably wondering why she's interrupting bath time with a picture!)
Over the next several weeks, we would often find Charlie buried under two little gingers, all tongues and hugs.  Ben would often suckle at Charlie, because he wasn't weaned properly, and Charlie would tolerate it until Ben outgrew it.  Since then, Charlie has taught them all the good places to perch, intervenes when kitten fights get too rough, is always ready for snuggles and baths, will let the kittens have first crack at dinner (even though he used to need to eat first) and will give up his favorite perch every time Jasmine decides he wants to take it over.  Ben and Charlie are especially close, and Ben will still curl up on Charlie for a bath.
Emily Grooms Everything and Everyone in Sight!  – Lu Anne Herman
You know them in all their orange glory!! BUT besides their cute tiny-ness and folded ears they are very motherly! Of the two, Emily is the most so. She LOVES to groom!  Whether it's her sister, the dog or even ME…she will groom!  She also gives kisses, but her number one goal is to keep everyone clean, or her version of it! She floofs her sister, and if her backside isn't clean then she'll clean that too!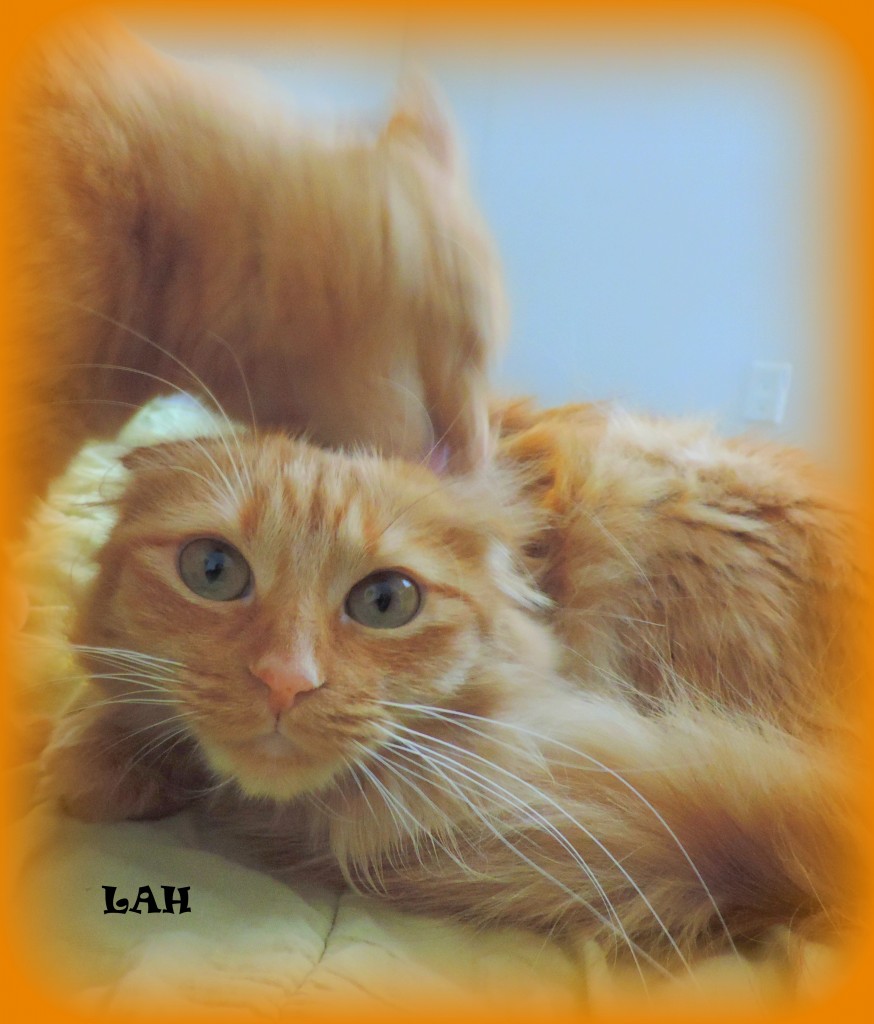 When it comes to the resident Newfoundland Mix Shyler, she cleans her eyes, her face, and her paws. Emily is quite concerned with the "dirtyness" of Shyler's eyes!!  Her face is constantly out of sorts too and it MUST be put back in order! It's to the point that Shyler loves it so much, that she goes and finds Emily for the attention. Both cats – Emily and Charlotte – will both occasionally curl up in Shyler's big paws, when she's asleep, and sleep and purr with her.
When it comes the resident human (yours truly), well that woman just can't seem to keep her face clean.  Not by Emily's standards anyways!  Her chin is filthy and her eyebrows are constantly out of sorts! And although the woman may be freshly showered, she's still dirty by Emily's standards!  The woman allows herself to be groomed and tries not to push the little cat away despite the fact that that little ruff tongue is pretty  harsh on one's sensitive eye and facial skin, as if by doing so would insult or "hurt" little Emily's feelings!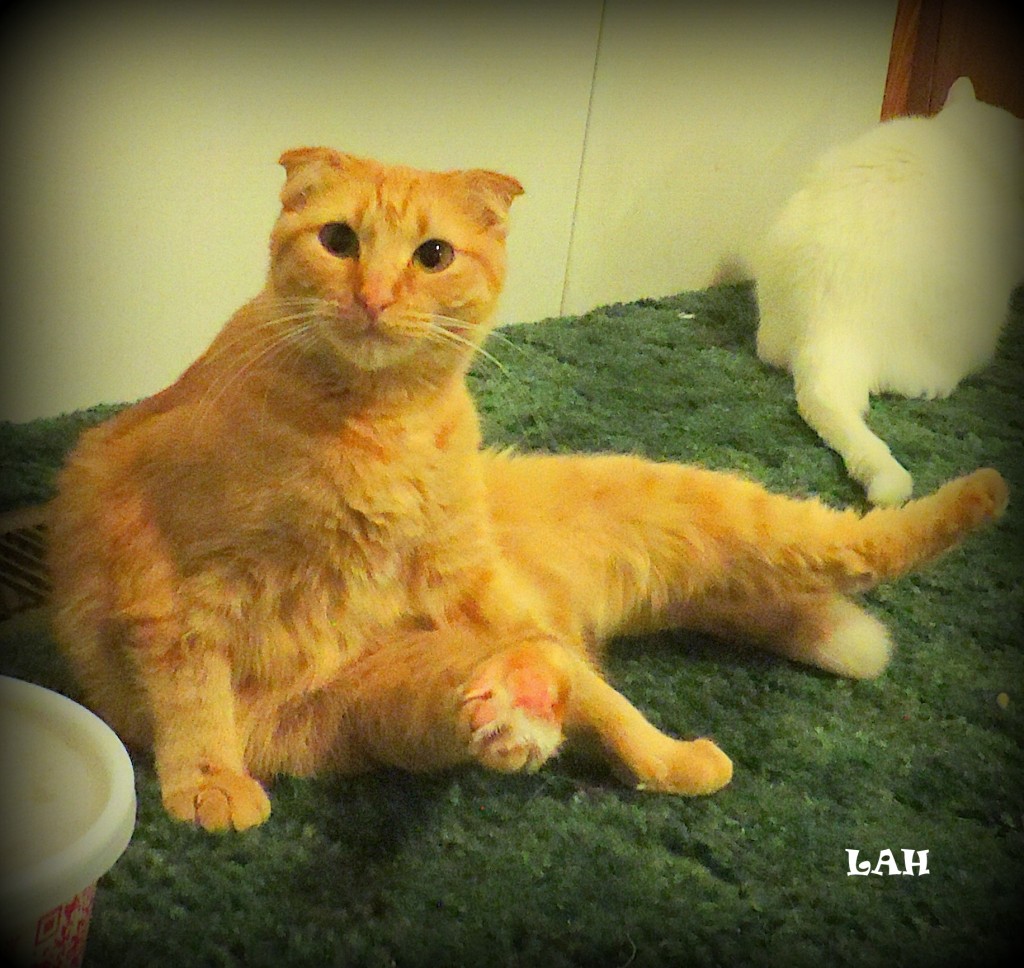 Then there's the hair….it's always out of place and MUST be sorted.  It's usually way more then she can handle though and she eventually gives up, but not before kissing the human on the mouth and sending her on her way! And when she's not busy grooming everyone else, she's busy making sure she's properly groomed and presentable as well!
Cheerio, the Eager Mommy Whose Love Has No Bounds  – Angelique Iuzzolino
I have quite the amazing mom right now.  I foster for Anjellicle Cats Rescue .  In early March, a cat gave birth to 5 kittens in a shed in the Bronx. The property owners called us to take them in. Not only was the mom cat wonderful with her own babies, but when another nursing mom with 6 kittens stopped being interested in them, I started putting them with Cheerio for hours at a time to get a good meal and bath.  She accepted each kitten with love and grace.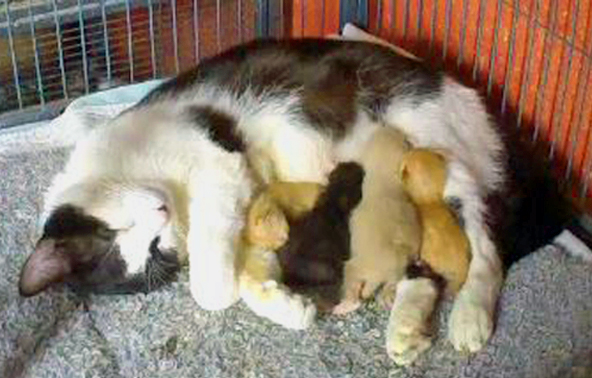 When Cheerio's kittens were 8 weeks old, Animal Care & Control was swamped with six litters of bottle babies that had to leave the shelter that day.  I agreed to take a litter of five three-day-old kittens to try out with Cheerio, their best chance of survival.  I couldn't give them to her fast enough!  She was so eager to care for them.  Later in the week, two more kittens the same age needed help and she accepted them as well.
Being a mom hard work for a cat, but she still loves all these kittens. When this batch is weaned, she will be done raising kittens, get spayed, and  be available for adoption!
Jade, From One Kitten to Five and Taking it in Stride – Jeanne Kudich
Jade was found abandoned at a horse farm after giving birth to kittens. Only one kitten survived. She was taken by our local rescue Colony Cats and we agreed to foster her and her 3-day-old kitten. 24-hours later we got a call that there were orphaned kittens found where there was large scale TNR going on.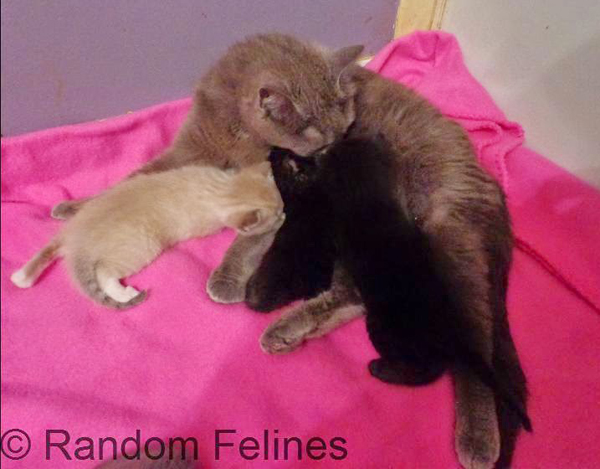 Their mom couldn't be trapped and the decision was made to bring them into foster care and see if Jade would take on more kittens. She was introduced to four additional kittens that night. A month later, she is taking wonderful care of them, and they are all growing and bouncing around. She certainly looks out for them. If they get picked up and scream too loud she will come over and chirp for you to put those kittens back!
 *****************************
HAPPY MOTHERS DAY TO ALL THE PET PARENTS! We know what it means to work tirelessly without much thanks (at least not verbally…at least not most of the time!). Just remember, no college (woot!).
Did you have a favorite story? Which one was it?
Do you have a good fur Mom story for us? Just leave in the comments, we'd love to know about it!