Last Tuesday evening I showered, used hair product, got the flat-iron out, put on some earrings and applied eyeliner (an all too rare occurrences in my world). High heels were considered briefly but quickly vetoed (too uncomfortable). I was ready for a night out on the town.
And by a night on the town, I mean to say I was headed to attend two-year-old's Birthday Party.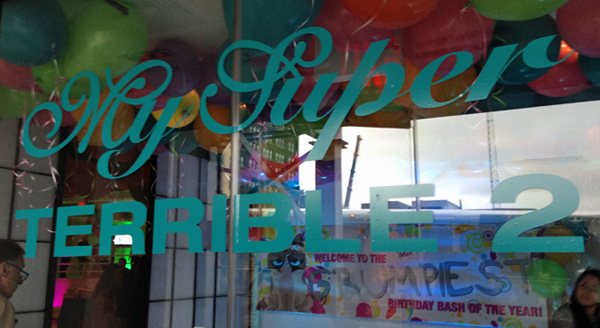 But this wasn't just ANY two-year old's party. It was a cat's birthday party (I realize this is starting to sound worse and worse but stay with me). The cat in question of course was Grumpy Cat's (née Tardar Sauce), and I had scored a coveted invitation!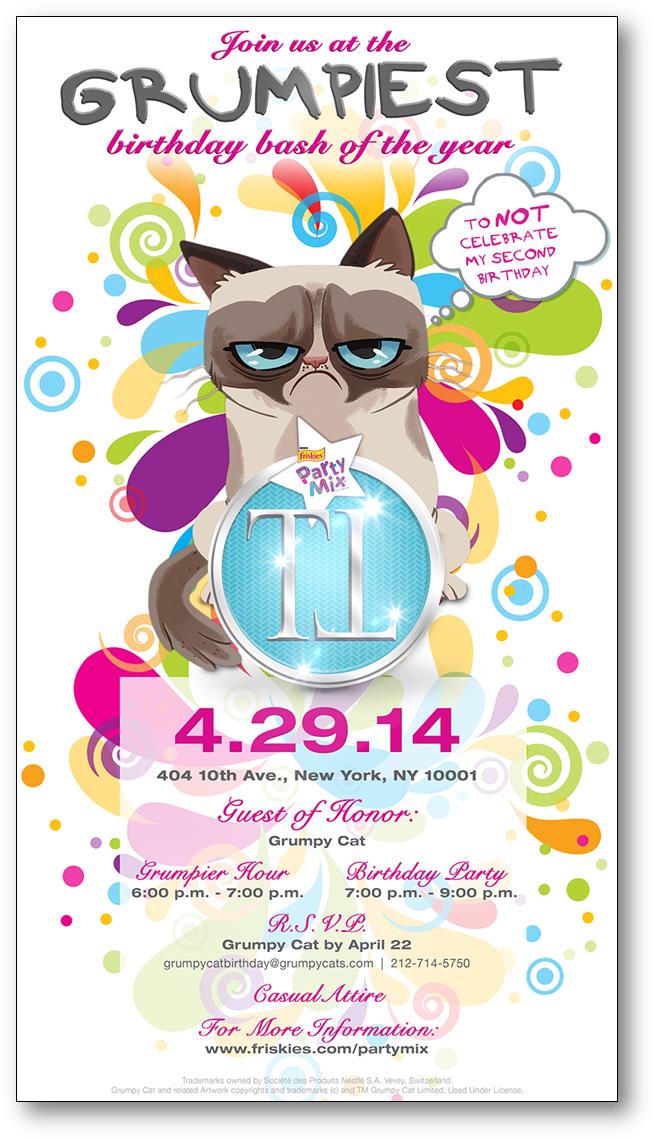 That can't possibly be weird right? A 40-something year old excited about a cat's birthday? Please don't answer that.
I was unfashionably early and immediately began snapping photographs with my iPhone and putting away any vegetarian hors d'oeuvre I could reach.  The room was large and very white, the ceiling covered in large colorful balloons but beyond that the decor was minimal.
There was a photo booth on the main floor that I enjoyed with Miss Wendy Diamond – known primary for her dog Lucky, but who also has a cat Pasha –  along with a face painter (more on that later).
The few hundred guests, a minority of which donned cat ears and cat accessories, mingled and awaited the guest of honors arrival.
The bar was on the second floor and featured Grumptinis with cake-flavored vodka (I opted out of those) and Grumpy's very own brand of bottled coffee drinks. Small tables were adorned with Grumpy Cat balloons anchored by custom bags of Grumpy Friskies Party Mix.  The second floor was also where the magician and balloon twisty-guy were located.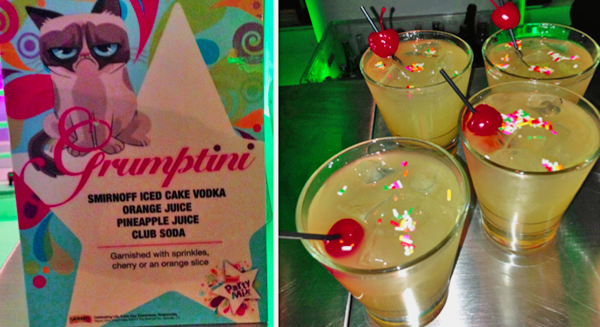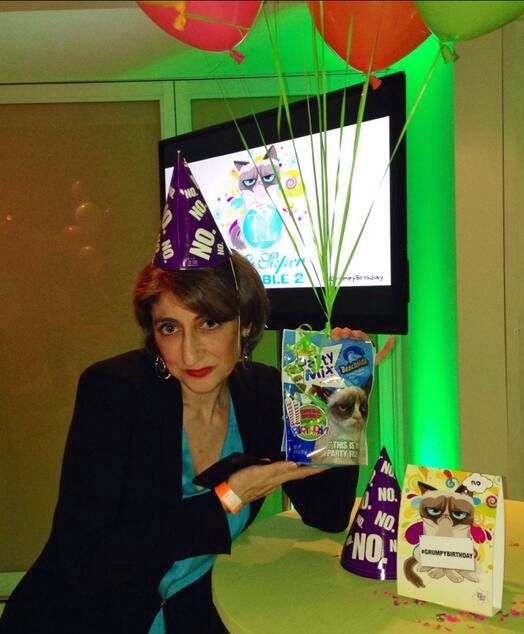 There was an oversized bag of Friskies Party Mix more than one person tried to steal (or pretend to). Look we had to entertain ourselves 'til Grumpy got there!
I met both Mick and Bethany, the parents of Oskar the Blind Cat and his brother Klaus, two of the nicest people ever. I told them they rocked but what I really wanted was to meet their cats. Somehow I don't think this came to them as  a surprise! (As an aside, did you know Oskar and Klaus have an adventure book coming out?) 
Apparently both City the Kitty and Nala Cat's Moms' were there but I don't know what they look like and only saw them later on Instagram – doh.
I had a brief encounter with Ben Lashes, Grumpy Cat's manager (officially a "Meme Manager"). There's no way anyone can convince me he didn't manage bands in the 90s. Oh, and by brief encounter I of course mean that I bum-rushed him to get his card so I can interview Tabitha at some point (so stay tuned on that front!).
Suddenly the upbeat music ceased and a dark, regal almost ominous theme began playing. And there she was. A teeny-tiny-thing, carried in by her uncle, never making a fuss, a procession of potential entourage and fans in tow.
That's when the mad-dash began behind her to get to the third floor where everyone wanting to get a photo taken with the Birthday girl. Her Mom Tabitha constantly by her side, she looked essentially the same in every single photo: tiny, bored and sleepy. I didn't dare touch her (Grumpy not Tabitha) though I wish I had asked if I could!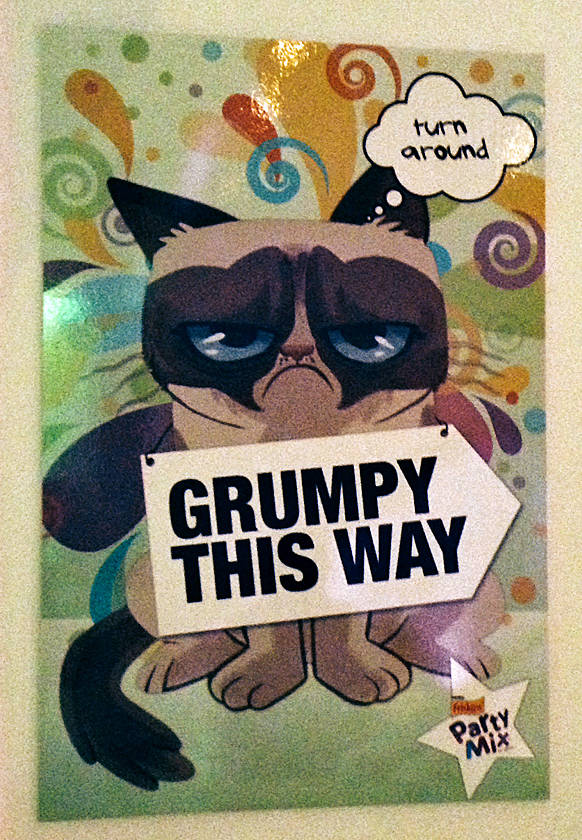 After a Grumpy-version of Happy Birthday was sung I decided I'd had quite enough kava for one evening and it was time to go (I know, I know, it's bad luck not to eat the birthday cake or something like that right?).
Well, it turned out it kind of WAS bad luck because as Instagram revealed barely an hour later, those who stuck around got to HOLD TARDAR SAUCE!
Now, while I've held her before, it was an entire year ago and I certainly needed another fix by now. I was devastated and it's still hard for me to look at the pictures of those who did get to hold her.
At that point, I could only take solace in my schwag bag. Good thing I'd had enough kava to crash out rather quickly without too much time to ruminate.
Maybe someday I'll get to hold that pint-sized ball of fluff-and-frown again. In the meantime, I have fun memories of her Birthday Party. And a funny t-shirt.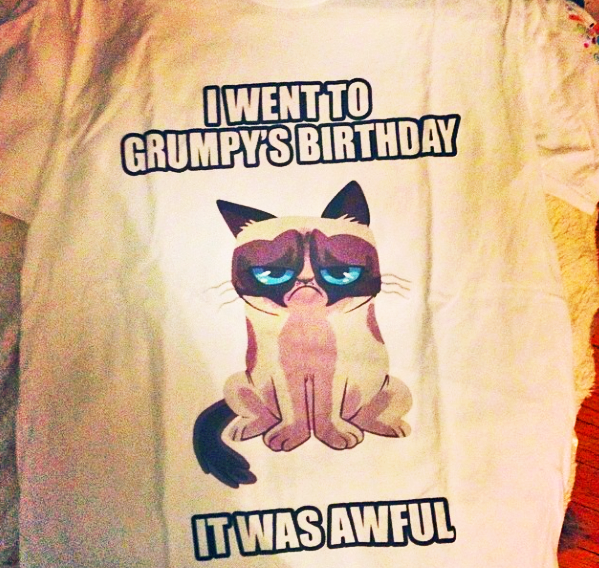 And while I got to sleep in, Grumpy had obligations to attend to. She was booked on "Good Morning America."  I missed the show so I'm not sure what she said. But if I had to guess I'd say she was mum on the goings on of the night before.
PS – The face painter on the first floor. He was making people up as what else but… cats! I dared Layla Morgan of "Cat Wisdom 101" to get her face done even though she a train to take home that night. Always up for a challenge, she countered and said she'd do it if I put it on my blog so here it is! And if you read her blog entry, it actually sounds like it turned out to be a good experience in the end!