As a cat obsessed loving New Yorker hearing about cat cafe's popping up all over the world  – Italy, Paris, England, LA and San Francisco – it's hard not to feel left out. When do we get a cat cafe? We ARE New York City after all!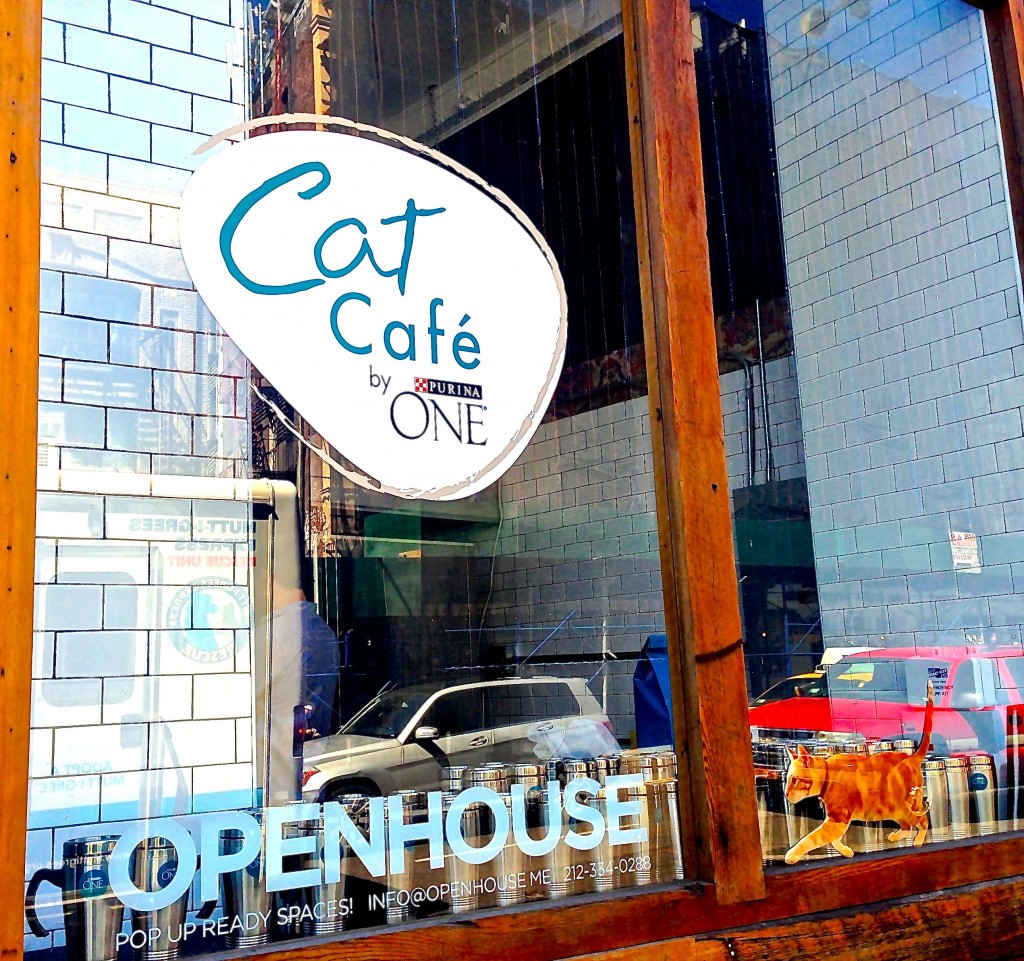 Thanks to folks at Purina One Cats in conjunction with North Shore Animal League, NYC cat lovers will get the full-on cat cafe experience thanks to a pop-up shop from until tomorrow 4/27 from 10am – 7pm at 168 Bowery at Kenmare.
I had a chance to go on Thursday and learned a few things about myself and NYC:
New Yorkers love cats
I am not the cat whisperer I believe myself to be (photos to come),
I may very well have a crush on Carrie Ann Inaba from "Dancing With The Stars."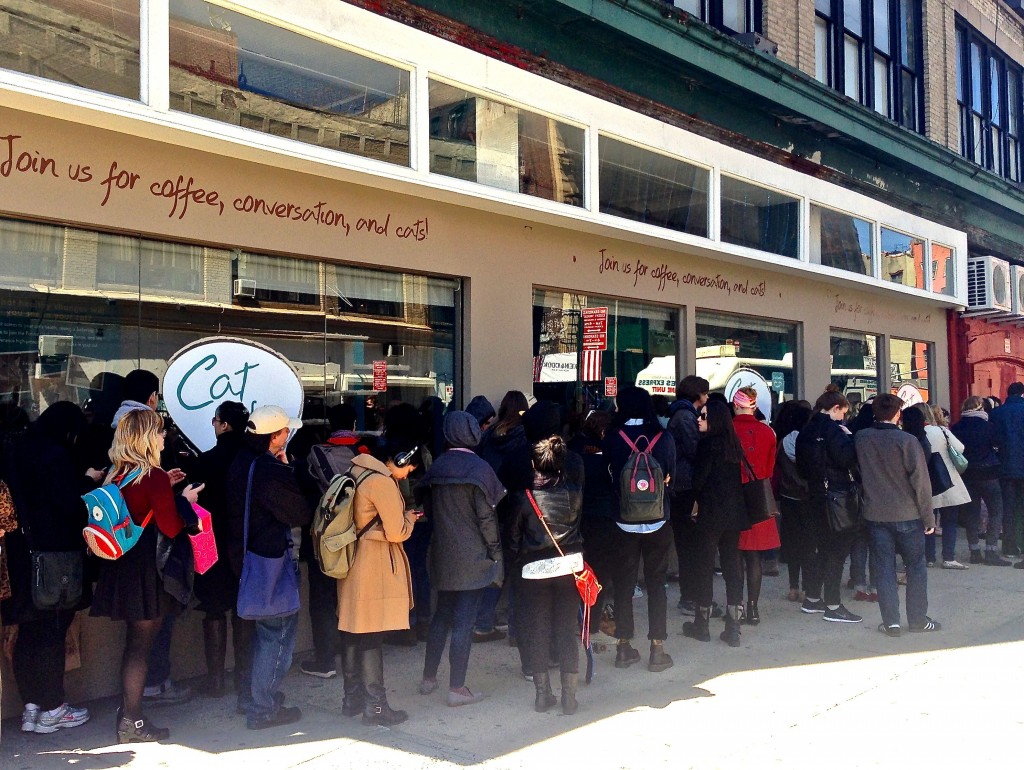 When I arrived on the first day the cafe was open to the public the line was already to the end of the block. According to the Huffington Post, some cat fans waited over two hours to get in on Friday (Yikes!). Thanks to I HAVE CAT I was able to forgo the line and make a beeline to the kitties!
Though I must admit that the first thing I did was not to see the cats, but to make a beeline to the barista for my complimentary cat'achino! They were ridiculously adorable and I found it hard to consume as I wanted to preserve it some how!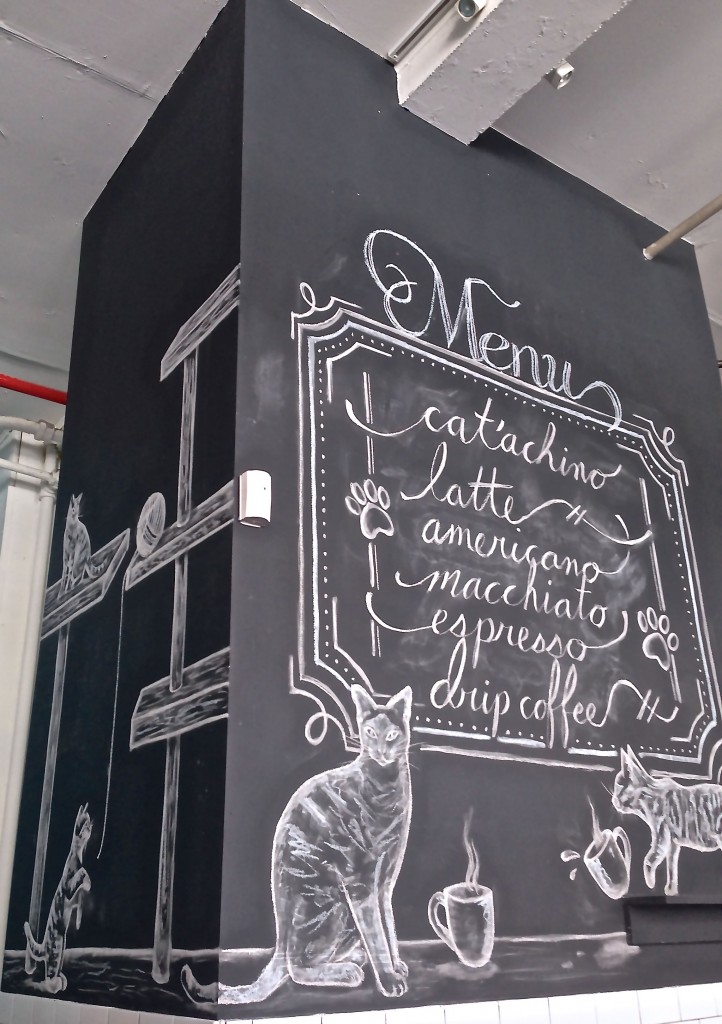 (Notice the paw detail in the cat'achino – so cute! )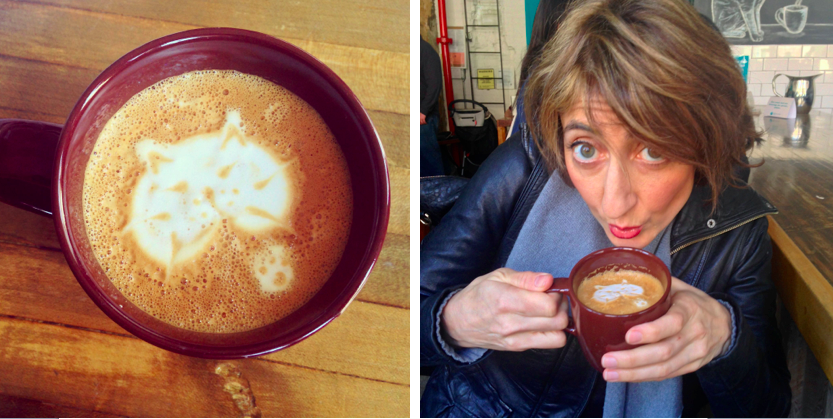 Now on to the main attraction Carrie Ann Inaba the cats!  There are fifteen adoptable cats there who spend their time at the cafe from 10am-7pm after which they go back to North Shore Animal League for the evening.
As of Thursday when I was there one of the cats, Blake, had worked his magic on a member of the crew working at the cafe and became the very first adoptee! Go Blake!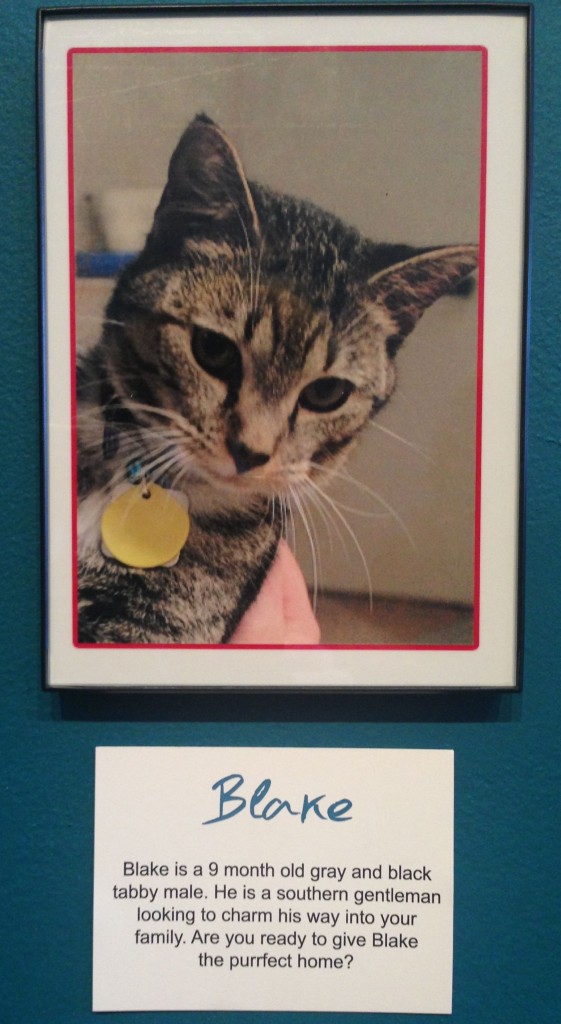 By yesterday, according to the adoption wall featured in the Huffington Post, four cats total had been adopted! As cats are adopted they will "replenish" the cafe with more adoptable felines.
I, of course, chased the first cat I saw and had a photo-op. You can see the clear look of surprise (or is it shock?) on Sushi's face.
There were lots of people hanging out enjoying the kitties who seemed to all be very relaxed, mellow and happy. PURINA ONE selected the Cat Cafe setting to talk about their 28 day Challenge specifically for this reason. They wanted people in relaxed, conversational moods. Looks to me like it worked pretty well to me!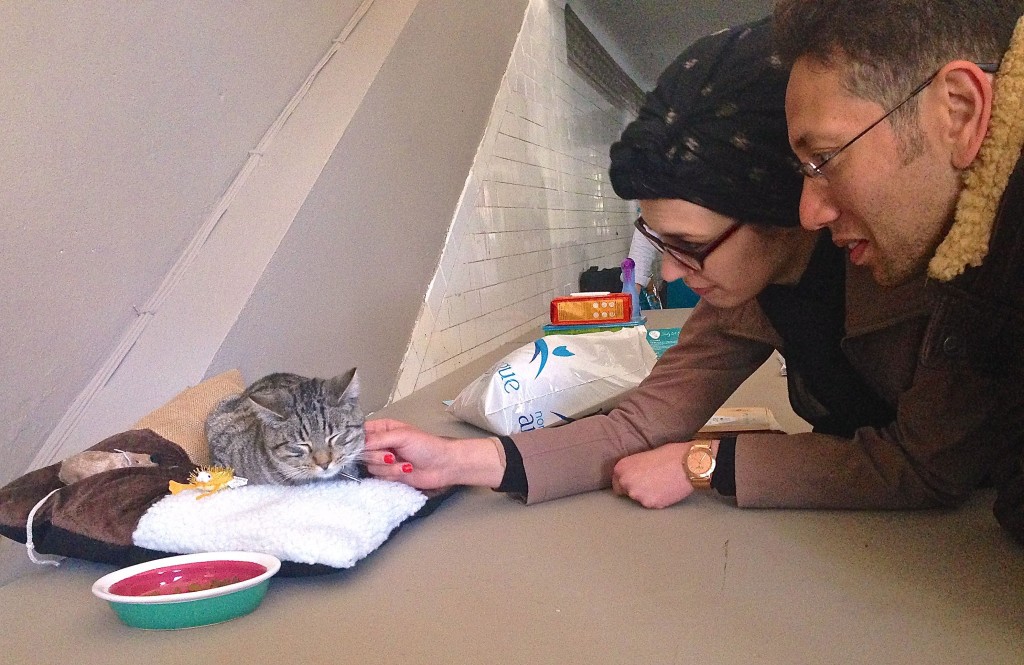 Not all the cats were happy about being cuddled – at least not by yours truly. You can see that Zander (I think that's his name) has resigned himself to his fate and gone to his "happy place."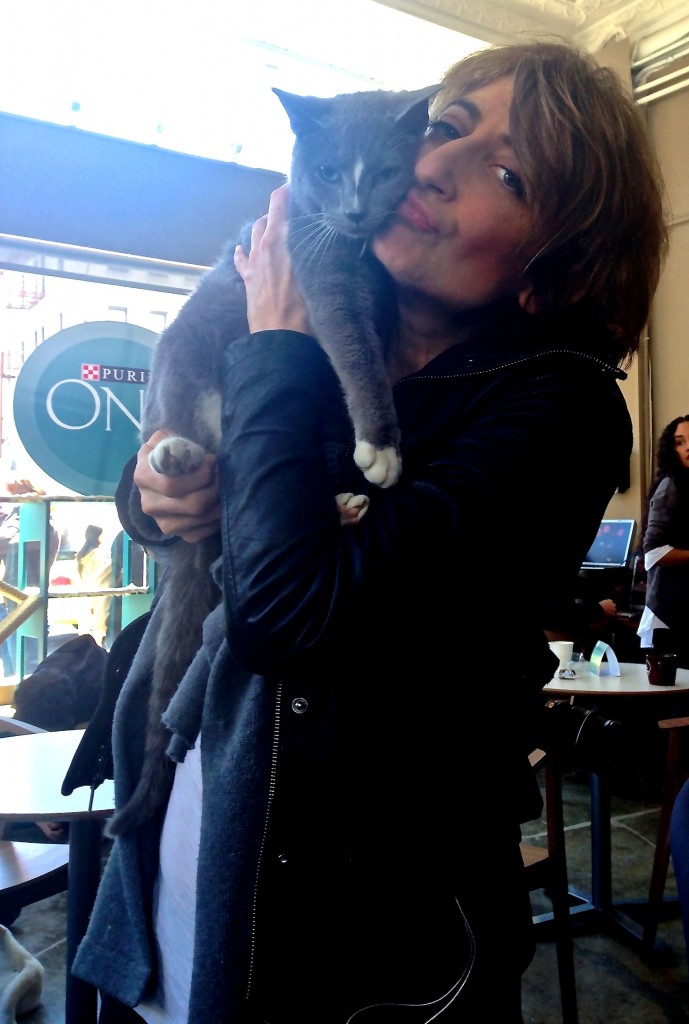 The cafe had plenty of windows and sunlight and was decked out with some pretty cool custom cat towers and toys.
Carrie Ann Inaba (Founder of the "Carrie Ann Inaba Animal Project") was there to talk about the 28 day Purina One Challenge she had two of her rescue cats on – Mimi and Blizzard. It turns out she has four cats in total – one of whom is special needs (Mimi) – and a dog (it's with this information that my celebrity crush begins).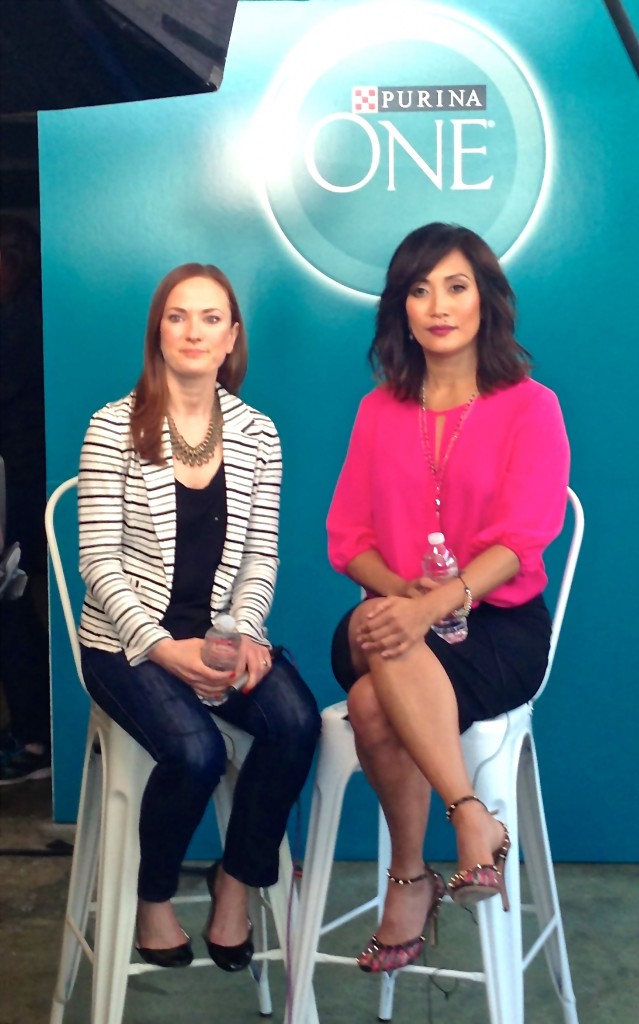 Carrie Ann spoke about how she met Blizzard and Mimi:
"Blizzard's story is that he had a Mom who sadly passed away which is how he ended up in the shelter. I met him and fell in love with him instantly. He's a very regal long-haired white cat…Mimi has special needs, and makes a funny snort sound – she's the cutest cat and I just fell in love with her!  They have these little personalities. You meet and cat and it chooses you and both these cats chose me and I'm very lucky to have them."
 Below, Carrie Ann with Blizzard on the left and Mimi on the right.
I had the chance to meet bum-rushed Carrie Ann and introduced myself. This is where the magic happens people. See below:
Photo 1, I introduce myself, tell her I have a cat blog and 3 rescue cats (she's totally psyched)
Photo 2, She comes in for a hug and is fist pumping because I have rescue cats (notice the woman in the background – I think she's just jealous)
Photo 3, It is complete. We have bonded (woman in background knows it's all over and she has no shot with Carrie).

Carrie Ann and I bonded.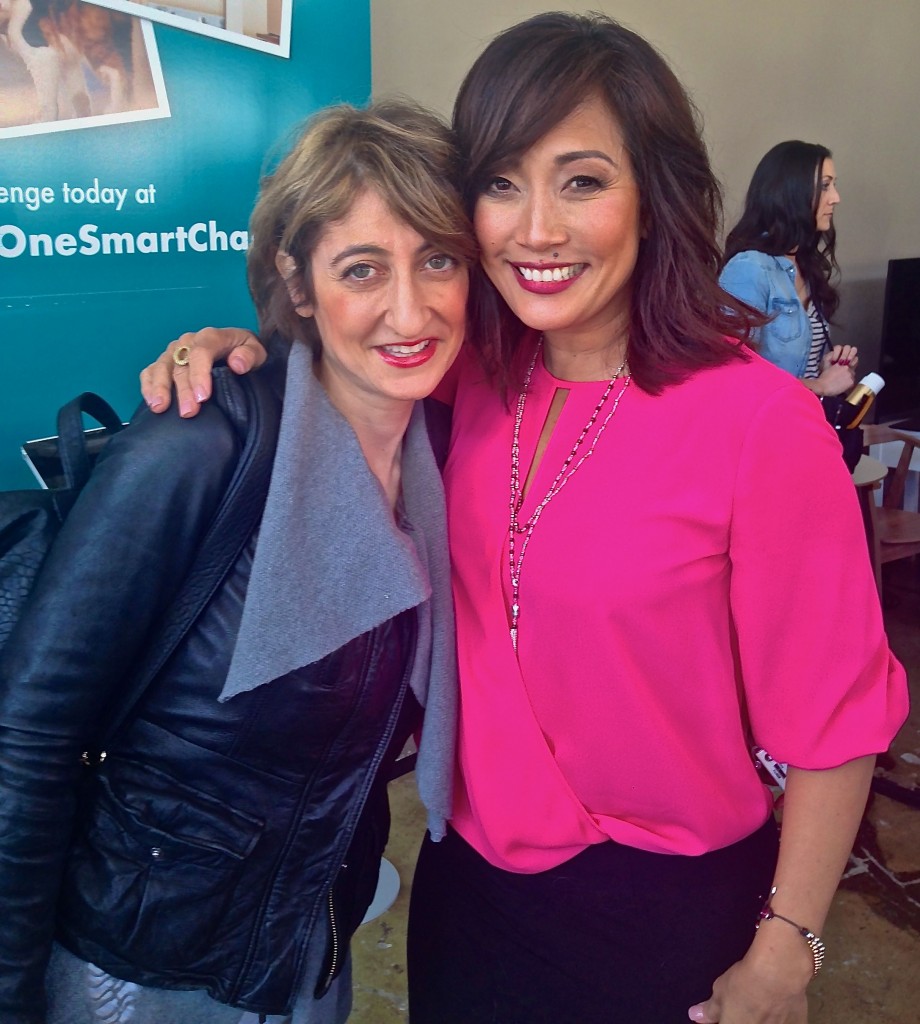 And finally, right before leaving, I got a bit of loving time. It may not look like it in the photo but we really were kissing in that second photo. My photographer will be fired as he missed the money shot!
A few more cat pics for your viewing pleasure.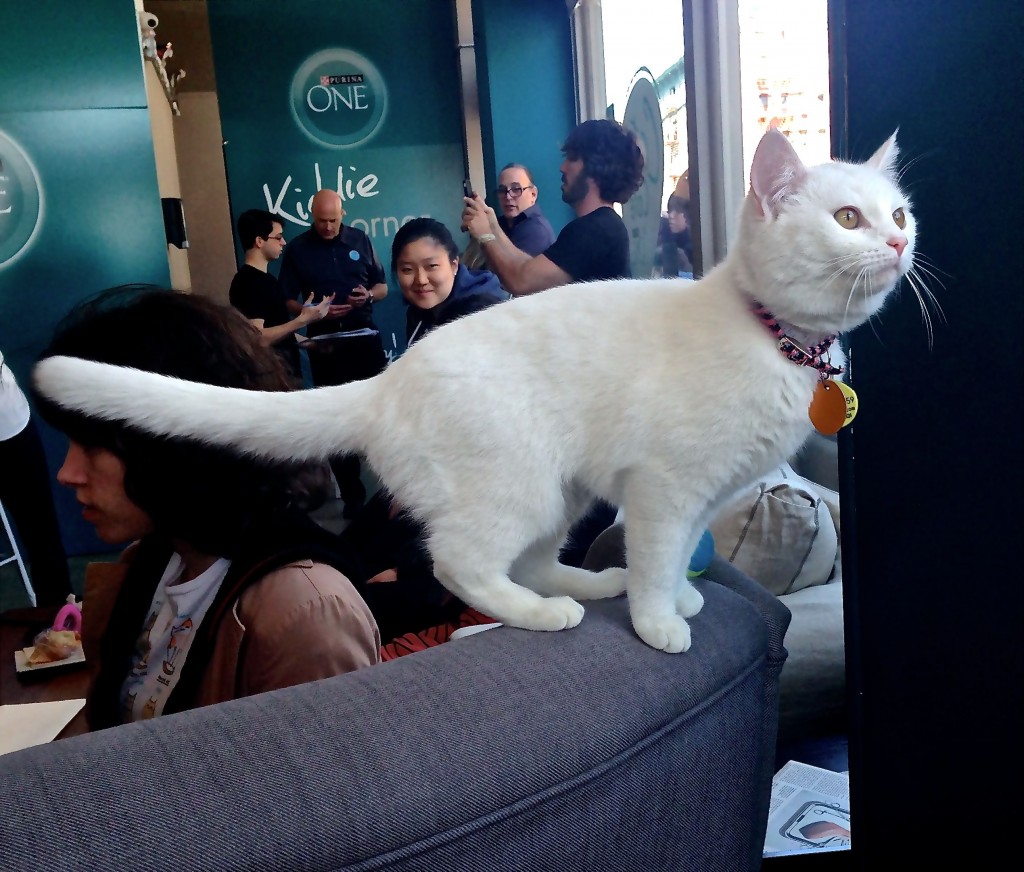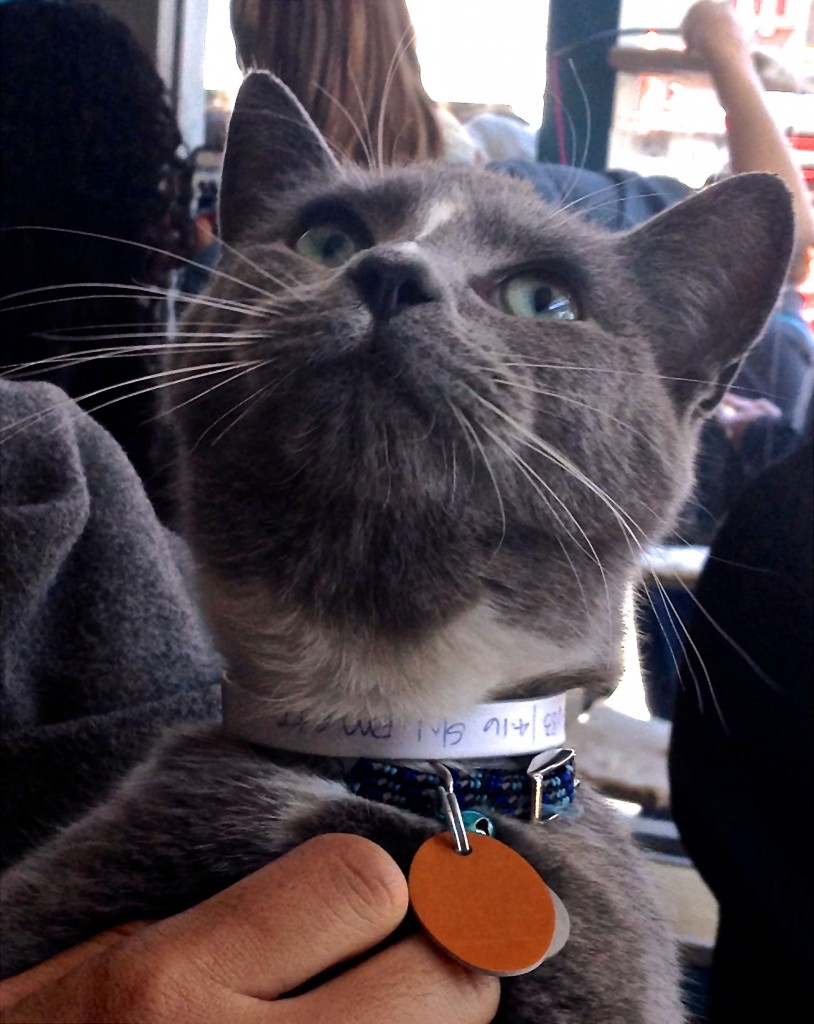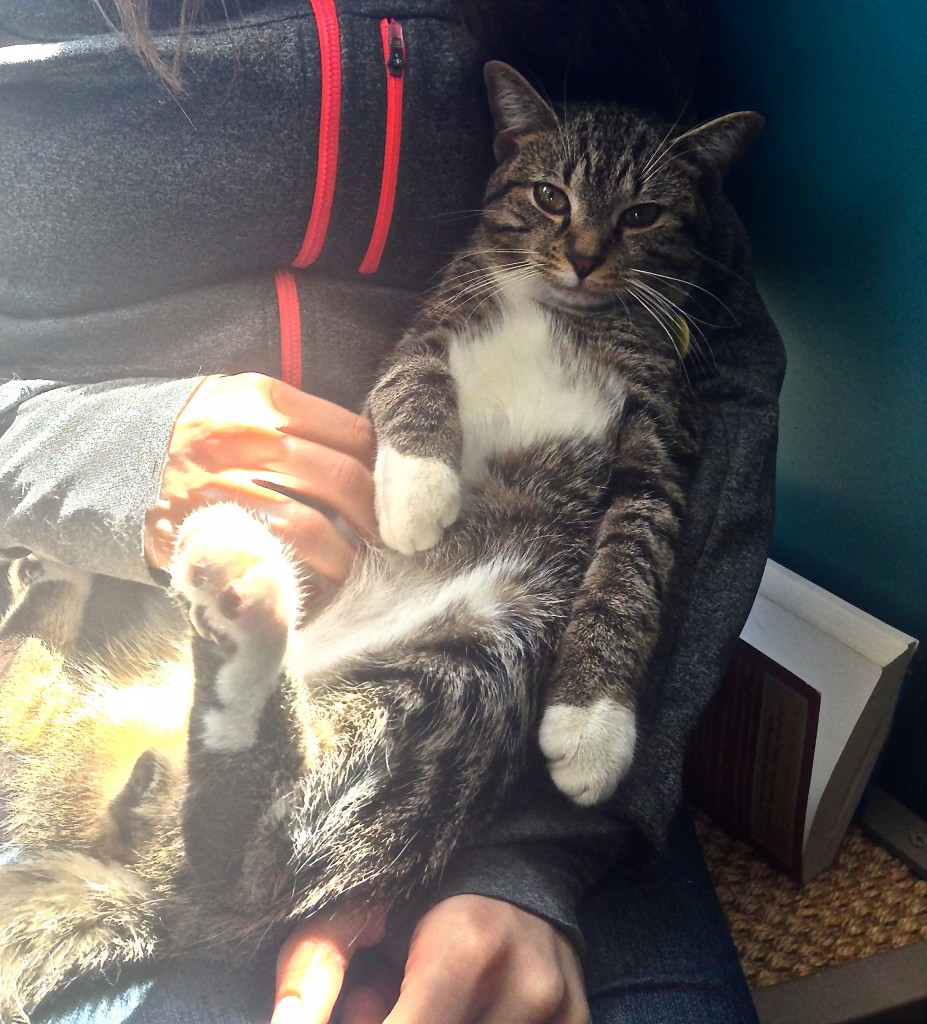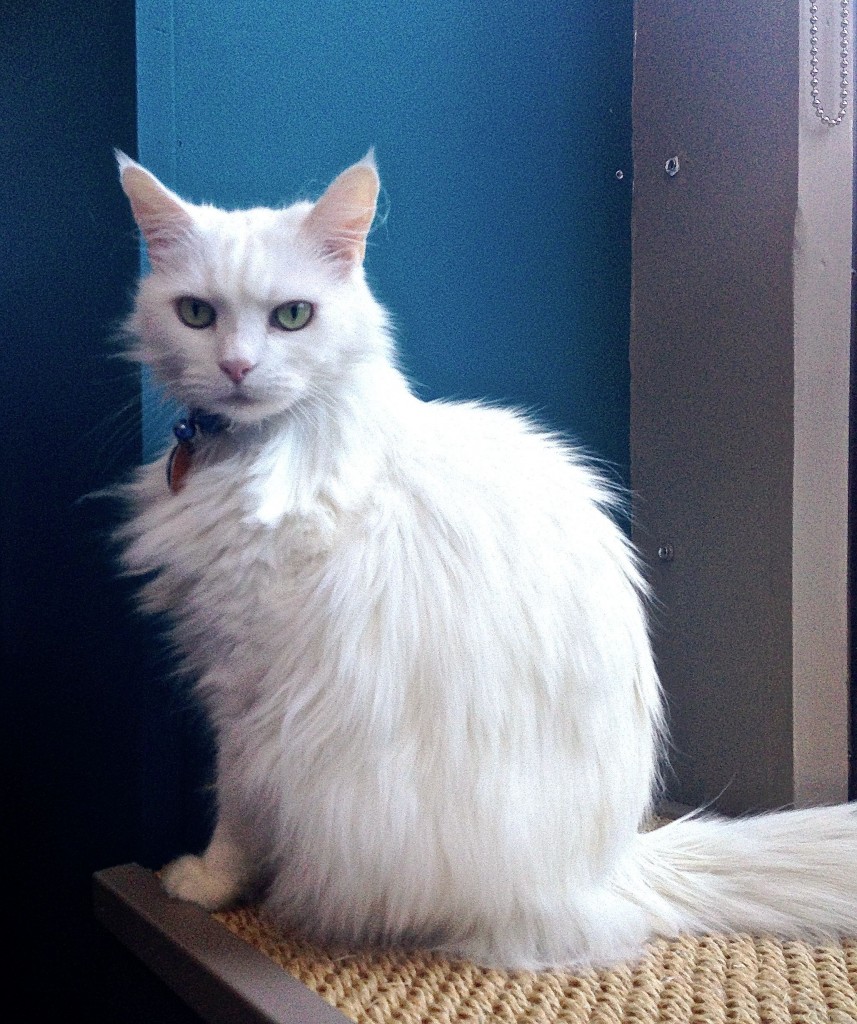 Outtakes proving I am definitely not the Cat Whisperer. I may actually be the anti-Cat Whisperer!
I had the most amazing time at the Purina One cat cafe and hope they have many more adoptions over the weekend. It would be wonderful to have something like this in NYC full time, though I fear it would mean I'd never get anything done!
I wonder when Carrie Ann and I will hang out next. Maybe I'll make a trip to LA…