As promised, Kitty Love continues past Valentine's Day – who knew there were so many sweet cuddly cats and kittens (and even a few dogs!). So enjoy today's post. I hope it puts a smile on your face!
Vibeke Alstad Jagne's cats Kai and George:
Kai and George have only lived together for 3 months, after George came to us as an emergency foster. My white cat is my own personal 'pepe le pew' – he has yet to meet a cat he doesn't like, and will pester them til they love him back. With George, it didn't take much pestering.
We've decided George is here to stay. We've become terribly attached to this lovebug over the months we've fostered him – as has our cat, Kai. Honestly, if we hadn't made this public right now, Kai would have signed the adoption papers himself!
Cindy Konigson's cats Cicey and Misty Morning: 
You can never have too much love! This is Sweet Cicely giving Misty Morning a bath before they go to sleep. They were feral kittens from the same colony as Monster Too Adventurecat (aka Mau Mau) and Blackberry, our other cats. I used to know which mama cats had which kittens since they live around my husbands mom's house and I was always trying to catch the mamas! I'm pretty sure Misty and Cicely are nieces of Mau Mau and Blackberry.
My dog, Theo, found them under a bush in the yard in Sept 2010 on a drizzly cold morning. Cicely is terribly devoted to Misty and needs to know where she is all the time. If Misty is out of the room Cicely will meow until she gets some help finding her sister. If Misty is upstairs visiting our International Students Cicely sits on the stairs waiting until she comes down. They love to sleep cuddled up together a lot.
Lenore Burkhardt Becker 's cats Sophie and Emmett: 
I adopted Sophie and Emmett from The Animal House, a no kill cat shelter in St Louis, MO when they were three months old. They're about 9 months old now and keep me in absolute stitches all day long! They are inseparable. So many mornings I wake up laughing due to the cute and creative ways they've found to wake me up. What a way to start the day!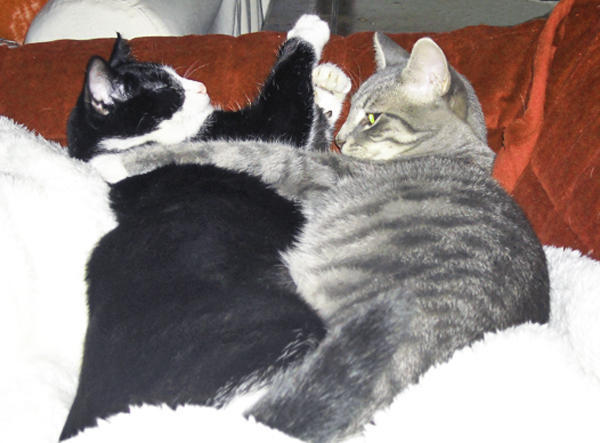 Their older sister, Pasha has begrudgingly warmed up to them and the kittens, now catlettes like to chase her around and be chased by her too. They often double team her with one "entertaining" her front while the other bats at her swishing tail. They'll do it to me too, getting me scrambling in two directions at once to clean up a spill or retrieve the intended prize, e.g. the stolen bagel. Their affection is boundless, unabashed and constant. They make me so happy!
Helen Tyack's cats Butternut and Pumpkin: 
They are pretty adorable,  Little Butternut on the left is 2 years old and the daughter of my Pumpkin who was a rescue kitty.  The bent out of shape fella on the right is Jack! He is 15 months old, I rescued him at just a tiny 4 weeks! I took this pic when they were in the middle of a mutual smooch-fest … A couple of furbabies who love each other to bits and still love a good wrestle every now and then too. Love, love, love them!
I'm deeply saddened to have to report that Helen lost her sweet Jack as he was struck by a car only last week. He was mostly an indoor cat, but being a social kitty, he would make rounds of the neighborhood to go on visits. Our thoughts are with Helen, Jack and the entire Tyack family. Our deepest condolences. 
Kylie Kiel's cat Fizgig and pup Pica:
Pica, the dog is the senior of my group. Fizgig, a 2.5 year old Bengal, arrived as a kitten and loved Pica the second he saw her. A few days in he actually began suckling on her (video below) and when he was just under a year & still suckling,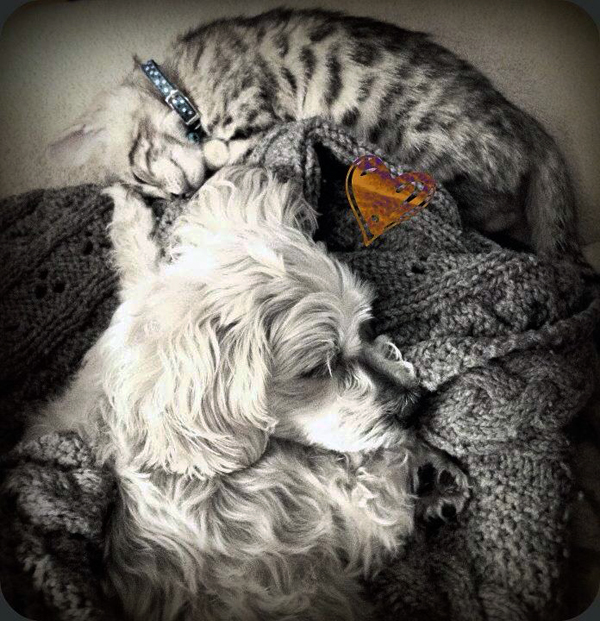 Pica has tried weaning him many different ways to no success, Fizgig still nurses every morning and whenever he is bored. Pica is pretty meh about him but she is his mama and I have no ability to control Fizgig. He lives for moments of snuggle.
Marsha Tillery Cooper's cats Tiger Paws and Abby:
These are 2 of the senior citizens in my house. Tiger Paws the orange kitty was found in my neighborhood 17 yrs ago at 6 months old. I found Abby, the tabby, as a kitten 16 yrs ago with an abscess on her head. I got her care & my mom adopted her. When my mom passed away, Abby came to live with me.
Amanda's cats Ella & Jonesy: 
10 years ago, Jonesy was a sick feral living amid the foundations of an inner city apartment block and eating spiders for sustenance (he actually still eats spiders for a snack!). Once he was in full health and had cemented his place in his forever home, he began to bring home other homeless kittens. Each was showered with feline compassion & affection – many of whom were injured and in need of some nurturing. Over the next 4 years Boots, James, Blink & Fredrick were all provided the help they needed all because of Jonesy. It became obvious that Jonesy actually craved company. Enter shelter cat, Ella.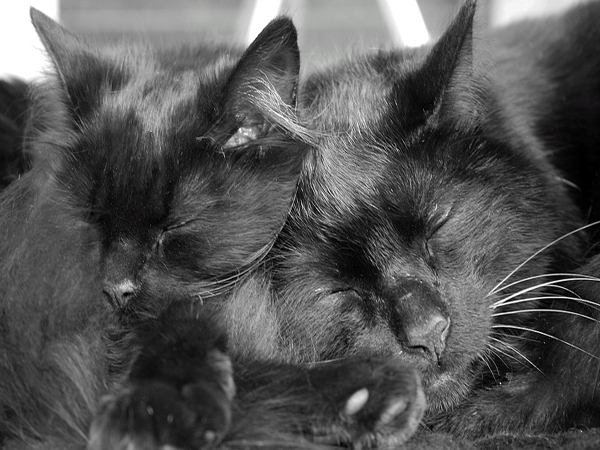 Ella had been overlooked at the shelter and staff were pushing for a different cat to be adopted. She was such a little furry ball of energy and cuteness that it was inconceivable why no-one wanted her.  After 24-hrs of sizing-up Jonesy she was accepting of his attention, and he of hers. And after a month they were grooming each other and napping together. She's half his size, but wears the pants in the household. She'll often dictate the terms of affection and bully him out of his dinner.
If you think your cats or cat and dog, or cat and hamster etc etc, should be featured on Kitty Love, send your photos and a few sentences describing how you got them and their relationship to ihavecat(at)gmail(dot)com for consideration.