If you've ever given your cat a Yeowww! catnip toy you know how powerful they are – the bananas and cigars are ubiquitous at pet shops!
In the spirit of Valentine's Day we have YEOWWW! Hearrrt Attack Catnip Toys, each sporting a different message: "Yeowww!," "Lick Me. Bite Me. BunnyKick Me" and "Happy Kitty."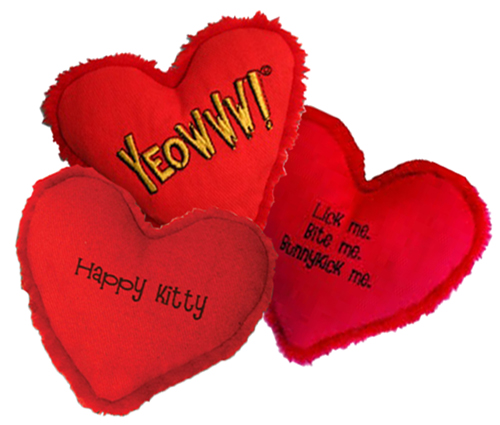 Just for I HAVE CAT readers,Yeowww! is giving away FIVE Hearrrt Attack Catnip Toys (US Only). Winners get to select the saying of their choice!  
I absolutely love that the catnip they use is grown organically in the United States working in partnership with private farmers. No chemicals or pesticides means Yeowww! catnip is completely safe for cats and humans (as it should be!).
Not only is the catnip grown in the USA, each toy is made in Minnesota (my old stomping ground!). The toys are individually stuffed with 100% catnip – no fillers are used – and hand sewn.
Check out the cute video of Haddie and Kip enjoying their toys. It's a testament to how powerful the catnip is! (click here if you don't see a video below)
To Enter The Giveaway:
Leave a comment with which heart toy you'd like to win (which saying)
Leave a way for us to contact you – Twitter or Email (THIS IS A MUST!)
Comment must be left by February 14th 5pm EST
One entry per household UNLESS, you post this giveaway to your FB page in which case you should leave a second comment to this blog post letting us know you did so
5 winners will be selected at random using a wordpress blog widget
US ONLY
Oh, and if you were wondering why Petie wasn't in the video, just take one look at the photo below. LOL!
To find Yeowww! products check out the store locator, or find them online.  You can also "like" Yeowww! on Facebook!
GOOD LUCK!