Forget puppy love. In the spirit of Valentine's Day, we're celebrating kitty love!  Okay, there is one puppy thrown in for good measure. We asked I HAVE CAT readers to post photos of their lovey-dovey kitties to our Facebook page and tell us a little bit about them.
We received so many beautiful pictures and stories that we'll need to make this a serial feature. Hopefully you won't mind! In this post, we even have two famous brothers featured in those post – can you pick them out?
Erica Berse's cats Jack and Jill:
Jack is the white-ish one and Jill is the tuxedo. Jack came first in 2003. He started ripping out all his fur. The vet told me he was lonely so I got him a girlfriend. The day I brought Jill home he stopped ripping his fur out!
My little Jill was diagnosed with bone cancer in December 2012 and had her hind leg amputated and then went through chemo, but now she's 's doing great! Jack as loved loved loved her since the day I brought her home. She was too small to jump on the bed and he would use his teeth to pick her up and put her in the bed.
Rachel Cleveland Rand's cats Hermes and Stannis:
I found Hermes (the beige Siamese cat) abandoned on my doorstep a few years ago and took him in. He hit it off with our tabby cat right away, but Stannis (the black and white cat) wasn't so sure. He would arch his back and yowl every time Hermes walked by for about a month. But once they got used to each other, they became inseparable. They like to both cram together on my lap for naps and can frequently be found "holding hands" and snuggling up together.
Mick's cats Oskar and Klaus: 
Oksar and Klaus were born in different states to different mothers, and there's more than a decade between their ages. Despite so many things separating them, they always remain incredibly close.  They don't care what anybody thinks — they are brothers.
 Toni Nicholson's dog Roxanne and cat Abby: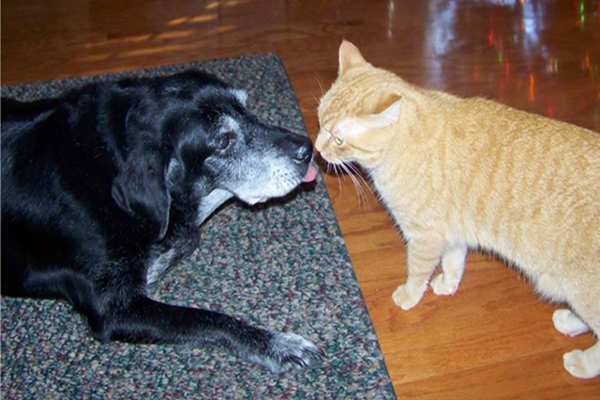 This is our 13…almost 14 year old lab mix Roxanne and Abby our 8 year old orange tabby. Twelve years ago, as a stray, Roxy took up residency on our front porch. We found Abby abandoned in a local park when she was just 6 weeks old. They absolutely adore each other! (Abby is the inspiration of our cat merchandise for our business, ‪RCTees)
Lisa Salazar's cats Isabella and Martina:
Isabella and Martina are sisters from the same litter. They're now 5 and have never been apart a day in their lives. They were originally adopted by a friend of mine. But as they grew up, they began teething and chewing through computer cable and my friend was going to give them away when they were 6 months old. I had kitten sat for these angels before so after much deliberation (I wanted to make absolutely sure I was ready to be a forever home!), I agreed to take both the girls.
Every vet appointment, they have to go together. If they are in different carriers they cry constantly! Even now, when they can't find each other around the house, one of them will send up a distress call until they find the other. Taking them in was the best decision ever!
Bridget Sweeney's cats Napoleon and Bali:
Both Napoleon (age 7) and Bali (age 12) are rescues, Bali was originally from the ACC and was left behind by his former owner, my ex-boyfriend, about 5 years ago. Napoleon was found outside in Washington Heights and taken in by Anjellicle Cats Rescue. He is a foster fail that I formally adopted about 4 years ago. They are both very affectionate with people and other cats, but these two guys have a special bond. They are total BFFs, I could never break them up. They are the dynamic duo, constantly cuddling & grooming each other.
Amber Black's cats Woobles and Nibbles:
Wobbles and Nibbles were sister and brother. Nibbles has actually crossed over the rainbow bridge, but I still love this picture of the two of them. They loved each other!
******************
Do your kitties snuggle with each other or are they the more independent type? I'll need to find a photo of Haddie and Kip coming as close to cuddling as I've ever seen. Petie's not the loving' kind. Did you spot the famous kitty couple?