From January 25– February 2, 2014, the first ever Los Angeles-based, cat-inspired art show will take place showcasing 60+ internationally acclaimed artists over 2 weekends.  According to their press release, the show will have,"the largest multi-artist exhibition of cat inspired artwork for sale ever exhibited." Talk about wanting to book a ticket to LA stat!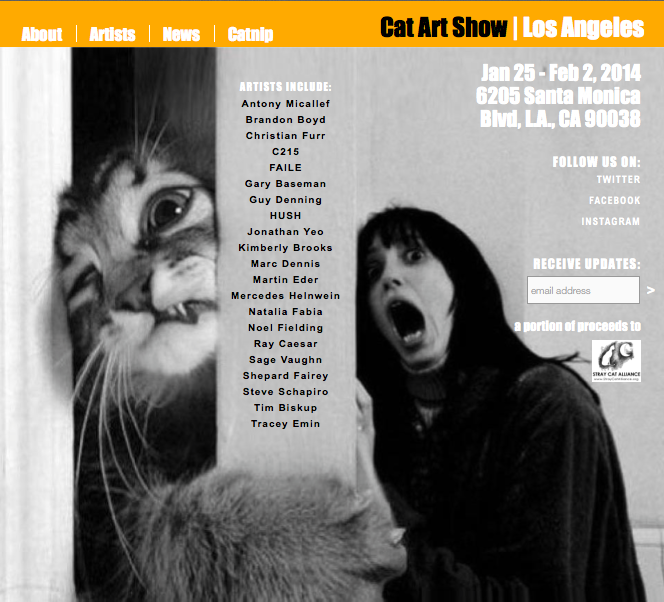 A few of the globally recognized artists participating are: Shepard Fairey (known for his "OBEY" and "OBAMA HOPE" posters), Brandon Boyd (of rock band Incubus), Heather Mattoon (featured on this blog back in 2011) and several artists I'm ashamed to say I'm not familiar with i.e., Nicholas Chistiakov, Natalia Fabia and Christian Furr (who has the best name ever for this exhibit!). For a full list of artists check out the Cat Art Show website.
The show will include a video component from the Walker Art Center's Cat Video Film Festival, and even better, part of the money from sales of the artwork will go to the Stray Cat Alliance of LA, a strictly cat-based rescue organization.
The press release states that a number of the artists have never created a cat-themed work of art. Some are admitted "dog" people, and even allergic to cats. Yet even they cannot negate the fact that the feline form is a beautiful one that deserves to be heralded artistically.
I had the good fortune of interviewing Susan Michals, curator and cat-mom, about how the show came to be.  And also share some quotes from a few of the artists participating!
What inspired the idea of a show based solely around cats? Earlier this year when I was with a friend and we were talking about going to the cat shows. Seeing what we could develop around the personalities that would be on display there – from the cats, to the owners to the attendees.
Was the all the art specifically commissioned just for this exhibit? 90% of it was created specifically for the show. But we have some great works that have already been around, like Ray Caesar — he gave us the artist's proof for his famous "Kitten" work which was originally created a few years ago. Alan Aldridge, who conceived the Captain Fantastic album cover for Elton John and also created all the artwork for the book "The Ship's Cat" gave us a print for the show from the book. The image has been seen in his book for many years, but for the show, he had a print made just for us — and it is not part of a series it is 1 of 1.
You mentioned in the press release that not all the artists showing are "cat people." What was your criteria for selecting artists to participate in this show? I selected artists that I wanted to work with for this show…people whose work I appreciated and admired. If they were cat people, that was just an added bonus!
What piece or pieces do you find to be most controversial or thought inspiring?  Regarding the controversial piece – there are a few that could be construed as controversial, but I don't want to reveal them until the show…also there are some pieces I don't feel are particularly controversial or overtly provocative, but then again, I work in the art business and perhaps my controversy meter is a bit different from a lot of people!
Though some artists had never worked with cats as subject matter, several used their own cats for inspiration. What percentage of the artists ended up featuring their own cats in their art?  While many of the artists currently have cats, there were a number who had cats at one point in their lives. That overall total would be about 80%. To name just a few, 
Natalia Fabia's piece stars her cat, and Christian Furr created a great piece called "On the Threshold" of his cat Mr. Chunky.
Was it generally easy or difficult to recruit artists for this project?  Initially I approached a couple of artists and after that it snowballed (not hair-balled).
Will there be any celebrities in attendance?  Regarding celebs, yes, there will be some but I can't reveal at this time.
What about cat celebrities? No cat celebs, we can't have them in the building.
You've mentioned having grown up with many cats when you lived on an apple orchard. Were they all outdoor cats or did you have indoor cats then as well?  They were all indoor/outdoor – spending their days mostly outside, but coming in at night. Suffice to say, we had a very full house!
Tell us a little big about your Maine Coon Miss Kitty Pretty Girl. Miss Kitty Pretty Girl is always a source of inspiration. She is quizzical, comical, aloof. What was written in the press release about the physicality of cats – as well as their personalities – is really very much about her. She's the poster child for that Kelly Clarkson song, "Miss Independent."
There are times when I look at her and think – wow, what a beauty she is lounging there with the sun bouncing off of her just so. And there are other times, (like at 6:12am, which happens to somehow be her favorite time these days) when she decides everyone has to get up now, including my dog (who is smaller than my cat, btw).
I noticed that it's you and Colonel Meow, not Miss Kitty featured on the LA Cat Show website. How did you come to befriend such a cat celebrity? I saw him on FB and emailed him. And when his owner moved to LA we had a meet/greet/scotch party at Los Angeles County Museum of Art (LACMA) – hold the scotch.
Did you go to Art Basel in Miami (where many of the artists are displaying their non-cat artwork)? No, I was too busy herding cat art. 
And now, a few words from three of the artists who will be featured in the show on why they decided to join the show, their works, and feelings about cats!
Nicholas Chistiakov, "Orange Cat"
WHY PARTICIPATE IN THIS SHOW? I liked the works by artists included and the curator, so I gladly accepted invitation to participate.
DESCRIBE YOUR WORK IN THIS SHOW My main work in the show "The Orange Cat" is about wild animal character behind the domesticated pet. It is a screaming angry animal, which is scary and amusing in same time. I have been long fascinated with the subject of screaming open mouth- either of a human either of animal. I think famous Francis Bacon triptych Three Studies for Figures at the Base of a Crucifixion contributed to this interest.
ARE YOU A CAT PERSON, BY THE WAY? I'm an animal person in general way. I have a lot of work about animals and monsters. But in particular, cats? I love cats.
Natalia Fabia, "Toulouse"
WHY PARTICIPATE IN THIS SHOW? Because Susan Michals, my Polish pierogi sister, asked me! And I love cats! Especially my polydactyl tabby cat Toulouse. He is my love. Any excuse to make a fun painting of him is fabulous.
WHAT OTHER ARTIST'S WORK ARE YOU INTERESTED IN SEEING? Everyone's!  It will be very interesting to see everyone's take on their cat paintings. Some people are major "cat people"- like Gary Baseman, so I really like to see if that will show through in his paintings.
ARE YOU A CAT PERSON, BY THE WAY? I am a cat person!  My cat Toulouse always hangs out with me in my studio.  I took this opportunity to be somewhat abstract, expressive and very free with color in my painting. I wanted to create a boisterous piece to reflect my cat's personality and how I feel about him.
Christian Furr, "On The Threshold" (pictured above right)
Cats? Where do I begin? I do love painting any kind of animal – you can use them to symbolize so many things as we see in Japanese Art and they can have amazing characters just like people. One of my favorite art places in the world is the animal room at the Vatican- full of amazing Roman sculptures of animals…but cats are the most mystical of them all.
As symbols they lend their name to the late night revelers of Madrid and the autonomous 'cool' of the sixties . I still get excited when I see a black cat crossing my path. I like Manet's ink drawing of a black cat and a white cat meeting on a roof at night in Paris.  I have always loved Baudelaire and his poem from Les Fleurs du Mal  – 'Les Chats'
In summation, if you're a cat lover, this show is not to be missed. The official press release sums it up best when stating, "CAT ART SHOW LOS ANGELES is a both a meditation and a celebration of the feline form. This exhibition goes beyond heralding felines as domesticated companion, and instead explores their role as muse and inspiration."
If you're lucky enough to be in the area, the show will take place at 101/exhibit 6205 Santa Monica Boulevard in LA.  Be sure to keep apprised of all updates via Twitter, Instagram, and Facebook.
Now the REAL question is this. If you had to paint a picture or take a photo of one of your cats, which one would it be and why? This is a super easy one for me. It would have to be Kip, hands down. He's very photogenic and doesn't turn away from me like my other cats! What about you?